Entertainment
Usman Ally In Adorable Married Life Bliss! Personal Life Insight & Family
Usman Ally, the man who enjoys acting, loves spending most of his time with his woman and family. While he is on tour exploring places with his wife, he has not stepped down from taking care of his aged parents.
Wondering how he balances his life?
Well, if you wish to know more about his personal life and family, this one is for you. Keep reading!
Usman Ally's Married Life In Delight
Usman Ally, an American television actor, lives a perfect married life. Caught between performing in various television series and looking after his parents, Usman has been able to balance his relationship with his wife.
Usman married to his wife Malena, who is a coach and a motivator. The duo has been sharing the bond of marriage for around ten years now. Usman tied the nuptial knot with his then-girlfriend and now-wife Malena in 2008.
In August of 2017, the pair celebrated their nine years of togetherness and also marked their anniversary with a post on Instagram. He captioned the picture writing,
"9 years of marriage to my never aging best friend. ❤️❤️❤️ #romananniversary"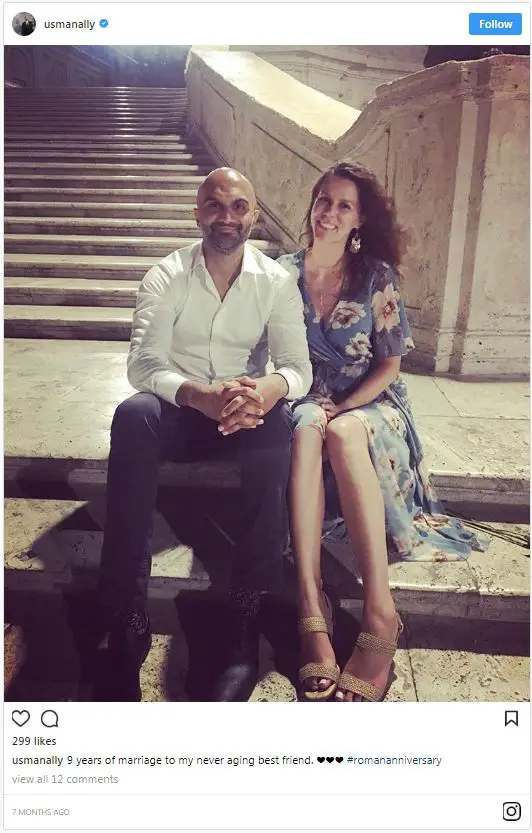 Usman Ally with wife Malena (Photo: Usman Ally's Instagram)
Moreover, the couple kept their fans updated posting a lot of pictures on social media. Malena posted a picture with Usman on a kayak when they were on their honeymoon almost ten years back to Kauai. The couple enjoyed some magical moments with each other that they cherish till today.
Malena captioned the picture as
"Throwback Wednesday (is that a thing?) to almost 10 years ago on our honeymoon in Kauai. This is one of my favorite pics of us and one of my favorite places/hikes we have done. I know we aren't hiking in this pic....because we had to kayak to a secret trail to a secret waterfall!! ? There were only 2 other people there and it was magical. ? Still exploring the world with this guy and can't wait for our next adventure! P.s. This was one of my fave T-shirts (my green recycle shirt). Where can I get another one!? ?"
Usman is not only a doting husband but a loving and caring son to his parents too. As two of his siblings are in Italy and London; he stepped up as their caretaker. Not only Usman but his wife also contribute while taking care of Usman's parents and sharing the same he said,
I have siblings that live in other countries — one in Italy, one in London — so I said to my parents, "I will take care of you guys." I rented them an apartment in Los Angeles, they live up the street from my wife and I. And I'm their caretaker. And if I'm not in town, my wife does a lot, and bless her because she is all about it.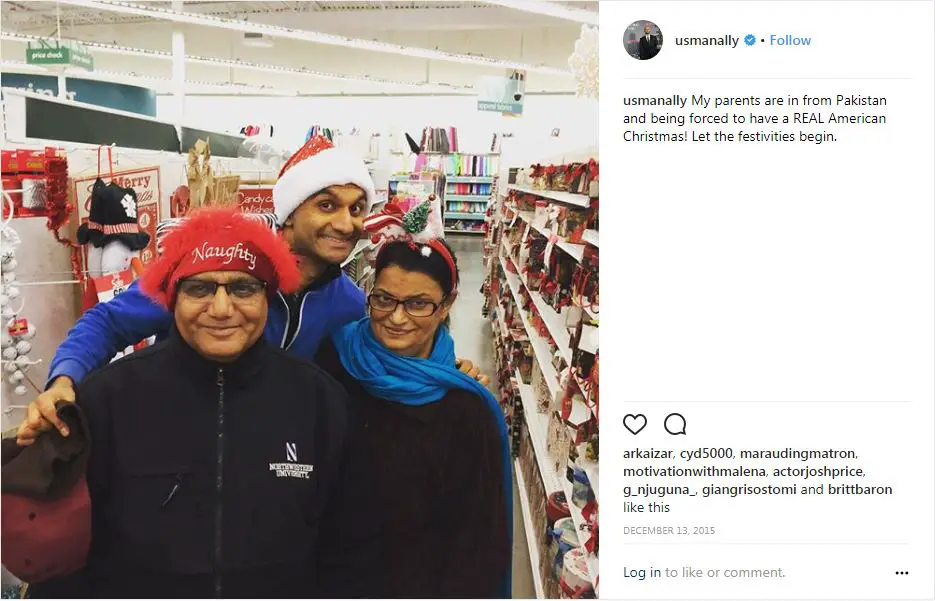 Usman Ally with his parents in 2015 (Photo: Usman Ally's Instagram)
Pregnancy & Birth Of Baby
On 21st February 2019, the actor looked forward to welcoming a new member in his family. His fans caught the sight of his wife's belly bump through her post that day which didn't mention anything about her upcoming child. But the image was all it took to address the auspicious news.
Likewise, his partner Malena shared a picture through her Insta handle that showed the progress of her baby bump. Moreover, the pair seemed more than excited to embrace their baby into their arms. His wife quoted,
"As we get ready to meet this little one next week, I have so many different thoughts and feelings. I've honestly enjoyed being pregnant and I'm looking forward to all the things that will come with motherhood. I know it won't always be easy, but nothing that's worth it ever is!"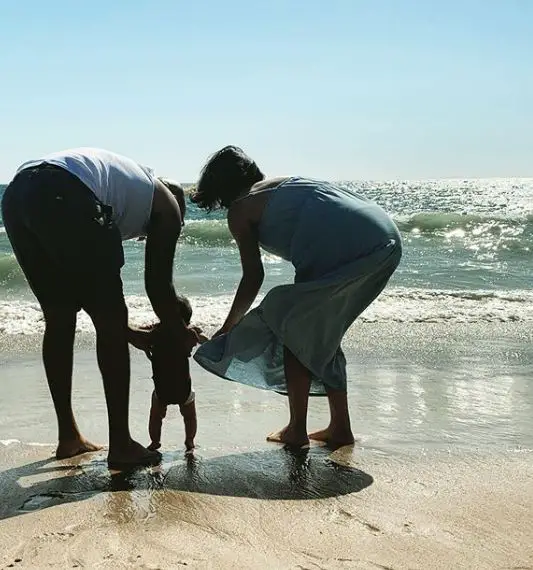 Usman Ally and wife Malena spend time with their baby in September 2019 (Photo: Malena's Instagram)
Eventually, their newborn baby arrived in the world in the first week of July 2019. However, the two didn't disclose the name of their baby but choose to refer him as the "little one".As of now, the two are happily raising their newborn with all the love and care in the world.
More About Ally's Life
Usman Ally, the stage actor, celebrates his birthday on 27 of August. Usman spent most of his childhood in Africa, moving from countries to countries. His family lived in several countries, including Swaziland, Botswana, Kenya, and Tanzania. He is also the youngest child in the family. He has two elder sisters and an older brother.
He moved to the United States at the age of 18, where he attended Lewis and Clark College and did his major in theater and cultural anthropology, which he learned about from his math teacher.
While Usman was there, he took part in slam poetry and hip-hop performances. After his graduation, he enrolled in the M.F.A. program at the University of Florida where he formed the first hip-hop group "One Nation" in the college. Later, after finishing college, Usman moved to Chicago for an internship with the Lookingglass Theatre Company.
Usman, who stands at the height of 6 feet 3 inches (1.91 meters), has performed various stage shows and has grabbed many admirers with his charisma. He was cast in The Chicago Code as Abraham in 2011.
Moreover, in 2012, he was seen in Boss as Joe Young and as Vendor in Blue Bloods in 2013. He also appeared in various television series like Mind Games, Castle, Blindspot, Helen and Grace, Agents of S.H.I.E.L.D., Suits, and A Series of Unforgettable Moments.