Entertainment
Vanderpump Rules stars James Kennedy and Lala Kent's "Feeling You" Is For Pump-Up Junkies
Reality Television series Vanderpump Rules' flirting stars, Lala Kent, and James Kennedy have recently released their first collaboration "Feeling You" on I-tunes. The well produced original song is for you if you are fixated to Pump-Up Songs.
Working and partying together at Lisa Vanderpump's restaurant Sur, which is known for its dazzling presentation, exceptional dining experience, and Hollywood touch, they came closer. While their dating life has always been branded as a coquettish relationship, the duo has conclusively triumphed a melodious pumping tune in "Feeling You."
The rich-in-beats collaboration features DJ Kennedy's rapping in an old school way while Lala Kent pitches her alluring voice following the catchy-bounding piano tunes and rising DJing blends.  What's more, in the event if you are into visual effects, the song possesses lasers. All of this only for $1.29, well it's certainly a bargain considering 190 seconds of goodness.
With "Feeling You," James and Lala have taken one step forward in their respective careers. Releasing "Feeling You," Lala and James have demonstrated the world that they are not average servers at Sur. If you may, most of the Vanderpump Rules cast, who works at Sur, are aspiring- singers, actor or musicians.  
It's amazing. Yes, it is. Unquestionably, it is a worthy candidate to be called one of the excellent Bravolebrity songs.  Over and above that, the pumping melodious combo of singing, rapping, and Djing can be relied upon to earn  comparative achievement  like other Bravo stars hit tunes, for example, Charles McMansion's "T.I.P", Scheana Shay's "Shake That" and  Luann de Lesseps's "Money Can't Buy You Class".
"Feeling You" is at present climbing positions on I-tunes and it's no good fortune. The duo VIP profile, attractive looks, and music abilities are only apparent.
James Kennedy Blows up at Vanderpump Rules reunion:
During the Vanderpump Rules Reunion in April 2016, James Kennedy had quite a lot to say about his co-stars, and frankly, they weren't quite all that nice. The actor reportedly insulted a huge number of the cast and called them 'Assholes' following a heavy banter with Jax Taylor.
He was reported saying '"I'll punch you in your fat throat mate," to Jax and furthermore bragged about having much more talent than him.
At this point, James was berated by the rest of the crew and was even insulted by Scheana Marie who called him 'a... joke.'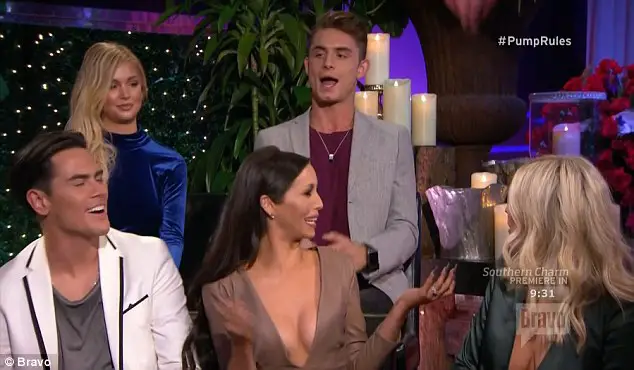 Caption: James Kennedy goes wild at the Vanderpump Rules Reunion
Source: Dailymail.co.uk
Obviously, there was no short amount of beef amongst the cast when it comes to Vanderpump Rules, and even Lala Kent had a lot to say about others. In a Brandi Glanville podcast dropped some crazy accusations and her opinion on fellow Vanderpump crew.
Lala and Brandi talked about how they believed a major part of the Male crew in Vanderpump were gay and how a lot of the people in the show even took drugs. Both admitted that in a large sense, a huge part of the cast were indeed junkies.
Lala revealed that she didn't get along with anyone from Vanderpump Rules except James and how she and James were considered 'Nutjobs' them.