Entertainment
Verne Troyer On Family! Ex-Wife & Ex-Girlfriend Struggle Of Late Actor Reflects
Verne Troyer Cannot Have A Family! His Relation With Ex-Wife & Ex-Girlfriend and Struggles Says it All The man who is notable for his height of 2 feet and 8 inches and bald head, Verne Troyer is lacking the feeling of being in a stable relationship, besides being involved in relationships with his wife and girlfriend in the past.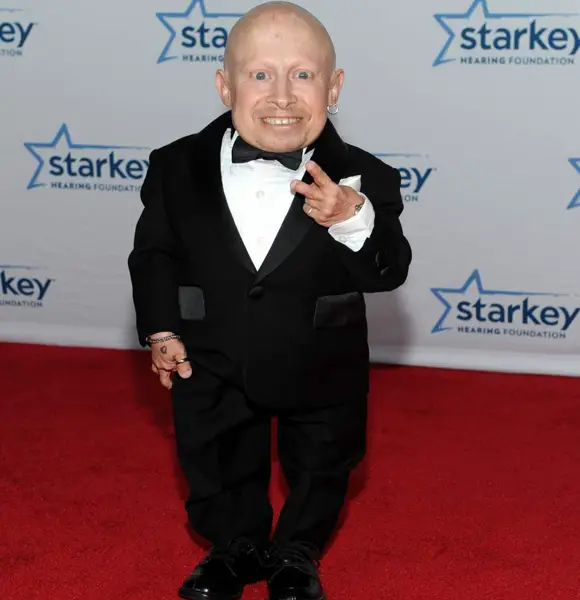 The man, who is notable for his height of 2 feet and 8 inches and bald head, Verne Troyer lacked the stability in his relationships, creating a history of multiple girlfriends and wife. 
Living a life of glittering career, Verne had an infamous relationship timeline which makes him even more notable. His relationships had proved to be a severe issue for the actor. But what was the reason for these matters? Stick around to find out!
Family And Career Of Verne Troyer
Verne belonged to a low-income Amish family in Sturgis Michigan. His mother Susan Troyer was a factory worker while his father Reuben Troyer was a repair technician.
Verne was not the only child of his parents, but he had two siblings as well, Davon Troyer (the eldest) and Deborah Troyer (the youngest).
He was the son of Troyer family and was supposed to be dead during his early age, as his parents found him unresponsive in his crib. Well, he survived the incident because his father whisked him to a hospital.
The American actor began his career as a stunt double of baby Bink in the 1994 movie, Baby's Day Out. With the notable performance as the stuntman, he grabbed the role of Mini-Me.
His portrayal of Mini-Me in the 1999 project called Austin Powers: The Spy Who Shagged Me gave him the recognition he deserved. He has done several movies in his lifetime and is also known to be a popular comedian. The career has helped him roll up an immense net worth of $10 million.
Infamous Relationships: Wife And Girlfriends
Verne's career can be called a direct contrast to his relationship. The relationship timeline of Verne began from 2002 when he first met a Playboy model Genevieve Gallen at a New Years Eve party at Hugh Hefner's Playboy Mansion in Los Angeles.
They later went for a romantic dinner at the luxury Four Seasons hotel in Los Angeles. Their love grew deeper and stronger with their marriage ceremony that commenced in January 2004.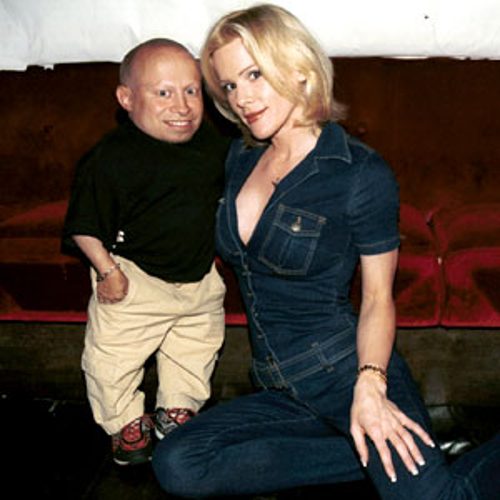 Verne Troyer and his ex-wife Genevieve Gallen. (Photo: celebuzz.com)
However, the marital relationship didn't last long, and they divorced for a concealed reason in 2006.
In September 2008, a private home sex tape of Verne and his former live-in girlfriend Ranae Shrider leaked, which was filmed in Beverly Hills, California and Shrider's hometown of Fort Cobb, Oklahoma.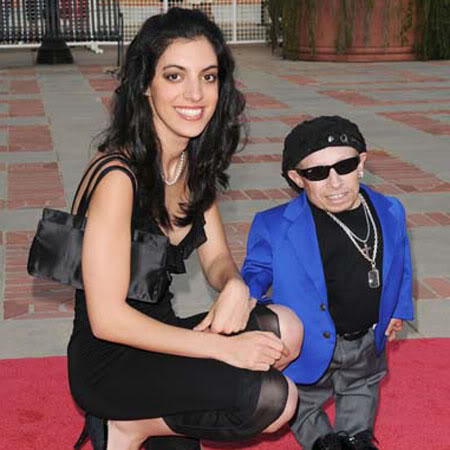 Verne Troyer and his ex Ranae Shrider. (Photo: photobucket.com)
Verne took a strict step against it and filed a lawsuit against his girlfriend claiming $20 million in damage in the grounds of emotional terrorism and battery. He also accused her of an attempt to murder by drowning in the bathtub during sex.
Additionally, he was involved in an affair with Canadian model Dominique Arganes, which is not much talked and remains unveiled.
In 2015, Verne appeared on U.S. TV series, Celebrity Wife Swap with his girlfriend Brittney Powell and her son Tyson Powell. For the show, he switched his girlfriend with Hines Ward's wife.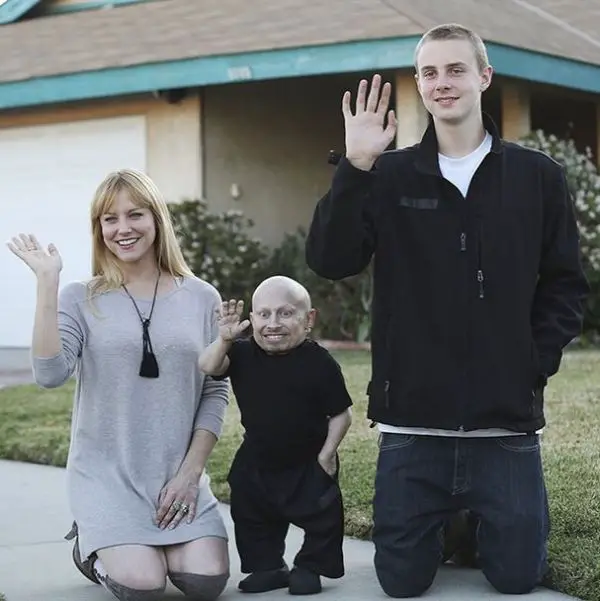 Verne Troyer along with his girlfriend Brittney and her son Tyson. (Photo: imgarcade.com)
Well, the couple has kept their relationship hidden, and their hook-up story is a subject of mystery for now. Verne, despite being in multiple relationships, has no kids of his own.
According to the recent report, in June 2017, Verne has spent his days in a rehab center after receiving treatment for alcohol abuse for a week.
The actor has struggled with alcohol abuse issues for years and has gone to rehab multiple times. A source also reports that he almost died in 2002 from alcohol poisoning.
Actor's Death
The Sturgis, Michigan native died on 21 April 2018 in Los Angeles, California, the United States due to alcohol intoxication. Verne, who had been reportedly struggled with alcoholism and depression for years, was found dead at the age of 49. Prior to his death, Verne was admitted to the hospital by his friends quoting the emergency services that the actor was "extremely upset, drunk and suicidal".
The Los Angeles County Coroner's Office claimed he had "a very high level of alcohol in his system," which was "possible suicide."
Stay with us for emerging updates on Verne Troyer!