Entertainment
Veteran Journalist Dan Rather, on News Reports Which Got Him Fired
Journalism is a professional that is most susceptible to making or breaking somebody's career. One bad news publicity can lead to the end of someone's career before it started. On the contrary, one good media report can build a strong base for the growth of an individual or a company.
But, it is not always about the others, as some journalists have risked their own career because of the news and reports that they have covered. We are covering a similar story here, where a veteran journalist helped to end his career himself, by reporting a heavily controversial topic.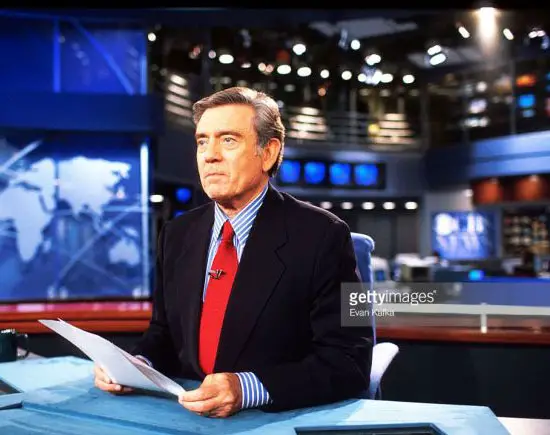 Caption: Journalist Dan Rather on the set of 'CBS News' on June 10, 1999, in New York City
Source: gettyimages.co.uk
Veteran Journalist Dan Rather; News Reports Which Got Him Fired
Dan Ruther is a multiple- Award-winning journalist of American media who is known for his long and strong career with CBS. He worked for CBS for over 40 years and was popular for presenting the news on CBS Evening News, which he alone handed for 24 years. Known for his confrontational style of interviews and his uncompromising reporting, he was also pretty popular for his sarcastic comments and quotes.
Caption: CBS News Story that led to Bush-Rather Showdown (published on Nov 13, 2010)
Dan was known to have covered a couple of controversial records during his time on CBS, for which he had to pay a hefty price. On the September of 2004, he reported to the contemporary President George W. Bush and his service in the Air National Guard in the early 70s. The controversies regarding Bush's service were meant to expose the truth of how he had failed to authenticate his services, but instead, it backfired on CBS. Popularly known as, Killian documents controversy the reports that CBS possessed were not authenticated by and forensic experts. As a result, it made the reputation of CBS look very bad; most mostly it jeopardized Dan Rather and news producer Mary Maps. Although, not everybody supported his work and many thought that it was just a scam to criticize Bush's work and gain a sudden fame:
@DanRather Good journalism? Does that include your erroneous report on George W. Bush? What a hypocrite

— Gary Levick (@GaryLevick13) June 2, 2016
In response to that, Dan filed a lawsuit against CBS as well as Viacom for 70 million dollars, claiming that CBS had made a trap for him and that they made him a "scapegoat." However, the claims were dismissed by a New York appeals court on September 29, 2009, and Dan has not reinstated a penny. However, in an interview with hollywoodreporter.com in Dec 2015, he said that the report was the truth and that they didn't do it correctly. According to Hollywood Reporter, Dan said "We made some mistakes of getting to the truth. But that didn't change the truth of what we reported." That saw him a departure from CBS in the June of 2006, after almost 44 years of his loyal service.
Dan's Short Biography:
Dan Rather was born as Daniel Irvin Rather Jr. in Wharton County, Texas on the 31st of October, 1931. He was born into a middle-class family and his father Daniel Irvin Rather, Sr. was a ditch digger. When he was still a child, the family relocated to Houston where Dan was educated at Hamilton Middle School.
In 1950, he graduated from John H. Reagan High School and got enrolled in journalism at the Sam Houston State University. Upon graduating from there in 1953, he trained as a J.D at the South Texas College of Law after which he tried for the United States Marine Corps, unsuccessfully.
Currently, Dan is living in Texas with his wife Jean Goebel whom he married back in 1957. The couple has two kids; a son Dan Jr. and daughter Robin. Dan Rather began his career as a journalist in the early 50s, and gradually rose his way up to success and fame.
Working as a pressman for several news agencies and radio FMs, he finally rose to fame in 1970 after being the news presenter for CBS. With many years of service in the media industry, Dan has got a net worth value of 70 million US dollars. Even after retirement, Dan has been busy with his new show The Big Interview on AXS TV, which started since 2013 and is running on its 4th season now. Likewise, his new production company News and Guts has also been publishing some of his later written works.