Entertainment
Vickie Guerrero Moves On From Father Of Her Daughters; Turns Boyfriend Into Husband After Years Of Divorced
Getting over the demise of someone we dearly love is never an easy thing. The thoughts and memories of the person are always there to our hearts and soul, and only those who are strong enough can move on to a different path in their lives.
Today by saying this, we would like to address the life of the former widow of WWE Hall of Famer Eddie Guerrero, Vickie Guererro who is now married to someone else in her life. And we guess two words are enough to describe her, "Excuse Me."
Eddie's Demise And What He Left Behind:
Eddie was one of the most decorated WWF/WWE superstars of all time. He achieved everything in his career as a professional wrestler and who could forget the night he won the World Title back in No Way Out 2004.
But they say even gods need great people with him in heaven and on November 13, 2005, Eddie sadly passed away leaving behind his wife Vickie who he got married to back in 1990 and his three daughters.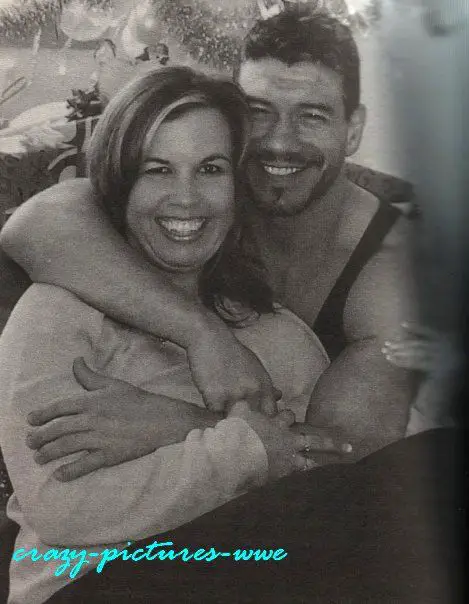 Caption: Eddie Guererro and Vickie Guererro got married in 1990.
Photo Credit: Pinterest.com
It was a sad thing that took place in his hotel room in Minnesota, and the fans and aspiring wrestlers were just left with his legacy and memories to look upon.
Caption: WWE pays tribute to "Latino Heat" Eddie Guererro.
Uploaded on Jan 26, 2011.
However, the wrestling world lost only a champion and a superstar. Vickie lost her everything. She lost her love, and she evidently lost the father of her children. That is a very tough pill to swallow, and only Vickie can describe what she must have gone through when Eddie left them all on their own.
Vickie, who plays a negative role in Television and is hated by all the fans even though fans cheer for Eddie, has gone through it all. So-called marriages with superstars, make-out sessions, poor management decisions and last but not the least, her horrible acting and her annoying voices.
Vickie did it all as per the script of the wrestling world demanded, but no one knew what she was going through in her personal life.
She mourned many years in the memory of her late great husband, but now she is married to her boyfriend. Moving on from her past, she tied the knot for the second time back in 2015.
She took over her Facebook to publicize a picture of her wedding, and she was accompanied by two of her daughters, Shaul and Sherilyn and her husband, Kris Benson.
Caption: Vickie Guererro is now Vickie Benson as she is married to Kris Benson.
Photo Credit: Vickey's Facebook
Vickie now calls herself Vickie Benson, and she seems to have buried the Guererro name. But she still is involved in the wrestling world.
A Short Bio of Vickie Guererro Now Benson:
Born on April 16 of 1968, in El Paso, Texas, United States, Vickie Guererro now Benson is a well-known wrestling figure. She is also the former widow of WWE Hall of Famer the late great Eddie Guererro.
Vickie has managed the weekly episodes of WWE shows and also has had a career as an occasional in-ring performer.
Although she is a TV negative, she is a successful personality in her field. Love or hate, Vickie has done it all when it comes to her career, and as a result, she boasts a good net worth of $8 million.