Entertainment
Wanted To See Openly Gay Man David Bromstad's Stunning Partner-In-Crime Boyfriend? Feast Your Eyes Here
Wanted To See Openly Gay Man David Bromstad's Stunning Partner-In-Crime Boyfriend? Feast Your Eyes Here Renowned interior designer David Bromstad is known for his works in the designing industry. But how many of you knew that he is openly a gay? Coming out as a gay is a commendable thing to do and now that he has done the first part of coming out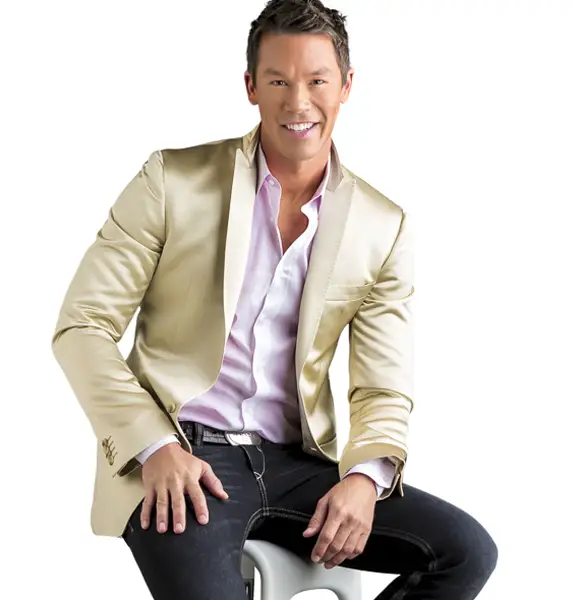 Quick Information
Children/Kids

Not Yet

Official Site

bromstad.com

Weight

77 Kg

Height/ How Tall? 6 Feet 1 Inches (1.85 Meters)
College

Ringling School of Art and Design

Net Worth

$2 Million

Gay

Yes

Ex-Boyfriend

Jeffrey Glasko(2004-2015)

Divorce/Split

Not Yet

Relationship Status

Single

Date of Birth Aug 17, 1973
Sister/s

Dynelle Renee Bromstad

Brother/s

Dyonne Rachael Bromstad, Dean Richard Bromstad

Mother

Diane Marlys Bromstad

Father

Richard Harold David Bromstad

Ethnicity/Race

Mixed

Zodiac Sign

Leo

Profession

Designer

Nationality

American
Renowned interior designer David Bromstad is known for his works in the designing industry. But how many of you knew that he is openly a gay?
Coming out as a gay is a commendable thing to do and now that he has done the first part of coming out, will he reveal his dating life to the fans? Well, we might as well help you with that. So let us find out if he has a boyfriend or is dating anyone. 
Is Bromstad Dating Or Seeing Anyone? 
People who know that Bromstad is a gay often wondered if he has a partner in life and is dating his boyfriend. Well, the answer to that might be an emphatic YES, as he is spotted to be dating his partner in crime who he has been pretty open about in his social accounts like Instagram. However, he is yet to reveal his boyfriend's name along with any major information about him.
The two have had quite an adorable relationship thus far which is evident in the image where the two can be seen celebrating Bromstad's birthday.
Moreover, they like to share some hilarious moments together like the one when Bromstad did a make-up on his boyfriend.
Now that we know that he has a boyfriend, the people out there also mused on if they are getting married anytime soon. But the two have not revealed any such plans as of yet which is why we might want to stay with us for any updates on their relationship. 
Furthermore, some sources claim that David previously had a partner named Jeffrey Glasko who he dated from 2004-2015. 
Concerning Matter Surrounding Bromstad:
David was once in a stern issue with the LGBT community when he reportedly worked with an anti-gay Salvation Army. The army and the gay community had quite the wage of war back then and David working for them drove some sort of wedge between him and the LGBT society. The head of the army once stated his wish to see gays executed as per the bible that initiated the war. 
In his defense, David said,
Dear fans,

 I've read your feedback on my participation with The Salvation Army USA, as an openly gay person whom just happens to also be a celebrity, I took the Salvation Army's request to participate in their fundraiser as one step in the right direction towards equality. If we simply separate ourselves from those that we assume appose us or our beliefs then we will never make strides in the right direction. I applaud the Salvation Army's symbolic handshake towards acceptance and would be foolish to not extend my hand in acceptance.
Fair enough!
Tattoos and Weight Loss:
Tattoos are cool and Bromstad too has got some very crafty and eye-catching pieces of art on his body.
Limited Edition is what his chest tattoo reads and he is one unique person we all know that. 
Also, Bromstad is seen to be a fitness lover by the looks and the appearance of his body.
People also wonder about his ethnicity and some sources tell that his parental family is of Norwegian descent. His father is of full Norwegian descent while his mother is of half German and half Swedish descent.
Although he has been linked with undergoing plastic surgery as he does not seem to age, he has not addressed the rumors which are why we might need to wait for him to give him words on this. 
Born on August 17, 1973, in Cokato, Minnesota, David Bromstad is an interior designer and a TV personality. David previously auditioned for HGTV's reality show Design Star back in 2006 where he beat nine other fellow contestants and secured the grand prize of a car and the golden chance to host his own HGTV show.
Following that, he hosted his own show "Color Splash" from 2007 and has also hosted the show Bang for Your Buck from 2009 to 2010.
Moreover, in 2010 he hosted the show First Time Design which shows that he is not only a successful designer but is an accomplished host as well. All that he has accomplished in his career has done his financial life the world of good as he boasts a net worth of $2 million.