Entertainment
Wedding Bells And Baby Bells Rang Same Time For NBC News' Savannah Guthrie. About The Pregnant Bride And Her Married Life
Whom would you call a truly happy person? Is it the one who have a beautiful personal life and remarkable career? If yes, then you would label the lady of our story the happiest person, for she is enjoying a blissful personal life with husband and child and is thriving in her career.
The NBC news anchor, Savannah Guthrie is indeed a happy person. The good news is entering one after another in her life. Let's know about her marriage, husband, and children in the story.
Her Married Life and Husband:
Savannah and Mike's couple got married on March 15, 2014. Two days after their wedding the couple revealed about her four-month pregnancy in a candlelight reception. Savannah and Mike both were excited and happy while they revealed the information with the close relatives and friends. Savannah also shares her happiness in the "Today news." Watch the below video of Savannah confiding about her marriage and pregnancy to know in detail.
Caption: Savanna Guthrie talking about her marriage and pregnancy in 2014.
Birth of her First Baby/Child
Savannah gave birth to a baby girl, Vale Guthrie Feldman on August 13, 2014. The birth of their first child added extra bliss in their relation. Savannah is a loving and responsible mother. She wants to give Christian upbringing to her child. She explains her major responsibility,
"making sure that Vale grows up knowing about God and Jesus and faith is, I think, one of my most important responsibilities."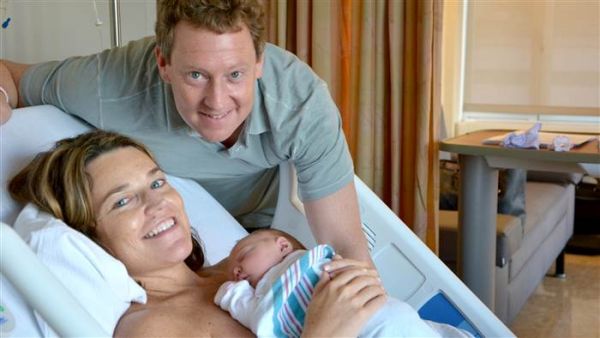 Source: Savannah and Mike with their newly born daughter Vale in 2014.
Source: wennermedia.com
Moreover, she has not kept her daughter confined from the media. She keeps her cute daughter close to media and brings her in different shows. Do you want to see the mom and daughter baking cake together?? Let's see a video of mom baking cake while daughter is busy in troubling her.
Caption: Savannah and her daughter, Vale Guthrie Feldman baking care in 2015.
Savannah Revealed About Her Pregnancy With Second Baby/Child
Weren't they looking lovely in the video?? But do you know that soon we might see Savannah holding not one but two babies? Yes, Savannah recently revealed in June 2016 that she is pregnant with her second child. Well, let's watch Savannah excitedly disclosing the secret about her pregnancy.
Caption: She confided that the baby is coming in December and the couple is eagerly waiting to welcome the second child.
Savannah Confided her Baby's Gender:
After Savannah had confided about her pregnancy, there was a huge murmur among her contemporaries and fans about the gender of the child. Some suspected that Savanna would conceive a baby boy while some thought otherwise. However, recently Savannah unsolved the mystery to her fans and friends.
In September, Savannah revealed about the baby boy picking blue milkshake over pink inside the studio 1. Then, the plane with an aerial banner writing "It's a boy" flown outside which made things obvious. We have a video to make you more clear about the incident.
Caption: Savannah Guthrie was revealing the gender of her second child in 2016.
Looking the excitement of Savannah, we can say that she is happy and satisfied with her marriage and motherhood. We hope the birth of a second child will increase the pleasure in her life.
Guthrie gives birth to Healthy Baby-boy
The Feldman family welcomed their second child, named Charles Max Feldman ( he was named after his mother's late father and father's grandfather. On December 8, 2016. At the time of his birth, Charlies weighed 9 lbs. 8 oz. and measured 21.5 inches long. Guthrie announced her baby's birth on Twitter and shared her joy fellow fans and friends.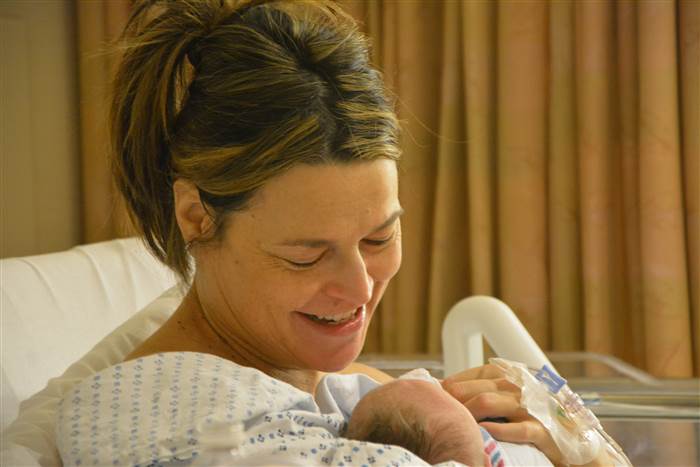 Caption: Savannah Guthrie with a warm look at her son Charles.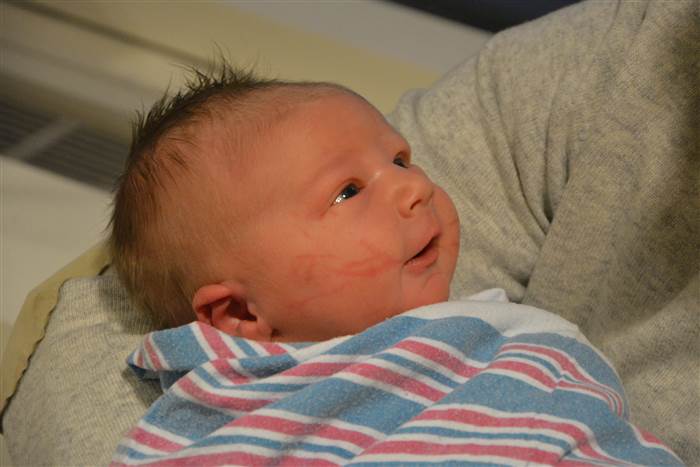 Caption: A Close up shot of Charles Max Feldman.
Photo Credit: Today.com (2)
Savannah Guthrie cuts her maternity leave short after a 'Panicked' NBC asks her to come back early:
While Savannah Guthrie was on her leave after giving birth to her second child, viewers were feeling her absence, especially on 'Today.' After its drop in viewers in recent time, NBC executives asked Savannah to come back earlier to salvage the show, says an insider source.
Guthrie surprised the viewers and her co-host, Matt Lauer, returning to air four days before her arrival date, days after Lester Holt and Bryant Gumbel filled in as co-hosts. The source revealed information about NBC's dropping viewer count and their need for Guthrie saying,
"Their(Matt Lauer, Lester Holt, and Bryan Gumbel) bro-show didn't work. They needed Savannah to bail them out, so they rushed her from maternity leave. NBC claimed it was because of the influx of news, but the reality is that the show was down double-digits and they needed her,"
Her return hasn't shown great fruits yet as ABC's press release informed the public that Rival TV-show Good Morning America delivered largest total viewer lead over 'Today' in 14 months. However, analysts and NBC sources insisted that the reason behind this was the airing of Oscars
ABC sent out a press release crowing, " 'Good Morning America' delivers largest total viewer lead over 'Today' in 14 months."