Entertainment
Is Wengie Married In 2020? Personal Life Details Uncovered
Wengie is an Australian-Chinese Youtuber who has more than 14 million subscribers on her self-titled YouTube channel...She is engaged to her long-term boyfriend...They first met in...Her fiance is a YouTuber who enjoys...Wengie was born on...Her real name is...She stands at a height of...
Australian-Chinese YouTuber Wengie is a social media sensation with more than 14 million subscribers on her self-titled YouTube channel; she usually posts videos on lifestyle and beauty. 
Additionally, she has two other YouTube channels called wengieofficial and LifeOfWengie too. 
Is Wengie Married?
The YouTube personality is not yet married, but she is engaged to her long-term boyfriend, Max.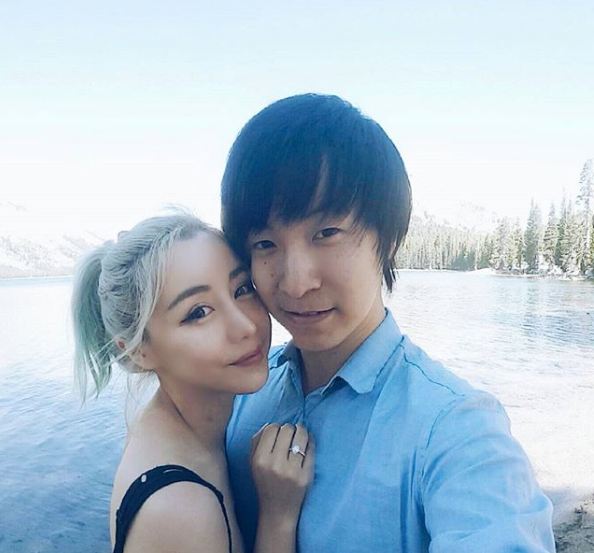 Wengie poses with fiance Max in August 2015 (Photo: Wengie's Instagram)
The two first met in 2008, and their first date was at Bills, where they had corn fritters for breakfast.
After seven years of getting to know each other, Wengie announced her engagement to Max on 23rd August 2015 with an Instagram post; it read:
I'm engaged!! I wasnt really sure how to say it so there it is :)! I'm soo happy that I found my soulmate who loves me for the strange girl I am. I cant wait to share the full story with you guys!! That's one for an upcoming video tho #engagement
Further, in April 2018, the YouTuber addressed her marriage rumors with Max by stating in her YouTube video, that they were not married. 
Who Is Wengie's Fiance, Max?
Wengie's fiance, Maxmello, is a YouTube star, born on 27th April 1986 in Australia.
Another YouTuber's Dating Status in 2020:- Haley Pham Dating Status In 2020, Who Is Her Boyfriend?
He has more than 2.2 million subscribers on his YouTube channel, and his videos are mostly reaction videos to pop-culture videos.
In April 2016, he and Wengie posted a cover duet of singer Zayn Malik's Pillowtalk (2016) on Wengie's channel. 
Facts About Wengie: Age, Real Name & Height
Wengie was born on 9th January 1986 in Guangzhou, China.
Her real name is Wendy Ayche (Wen Jie Huang).
She stands at the height of 5 feet 4 inches (1.6 meters).
The Youtuber is a huge fan of artists like Taylor Swift & Justin Timberlake and often uploads covers of their songs on her channel. 
Wengie runs one of Australia's top blogs called The Wonderful World of Wengie, which she started out simply as a hobby.
She was a regular corporate employee before she decided to quit the job and focus on her YouTube career instead. 
About Another Chinese Celebrity:- Liu Yifei Married, Height, Ethnicity, Net Worth
Wengie often experiments with her hair color and style; she has multiple blogs on that.
She was previously dating a guy named Sam. 
Her Zodiac sign is Capricorn. 
She also collaborates to make music videos; her collaboration, Mr. Nice Guy, with Filipino pop star Iñigo Pascual, was #1 on two separate charts in the Philippines in June 2019.