Entertainment
Wes Studi Still in Strong Family Bond with Wife! 5 Facts on His Personal Life
You might be planning a successful fortune and a lovely family to share the strong bond while one of the finest actors in Hollywood, Wes Studi is already living your dream. 
The successful actor is running in his 70's, but his family bond may not be accumulated in figures. Wes Studi has his share of the rough ride in his family life, but still, there are no scratches on his family bond.
Well, if you want to explore Wes Studi's family bond, you don't have to go anywhere. 
Explore every fresh and exciting thing of your beloved celebrity Wes Studi on the five facts presented below!
1) Wes Studi is an Inside Out Cherokee!
Born in Nofire Hollow, Oklahoma, USA, on December 17, 1947,  Wes Studi is full Cherokee from his heart to soul. The eldest son of Maggie, a housekeeper and Andy Studie, a ranch hand, Studi spoke only Cherokee before he attended grade school.
Studi later attended Tulsa Junior College in Tulsa, Oklahoma, U.S. and Northeastern State University, Oklahoma, U.S. 
The 70 years old actor, Studi might share the ultimate love for his Cherokee ethnicity that he even went to marry a Cherokee school teacher, Rebecca Graves.
2) Wes Studi Scored Hattrick in Marriage!
You may already know that Wes Studi is married, but do you know that he has not been married once or twice, but thrice? 
Well, Studi never took his first marriage seriously as he said it was short and not a real marriage. It might be one of the reasons for keeping his first marriage low-key.
Well, the actor, who stands at the height of 5' 10" (1.78m), got married for the second time to a school teacher, Rebecca Graves in 1974. 
And the actor started a family with Rebecca sharing two children, Daniel, age 42, and Leah, age 38. The pair even bought a horse ranch near Tulsa. However, Studi's second marriage's run came to an end after the divorce in 1982.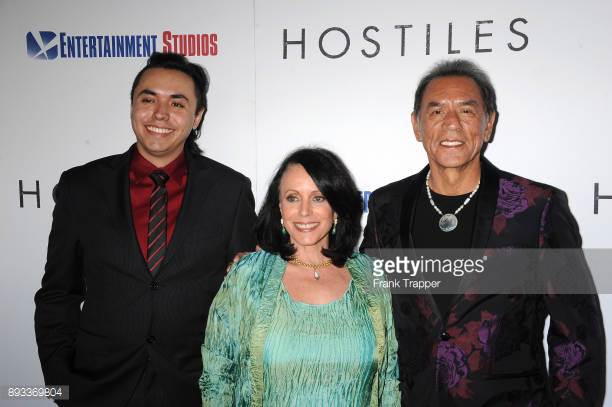 Caption: Wes Studi, his wife Maura Dhu Studi, and son Kholan Studi at the premiere of Entertainment Motion Pictures on December 14, 2017.
Photo Credit: Getty Images
But it was not the end to the quirks of Studi's love life. He gave a third chance to love when he met Maura, daughter of Jack Albertson, back in 1988. 
He was in the pursuit of his acting career where the fate struck Studi to meet his lady love in a jazz club in Los Angeles. 
Maura, the wife of Wes Studi, recalls the incident as,
"As far as I was concerned, it was love at first sight."
The first meeting was not enough for Wes as they didn't go out for another year. But the love ultimately took them to marriage, and then the pair welcomed a child named Kholan Garret. 
After marrying Maura, Studi enjoyed a blissful family life with his wife, son Kholan, and Daniel. However, Leah stayed back with her mother, Rebecca.
3) Divorce was the ultimate push that drove Studi to acting!
No wonder, Studi has a little complex married life that will inevitably output complications in its own way. But the divorce incident became the button that pushed him to acting and film industry. As the actor himself explains,
"I had to build another life."
The actor joined the American Indian Theater Company (Tulsa) in 1983, a year after divorcing Rebecca. 
Three years later, he shifted to Los Angeles and made his film debut in the 1988 film "Powwow Highway" which opened the gate for the series of roles for him. 
As per Studi's interview in 1993, he was trying to explore more than his ethnic-roles. Well, his major career work includes Geronimo, The Last of the Mohicans.  
4) Wes Studi's Talents Run High and Wide!
The small-town Oklahoma native, Studi, invested a lot of his talents to attain the title of highly acclaimed actors. 
But before he even came as an actor, he already had the compilation of real-life credits of soldier, reporter, and activist. He joined the U.S. Army back in 1967 and served in Vietnam for 18 months.
In the year 1974, he worked as a reporter, right after returning from Army. 
As for activist, he was one of the protesters on the "Trail of Broken Treaties protest March" in 1972.
Do you know that Studi is also a musician?
Studi is the bass player in the band "Firecat of Discord" where his wife Maura is the lead singer while his brother, Bob is the drummer.
Caption: Wes Studi with his band "Firecat of Discord" at the Ryman Auditorium. (Published on Jul 26, 2009 )
Studi has not just flaunted his talents in music but has also given his writing skills to the world from his two children books for the Cherokee Bilingual Cross-Cultural Education Center.
5) Wes Studi Wished His Kids to Follow his Footsteps!
The well-beloved actor, Wes Studi, wished his children to follow his footsteps of acting. The actor, who gathered all sorts of fame and fortune from the profession, hinted his wish on Facebook. 
The actor shared a throwback photo with his children on his facebook where he revealed his desire in the comment section after one of his fans asked him whether he would allow his kids to go into acting or not.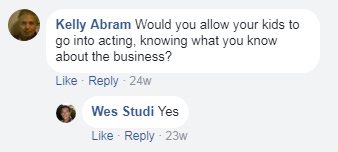 Caption - Wes Studi's reply to the children going to acting career question
Photo Credit - Wes Studi's facebook
As a good father, Wes Studi replied back yes which further shows the ultimate love for his family and children. 
Well, Leah is now already married to Jake and shares a child. However, she hasn't pursued an acting career.