Entertainment
What is the Secret to Tamara Keith's success? Also, her Personal Life: Family, Married? Boyfriend Rumors?
The trophy winner for "outstanding story Radio", Tamara Keith is juggling between her profession and motherhood. Don't you want to know how she balances her personal and professional life? If yes, then read our full story.
Tamara Keith's Personal and Professional life:
Tamara Keith has been gifted with a lovely family.  We all know that she is married to cancer researcher and veterinarian.  Tamara is pretty good at concealing her personal life and therefore she never discloses the name of her former boyfriend turned husband. Well, do you know what the name of her husband is? Anyways, despite the differences in their profession, her husband is very supportive and understands her profession. Tamara told in an interview with modernae.com that she and her husband both are ambitious, and it is this quality which made them together.
 "My husband and I met in college, and we are both very ambitious people. We complement each other incredibly well, and we're obviously very forgiving because we understand ambition"
She made a whimsical tweet as a typical wife about her husband.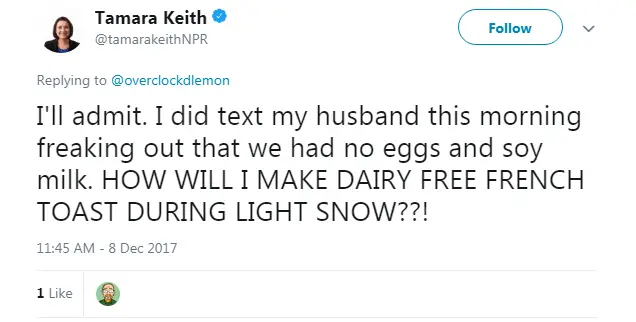 Tamara Keith admits texting her husband about eggs and soy milk in the Tweet (Twitter)
Undoubtedly, Tamara soul mate is her husband but her holiday partner is her son. Being a working woman, Tamara can't give much time to her son. She has to travel different places in order to cover the stories. Therefore, it is apparent that her son misses her a lot. But lately, she has started making a chart before going anywhere far. Well, you may be wondering what kind of chart. Let me remove your confusion, with the picture of the chart; we found it.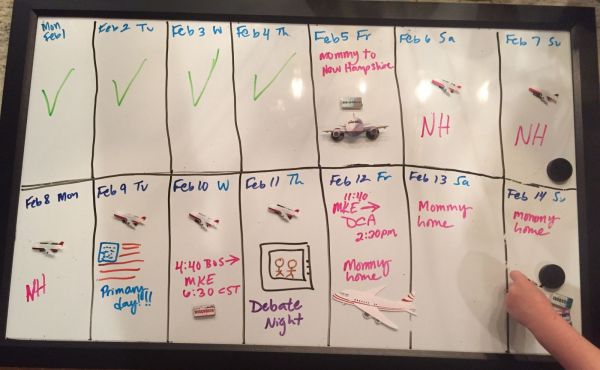 The chart Tamara makes for her son  (modernae.com)
 The NPR co-host shared a picture of the gift given by her son. Take a look!
It is a sweet gift from her son, isn't it?? 
Tamara claims she does not regret that she cannot spend time with her child. In fact, she is happy for being capable of fulfilling all her son's needs.  Tamara talks rationally not only now but from earlier. It was surprising for everyone to see seven months pregnant woman running for covering for stories.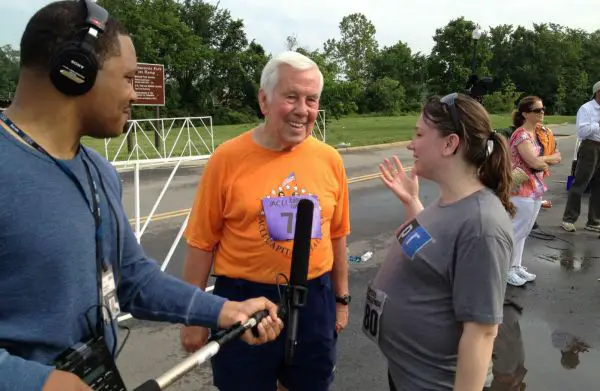 Tamara reporting stories while she was seven months pregnant (runnersworld.com)
Moreover, she confessed that she alone couldn't have handled the family so well. She has been able to fulfill all her maternal duties so far with the help of her husband.
"I have a supportive husband and a job that pays me enough that I can afford childcare, and yeah, it's complicated and it's one big problem-solving challenge. Every time you think you have a normalized system, everything changes. But I'm very, very lucky. A complicated life is one thing, a hard life is another. So many of the people I meet on the campaign trail don't have the built-in support system that I have due to circumstances and economic conditions. I interview people who are choosing between feeding themselves and keeping the heat on for their babies."
Along with being a responsible mother, Tamara is also a successful NPR white house correspondent.  She looks highly dedicated and hardworking, doesn't she?? But she altered our view after she revealed her success secret as her naïve optimism with California magazine. She said,
"Part of it was just not realizing there were limitations. When I was young, I was dumb and it was really good! Now I realize there's no reason that any of those things should have happened,"
Furthermore, Tamara covers the economy and federal budget-related news for NPR. She entered the channel as a business reporter in 2009. Tamara started her journalistic career by writing and voicing essays for Weekend Edition Sunday of NPR. She has been awarded from the Society of Environmental Journalist for "Outstanding Story Radio" in 2007. Similarly, she also won an award for best writing from APTA California/Nevada.
 also did a news on the recent shooting in Maryland, Florida shooting that killed seventeen innocent people.
The successful correspondent is often witnessed engaging in various charity work. She shared a picture holding a trophy after winning a game held in order to raise fund for Young Survival Coalition. 
Apart from the charity she is also fond of sports and manages to take time out of her busy schedule for sports. 
Tamara has not only managed to juggle between her family and work successfully but she has also taken time out of her busy schedule for charity and her hobbies. That is pretty impressive.