Entertainment
What's His Real Name? JC Caylen Hanging Out With New Girlfriend The Days Hints Dating Affair With Former Beau Ended
Despite engraving in the rumor of dating and getting ditched in a relationship YouTube star JC Caylen again got into a gossip news after he was spotted hanging out with a new beau. Did the relationship never exist between the said former girl or did they both seriously moved on after a mutual understanding with each other?
Broken Heart Healed After Finding A New One 'Girlfriend', How True?
From the early year of 2013, the Youtube star was alleged to be in a relationship with his co-star Lia Marie Johnson. The gossip heightened after Lia posted tweets tagging JC, which had made the fan followers raise questions about his mysterious girl.
To remove the allegations from the headset of the fan followers, the JC through his tweet broke down the truth of his singularity,
Im not dating anyone -_- Nor am I talking to anyone. I hate that u guys think I'd be hiding anything from u...

— ??jaysee (@jccaylen) April 28, 2013
The said tweets did not only clarified the rumor but also turned out to be a relief for most of his followers and himself as well,
@jccaylen Good. Cuz the day I find out you are dating…..(creepy close up)….you're gonna be sorry. (thunder/lightning, then I disappear)

— Lamarr Wilson (@LamarrWilson) April 28, 2013
@jccaylen you are one of the only people I trust and I haven't even met you!!

— jessica (@harryspadre) April 28, 2013
However, in the year 2015, JC again got surrounded in the story of dating his co-star Lia Marie Johnson. The speculation got reported when they were assigned together with a task in Awesomeness TV.
The rumors got further blazed when they together worked for JC's channel covering the trending title of "Extrem Girlfriend Tag" where both the stars enacted the boyfriend-girlfriend part in an extreme manner.
Caption: JC shares the girlfriend-boyfriend story with his rumored girl Lia Marie Johnson (2014)
But the suspicion had risen when JC while introducing Lia gave her the title of his best friend while Lia gave a giggle on such addressing. Similarly, the duo in advance of JC's 23rd birthday, i.e., on 23rd September 2013, were caught strolling hand in hand at Disneyland by a fan.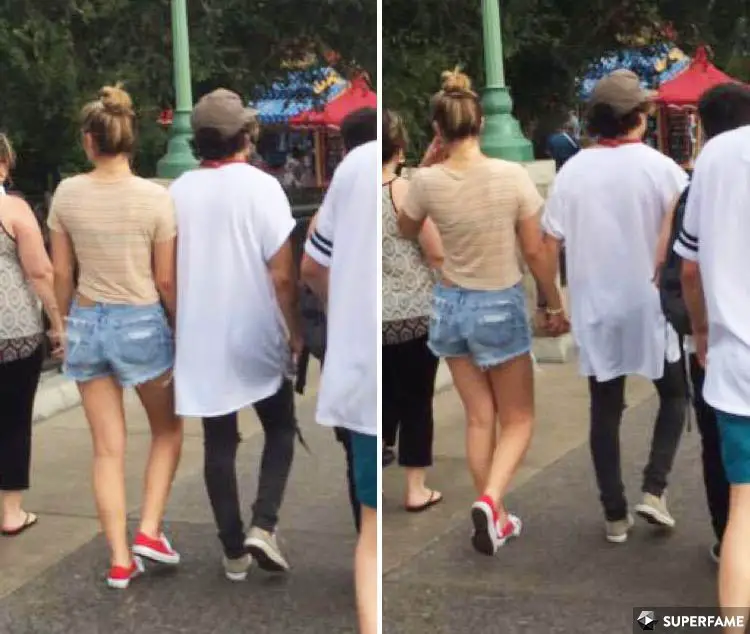 Caption: JC with his rumored girl Lia Marie Johnson strolling inside Disneyland (2015).
Photo Credit: superfame.com
Followingly their shared tweets gave more suspicion about their shared relationship,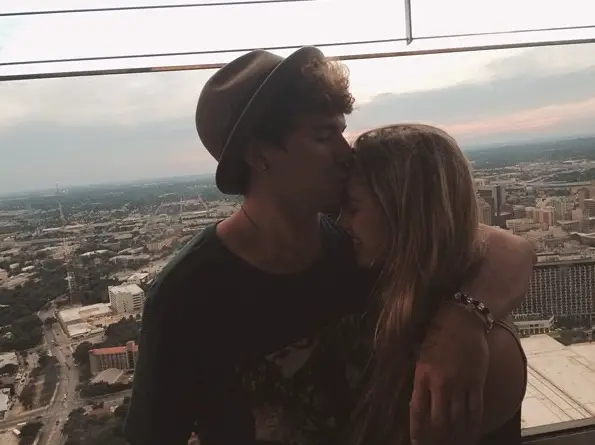 Caption: Confined and intimated relationship of JC and Lia (2015).
Photo Credit: favim.com
Despite both, the Youtube starrer spelled nothing about their continued love for one another, but their break up news again soared in the media. No exact reasons for their break up got revealed, but on the other hand, JC was frequently spotted together in a chill out mode with a new beau another Youtube sensation AnneMarie Morin while no current relationship details of Lia got identified.
The exact relationship details or the meeting events of the pair remain unidentified, but the fresh pair is surely into on another as JC has uploaded their pictures of one another which gives us a slight hint of their shared relationship.
Well, despite sharing a little info about his speculated girl Anne, JC has shared his few personal details of his life and family. JC's real name is Justin Caylen Castillo which got later changed to Justin Cloud Caylen and which made him achieve the height of success as a Youtube star.
Likewise, he has three siblings Jaylyn, Ava Grace and Joe Felix from his parents and shares the American ethnicity as he was born in San Antonio, Texas, USA.