Entertainment
Comedian Whitney Cummings Dating & Evolving With Massive Net Worth Instead Of Boyfriend?
Stand-up Comedienne, Whitney Cummings is a renowned name as one of the hardest working people in show business. Born in September 1982 to the mother Patti Cummings, Whitney has evolved her career into a big attractive resume with impressive projects in it. 
However, as for her love life, she had a failed dating life with the famous director, which turned into a "painful breakup" in the end.
Dating Ends With Painful Breakup; Want Assistant Rather Than Boyfriend
Whitney, co-creator of the show 2 Broke Girls, was dating the director of Friday Night Lights Peter Berg.
The couple had a very good relationship. In fact, they never went low-key but were spotted enjoying each others company in the public places.
Back in July 2013, Whitney and the Battleship director were photographed getting cozy outside of the Bowery Hotel in  NYC's East Village neighborhood. Whitney was resting her head on his shoulder whereas Peter was hugging her.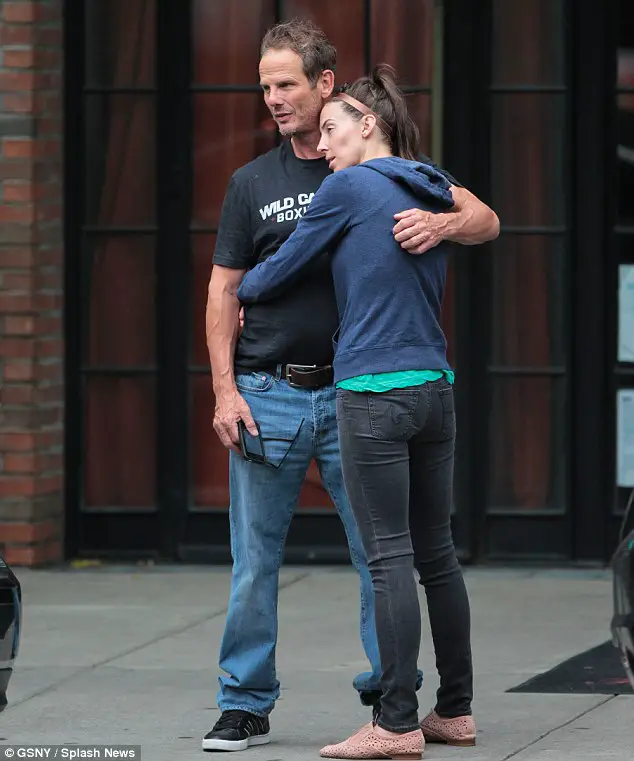 Whitney Cummings and Peter Berg getting cozy in New York City on July 2013 (Photo: dailymail.co.uk)
Though the couple remained strong together until July 2013, it seemed they were not meant to be together. After dating over a year, the blissful couple backed off from their relationship in 2013. The former lovebird kept the reason behind their separation under their pocket. 
But the split seemed to be very painful to Whitney. The stand-up comedian was so disturbed with her breakup that she revealed about her painful splits during her act. 
An eye-witness of her stand-up performance revealed to US Weekly that the break up sounded like a painful separation. He stated:
"It kind of sounded like a bad breakup –- she talked about hating guys.They dated over a year before calling it quits.
Following the revelation about her separation,  Whitney, who has a net worth of $15 million, also announced her relationship status through the social networking sites. She took to Twitter in September 2013, informing her followers that she is no more into the romantic relationship. She tweeted:
"Single and ready to cuddle."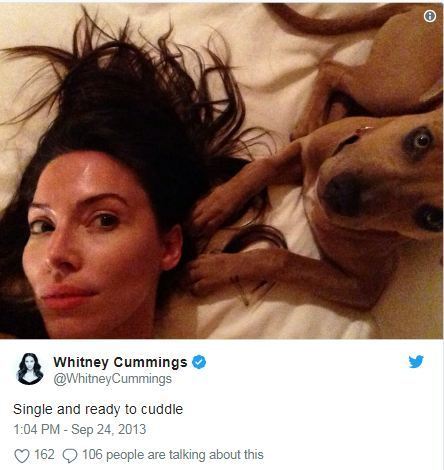 Whitney Cummings announces that she is single (Photo: Whitney Cummings' Twitter)
Well, after her split with Peter, she was not seen indulging into any relationship. But after four years of separation, she seemed to have wanted the presence of boyfriend. 
She took to Twitter on 31 January 2017, tweeting about wanting a boyfriend, then again she says, she just wants an assistant. She quoted:
"Sometimes I want a boyfriend then I realize I just want an assistant."

Whitney Cummings tweets about the boyfriend (Photo: Whitney Cummings' Twitter)
Well, as of now, the 35-year-old comedian is not seen in any romantic relationship. Similar to the low-key information about her parents, she has kept her relationship status low-profiled too. Probably, Whitney, who has a mother and brother in her family, is now concerned with her career for now. 
Career With "Roseanne"
The standup comedian Whitney Cummings is the producer and writer for the ABC revival of Roseanne. She also opened up about her role as a showrunner on the show.
Previously, the news broke in 18 May 2018 that she won't be returning to the show but she came with the happiest news in July that she will be one of the creators of the show.
She also described the plotline of the show to THR describing the show enacted the fighting for a balanced portrayal of the issues where Connor's five-year-old grandchild would find the lost gun of the family. She depicted the idea of the student protesting for the legalisation of the gun for the safety which made show looks like preaching the protest. 
Due to this reason, she had previously left the show but now she has returned back with more ideas and thoughts to entertain the audience. Also, she hosted the final gala of Just for Laughs on 28 July 2018.