Entertainment
WWE Announcer Lilian Garcia & Husband Married For 9 Years, Keeping Wedding Vows?
Every couple shares unconditional love and enjoys each moment in the early years of their marriage. However, as the time passes, the fun and thrill of the relationship gradually fade away leading to misunderstandings and in some cases even the separation of the partners. 
In contrary to this, former WWE announcer Lilian Garcia and her husband have proven themselves as an ideal couple, as their love is flourishing even after nine years of remaining married.
Married Life: Nurturing Love With Aging 
It's been nearly nine years since Lilian tied the knot with her beau, and the couple is going stronger in their relationship with each year passing by.
While her harsh voice and confident attitude of Lilian inside the ring might lead people to suspect her of being a lesbian, however, Lilian is a happily married woman, and therefore it's absurd to think that way.
Lilian, who also identifies herself as a singer, married Canadian fashion designer Christopher Jozeph aka Chris on 28 September 2009.  The couple got wed in a private ceremony which was attended by close friends and family at the Walt Disney World Resort in Orlando, Florida. Announcing her marriage to the wardrobe stylist, Lilian shared a picture of her wedding via Twitter on the day of her wedding.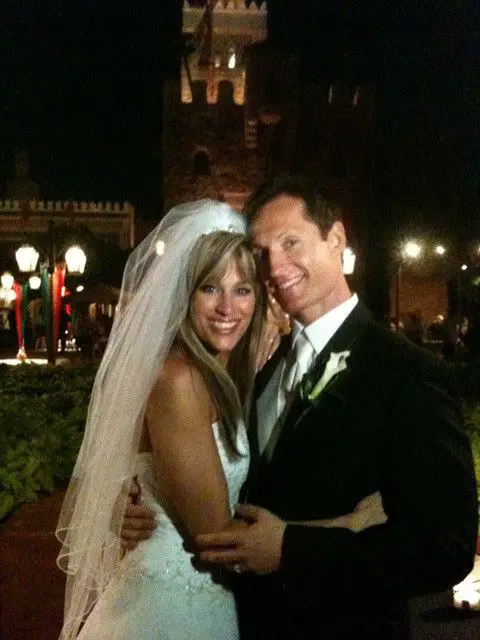 Lilian Garcia with husband Christopher Jozeph in their wedding on 28 September 2009 (Photo: The ScottishSun.co.uk)
Chris has proven himself as a loyal and caring husband, who takes care of his wife during her times of distress. Back in October 2012, when Lilian got hit by a car; Chris acted as a responsible husband and supported her during the injury. He even updated fans about the health condition and also thanked them for their love and support. Chris wrote in his tweet,
"Thk U 2 @WWE & every1 4 sending my wife@LilianGarcia ur prayers during this difficult time. Its strengthening & comforting #GetBetterLilian,"
Further, the couple is known to attend several public events together and has not barred themselves from showing public display of affection. On 15 August 2013, the pair was spotted attending the WWE & E! Entertainment's 'SuperStars For Hope' held at the Beverly Hills Hotel in Beverly Hills, California.
The couple celebrated their seven-year marriage anniversary on 28 September 2016. Lilian and Chris didn't throw a lavish party to exaggerate their anniversary, but instead, they chose to spend time hanging out with one another. Lilian even posted a picture on their anniversary to wish her husband for their achievement as life-partners.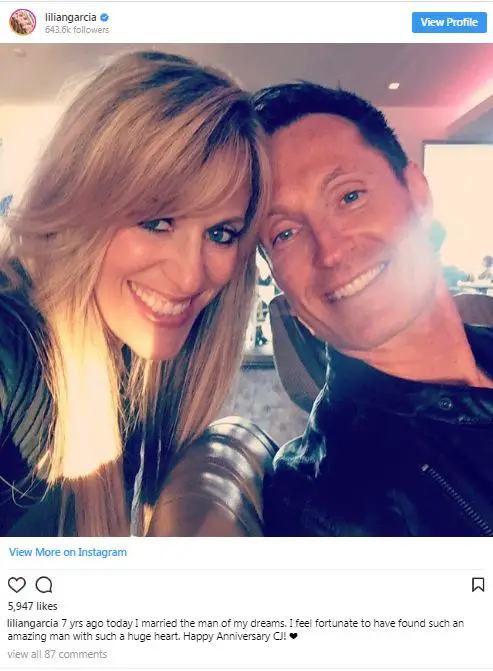 Lilian Garcia and husband Chris celebrate the seventh anniversary on 28 September 2016 (Photo: Lilian Garcia's Instagram)
The bond between Lilian and Chris seems to be thriving with the increase in time. The couple is often seen together attending different events and spending quality times. Despite having a busy professional schedule both the partner don't miss to make each other feel special.
Although the partners have not much updated about their married life to fans in 2018, they are believed to be happily committed to each other. Further, Lilian who received a salary of $400,000 per year while working at WWE Monday Night's Raw and has garnered an estimated net worth of $10 million, so the pair is probably smoothly managing their finances.