Entertainment
Yessica Kumala Wiki: Her Bio has it All! From Age to Married Life and How it Started
It is challenging to avoid the limelight when someone close is related to the world of stardom, and the curiosities of the fans are something one cannot look away from!
The similar circumstance hits the life of Yessica Kumala, who is well known for being the wife of famous actor and model, Josh Holloway. 
The couple has been together for 19 years, and even after all those time, they still share a beautiful bond with each other.
This post is dedicated to Yessica Holloway and the secret behind her happy married life with Josh. So, keep on reading!
Yessica Kumala's Wiki-like Bio including Her Married Life
Yessica Kumala was born in 1978. Belonging to the Indonesian ethnicity, the 40-years-old is of average height and looks much younger for her age. 
As she hasn't revealed much about herself, her net worth is yet to be disclosed, but her husband, Josh Holloway's net worth is estimated to be $22 million.
When talking about her married life with Josh, Yessica tied the knot with him back in October 2004, after being together for about five years.
The pair first met at a bar when Josh was hitting on Yessica's friend, where someone slapped on his shoulder, and as Josh looked behind, he saw a beautiful lady with a martini in her hand. Remembering the moment, Josh added,
"She looked me up and down and said, 'Give me your number before you leave."
Yessica remained very supportive of her then-boyfriend, Josh, as he wasn't able to get proper work before 2004. 
However, his bad days ended when Yessica called him to report about the arrival of a fax about a new series, Lost, for which he had auditioned and got selected.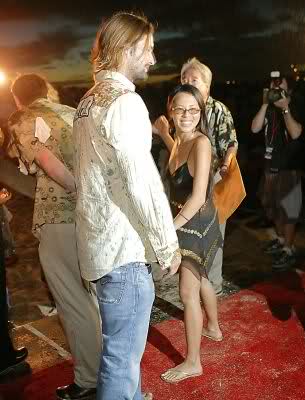 Caption: Yessica pictured with Josh in a party back in 2005
Photo Credit: tinypic
According to a source, Josh proposed her then-girlfriend, Yessica while shooting the pilot of Lost in Hawaii and held their wedding soon after.
In one of the articles in April 2006, regarding his wife, Josh said,
"So when Lost took off, part of me thought, Do I cut and run? Of course not. I was madly in love with my woman, so I married her."
In the same article, Yessica was even praised by her husband.
"My wife's a very confident woman. And I like that. I could not be married to a jealous, clingy person. I'm flirty. I still like to look around, but respectfully, and with no intentions. That feels good. Married, not buried, I always say."
The couple welcomed their first baby on April 9, 2009, in Oahu, Hawaii, where they started living since Holloway became the part of Lost. The proud parents named their beautiful daughter Java Kumala Holloway.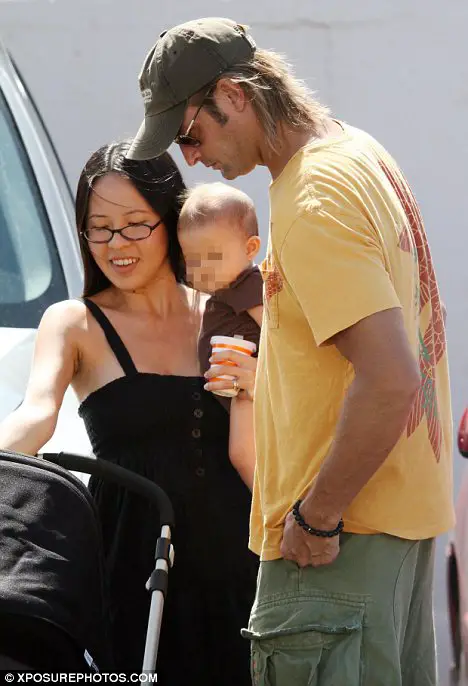 Caption: Yessica Kumula with her husband, Josh and her eleven-month-old daughter, Java
Photo Credit: dailymail
The lovebirds once again made headlines earlier in November 2013 when Josh revealed about Yessica's second pregnancy during an interview. When he was asked about how he felt as a 'sex symbol,' he said,
"That's funny because I'm a family man. I've got a four-and-a-half-year-old daughter and another one on the way. Pretty excited about that,"
The duo was excited about having a second child but Josh was a little nervous as well, and he said,
"I was not prepared for how much love I would have in me. So I'm a little worried, like how can I love something as much as I love my daughter? But everyone says your love just grows, so don't be afraid of that, so that's my only thing."
Despite all the dilemma, the couple welcomed their son, Hunter Lee, back in February 2014. 
Handling two children can be a difficult task but the mother of two, Yessica, managed everything pretty well. 
She made sure that her husband got enough sleep at night and he even joked that he would be nothing without such a great mother and a wife.
"Yes, my wife's a rock star. I'm a loser, just ask her. I'm kidding. It's all good."
After all these years, the love between the couple has gotten even stronger, and they share a beautiful life with their two adorable kids!