Grey's Anatomy star, Camilla Luddington, chose a very creative way to convey her pregnancy news to her fans and followers. On Wednesday, October 26, 2016, she took to her Instagram to share the exciting story of her life.
Matthew Alan, Camilla's boyfriend-turned-husband, is the daddy of her baby. At the time, It seemed that the two were ready for parenthood. Let's find out more about the couple.
Pregnant, Boyfriend & Dating
English Actress, Camilla Luddington began dating Red Tails star Matthew Alan in 2008. For their first date, the duo attended a The Temper Trap concert.
More On Her Boyfriend-Turned-Fiance:- Matthew Alan Engaged With Girlfriend Camilla Luddington
She revealed the news of being pregnant on 26th October 2017, in a very innovative way. She captioned her Instagram post by writing:-
"I am SO excited to FINALLY share with you all news that I've managed to keep secret for what seems like forever now... I am pregnant! This girl gets to be a "cool mom" ha! "
In the said post, the Castle Rock actress held pumpkin on her lap with the imprint of BABY ARRIVING SPRING 2017 in gold block letters. That was instead a cool way to announce her pregnancy news.
She further wrote:-
"Ill be posting progress pics as the weeks go on but for now i figured id post this pumpkin because come spring ill have a belly that size."
Camilla also gave her love to all whoever "guessed right." Yeah! She gave a hint to all her followers about her pregnancy by sharing a video with her co-star Ellen Pompeo. She continued:-
"So much love to you all. And nods of respect to the few of you who guessed right in the past few months- yes I saw your comments on that ellen/me video !! Love,
Camilla xxxx."
Camilla then assured that she would be making the fans a part of her happy period.
With the same excitement and enthusiasm, then-pregnant Camillia made her appearance Jingle Ball 2016 in Los Angeles at 102.7 FM. On the same day, she took that photo to her Instagram with her baby's daddy.
Baby Bliss & Engaged
In April 2017, Camilla and her then-boyfriend Matthew welcomed their first bundle of joy - a baby daughter named Hayden. Via Instagram, she shared a black and white video of the two with their newborn.
Blessed With A Baby:- Emily Wears Bio, Age, Net Worth, Parents, Baby
2017 also marked the actor duo's engagement. On the occasion of the New Years Eve celebration on 31st December 2019, Matthew popped the big question. A joyous Camilla couldn't help but scream "Yes."
Married, Husband & Wedding Details
After a year and eight months wait, Camilla finally became a married woman. She and her now-husband Matthew tied the knot on 17th August 2019 in a California coastline wedding ceremony.
Following the bash, Camilla gave an interview with PEOPLE and shared the duo's lifelong dream of marrying by a beach. By any means, the nuptials was a low-key affair. Only 70 people attended an intimate event.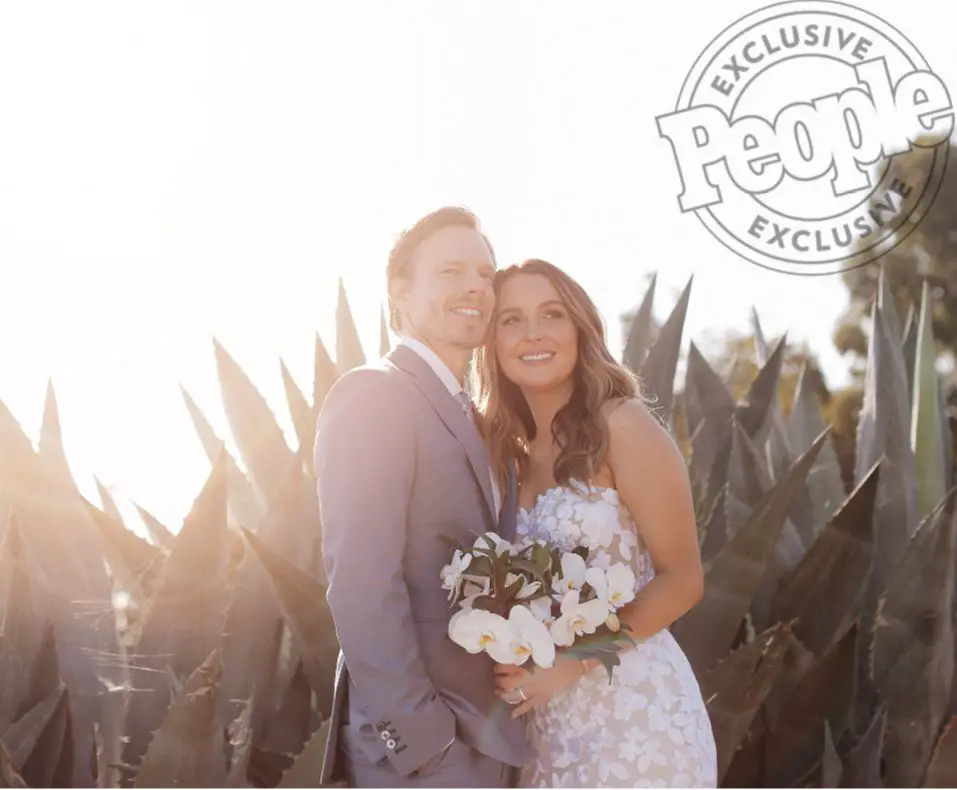 Married duo Camilla Luddington and Matthew Allen pose for wedding snaps circa Aug 2019 (Photo:- PEOPLE.com)
On the big day, Camilla walked down the aisle, wearing a Mira Zwillinger gown. Her boyfriend-turned-husband Matthew, on the other hand, opted for a sleek grey suit.
Net Worth Revealed
English actress Camilla started her career in acting from 2007. She played a cameo as a receptionist on "A Couple of White Chicks at the Hairdresser." Further, she pursued her career in acting playing in different series like The Forgotten, Big Time Rush, William & Kate: The Movie and much more.
She got her first break as Catherine Middleton in William & Kate: The Movie. Camilla as Jo Wilson in Grey's Anatomy was another success which won the heart of many.
From Grey's Anatomy:- Benjamin Patterson Husband, Gay, Net Worth
The Big Time Rush star has given her voice in the motion picture Tomb Raider, Infinite Crisis, and sequel to "Rise of Tomb Raider." All her diverse source of work as an actor in small and big screens and her voice in video games must have accumulated a sizeable figure.
That said, Camilla hasn't yet revealed the exact number of her net worth. But looking at her lavish lifestyle; she must have had an impressive net worth.