Entertainment
Yolanda Saldívar Is Not Dead! She Is Still Alive And Counting Days For New Life
Death rumors are hovering around for many, specifically to those, who come to sudden media's headlines and gets disappeared afterward. One of such names is Yolanda Saldivar, who was the fan club president of Tejano singing star, Selena Quintanilla, and manager of Selena's boutique.  
However, Yolanda is known as the killer of the talented personality, Selena rather than her profession, as Yolanda was the one who murdered this beautiful singer. It is certain that Yolanda's evil act of killing Selena earned herself a fair amount of hate and dislikes among Selena's fan community and seemingly many fans would even want her dead. 
However, guilty found Yolanda is not dead but was a victim of a death hoax. See for yourself and find out where she is nowadays!
Yolanda Saldívar is Not Dead; Still Serving Her Time in Jail!
Yolanda Saldivar is the name, who previously was the fan club president of Tejano singing star, Selena who also managed Selena's boutique. But, unfortunately for her, Yolanda's name came to limelight when she got arrested for the murder of Selena back in 1995.
Yolanda's name is hardly on media's headlines in current days, as the incident itself is two-decades-old, and as a result of which, her death rumors started swirling. 
Back in August 2015, a conservative site, 'United Media Publishing' published an article that stated Yolanda was found dead in her cell. Yolanda, who was serving her maximum sentence at the Mountain View Unit in Gatesville, Texas, was cited dead by the site, stating, 
"After spending nearly 20 years in prison for the murder of beloved Tejano superstar, Selena Quintanilla Perez, Yolanda Saldivar was found dead in her cell by deputies during a rountine walk through of the Mountain View Unit in Gatesville, Texas. Attempts to resuscitate Saldivar proved futile as she appeared to have dead for several hours before discovery."
However, Saldivar was confirmed to be still alive, later, by the 'San Antonio Current,' as Jason Clark, the Director of 'public information for the Texas Department of Criminal Justice,' proved all the reports regarding Yolanda's death to be false.
Similarly, Saldivar later filed a complaint about the mistreatment in prison in July 2016 which was reported by the magazine, Latina.com as:
"Selena Quintanilla's killer Yolanda Saldívar sued the Mountain View prison in Gatesville, Texas for denying her medical attention. After falling from her bunk bed in May 2015, the prisoner, who hit the right side of her head, claimed she was in tremendous physical pain and emotionally distressed. The lawsuit was priced up to $500,000 for abuse and refusing to treat her medical need."
Saldivar also made the effort of self-representing from prison, to argue that there were problems in her case as reported by The San Antonio Express-News. She argued that the defense counsel "failed or refused to interview witnesses and introduce any exculpatory physical evidence" into her case. However, her effort was not successful.
As of now, Yolanda Saldivar is serving her life sentence at Mountain View Unit, which explicitly denies any death hoax since she murdered Selena. The former nurse Saldivar was believed to be embezzling the money from the boutique back in 1995.
When the Quintanilla family realized Yolanda was pilfering the money, Selena demanded Yolanda, to hand over some of the boutique's financial documents. The duo agreed to meet at a 'Days Inn motel' in Corpus Christ, Texas where Yolanda would provide the financial reports.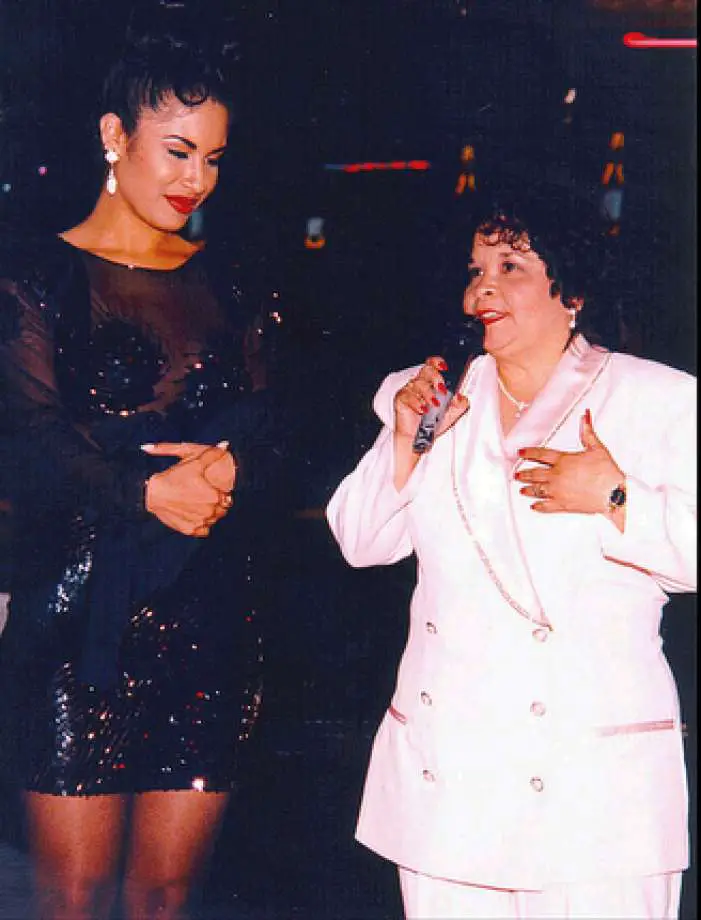 Yolanda and Selena at 1994 Tejano Music Awards party in San Antonio, Texas (San Antonio Express)
However, on March 31, 1995, Selena was found dead at the same motel and later, it was proved that Yolanda was the one to shoot her. Many sources dwell upon the reason behind such horrifying act, as one of such source, Univision states:
"She killed her because she wanted to feign an assault to avoid going to jail and, above all, not have to pay her the almost 200 thousand dollars she had stolen during her administration of clothing stores and the Selena fan club." 
Yolanda was sentenced to life in prison for the murder decided by a jury of six women and six men after nine hours of deliberation means. She was found guilty of first-degree murder of Selena Quintanilla Perez and must serve at least 30 years before being eligible for parole.
Yolanda, who mounted a legal effort to receive an early release from prison back in 2014, will be permitted for parole on March 30, 2025.