Entertainment
Young Age Actress, Faye Brookes, With 'Best Boyfriend EVER'
Faye Brookes is still in her twenties and yet an experienced stage actress. Being so much adorable and beautiful, it was obvious for her to have a boyfriend. And the fact is, she has been in a relationship. We shall try finding out something more about her personal life and if she is married? If not, who is her boyfriend?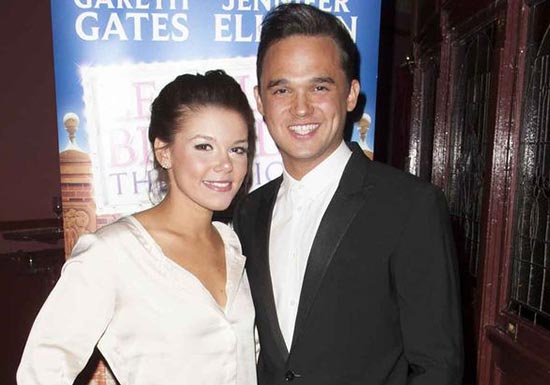 Caption: Star couple Faye Brookes and Gareth Gates(OCT 2015)
Source: mirror.co.uk
Is she Married? Husband or Boyfriend
Faye Brookes, 28, is no more single. This may be a heartache for her die-hard lovers and followers, but that's the truth for now. Who is she dating?
Well, she is dating the 31-years older former pop star Gareth Gates. The couple indeed is happy. They are contented about their relationship, which we can assure by looking at one of her tweet on her twitter @Faye_Brookes. She mentions him as "Best boyfriend EVER" on the tweet.
Furthermore, there are other tweets made by other people which also gives a clear hint that the couple share a deep bonding. Let's have a look at some of them:
When did it all start?
The couple is said to have met each other at the production of Legally Blonde (in 2012), where they were on-stage as on-screen lovers. After that, Gareth got separated from his wife of 10 years Suzanne Mole and started hanging out with Faye Brookes. Gareth and Suzanne have a daughter named Missy.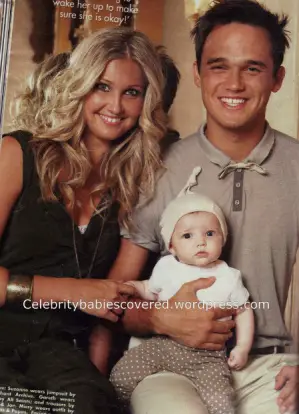 Caption: Gareth Gates and wife Suzanne Mole proudly introduce daughter Missy in the August 24th issue of OK! magazine.
Source: celebritybabies.com
Gareth and Flye were seen several times together, hanging around sharing the limelight.
Gareth indeed has become proud of his girlfriend that she was able to join the Conner clan in Coronation Street. Faye in 2015 said:
"Gareth is so proud of me. He knows how hard I have worked to get here. He is so supportive and wants me to be the best version of who I am. He would love to be on my arm walking me down the red carpet with me in the limelight. He wants that for me – he really does."
The couple has not married yet, and there are no clues from any of the sources that possibly can explain whether they are planning to be married or not.
Faye Brookes was born on September 3, 1987, in Manchester, England. She is an experienced stage actress and started her career in 2011. She is currently known for Kate Conner on Coronation Street, which she had been playing since 2015.