Entertainment
Young Frankie Cosmos Talks About Dating Bandmate And Being With Boyfriend Even On Tours
The life of a rockstar is one to envy. You get to travel all around the world and do what you love, and that is making music. But while making music, you sometimes make up a romantic pair with the people around you.
The same can be said about Greta Simone Kline or publicly known as Frankie Cosmos as she has been dating her bandmate for a long run now. So let us address the music career of Cosmos and also know what it is like for her to date her boyfriend and tour with him.
Touring With Boyfriend Who Is A Bandmate As Well!
Frankie Cosmos is someone who is a successful musician at a young age. Frankie first rose to fame with her involvement in Porches, where she was the bassist of her former band.
Frankie then began her solo career under the alias "Ingrid Superstar," before releasing her debut album Zentropy. Moreover, in late 2011, she started performing under the alias "Frankie Cosmos," a name that was coined by her boyfriend Aaron Maine and her bandmate in the band "Porches," who also plays alongside with Frankie Cosmos.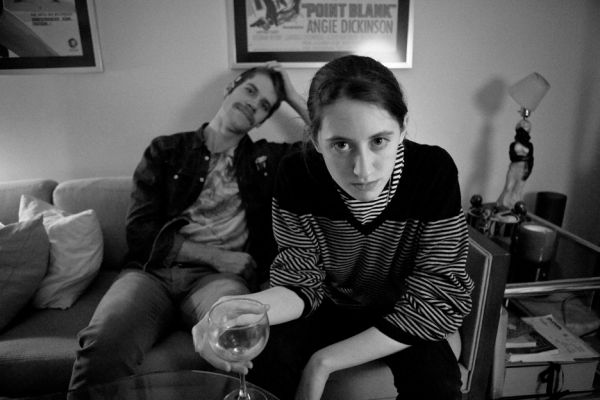 Caption: Frankie Cosmos and her boyfriend, Aaron Maine.
Photo Credit: beardedgentlemenmusic.com
So what was it like for her to tour with her boyfriend and make music together?
Back in an interview in April 2015, she shared what was it like to be touring with someone she was dating,
It's crazy. Hanging out with my boyfriend also counts as having time for band relations. Being in two bands is insane, it's really hard. It quickly takes over your life. It means we have a lot of time to spend together. But it's not the most fun dating time always, like, "oh we're running on a train carrying equipment." And it sucks. It's also nice because we live together so either way we get to hang out. But because we're in two bands, most of our time is just watching TV. I feel like that's a very tired adult thing, like when you're young with a boyfriend you normally do all these crazy things.
She then added,
But I love it. It makes touring so much easier. You miss home so much and you don't get to be around your loved ones, but we do. Every night we get in the same sleeping bag and are a little more comfortable than everyone. And I just love collaborating with him.
Moreover, when she was asked about her boyfriend being the sex icon, she said,
Ugh, I hate that. I hate that everyone wants to f**k my boyfriend. It's so creepy. But then I was that way before I dated him. The screaming is hilarious. I'm still getting used to that.
That is the kind of love she has for her boyfriend.
We would like to wish them the very best for their musical career and their romantic relationship for the days ahead.
Track And Be Alert Of Your Favourite Frankie's Tour Dates!
Those who are the fans of Frankie Cosmos might know that Frankie Cosmos announced a set of tour dates on April 12, 2017, and also revealed that they had just signed to "Sub Pop" records.
If you are willing to catch her live and want to give your ears a treat, then you might just do it by watching the band at a venue near you as the band has got some shows lined up.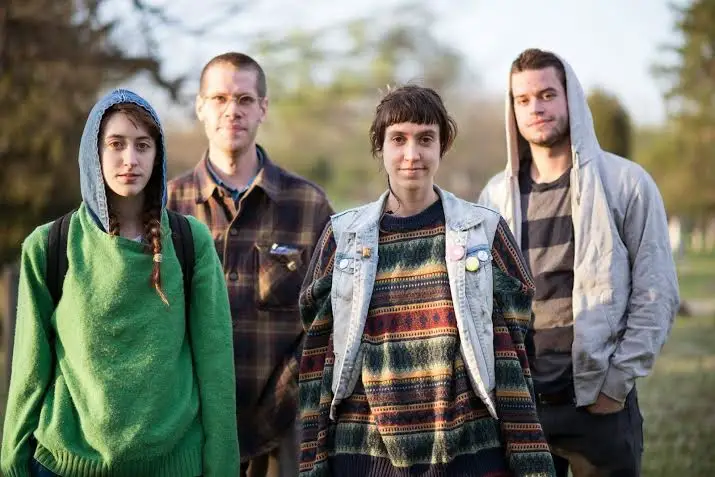 Caption: Frankie Cosmos: The Band has some shows lined up.
Photo Credit: noiseyvice.com
Moreover, reports suggest that Frankie Cosmos is working on a brand new album as of late and thus, we might be in for a treat this year.
Caption: Frankie Cosmos Next Thing (Full Album) Published on Apr 1, 2016.
So until the next album is released let us please our ears with Frankie's latest album "Next Thing."
Stay with us to get updated with the latest updates on Frankie Cosmos!