Entertainment
Who is Yris Palmer & Who Are Her Boyfriend & Ex-husband?
Here's everything you need to know about her Latina culture, present relationship with boyfriend, past marriage with ex-husband, and her business Star Lash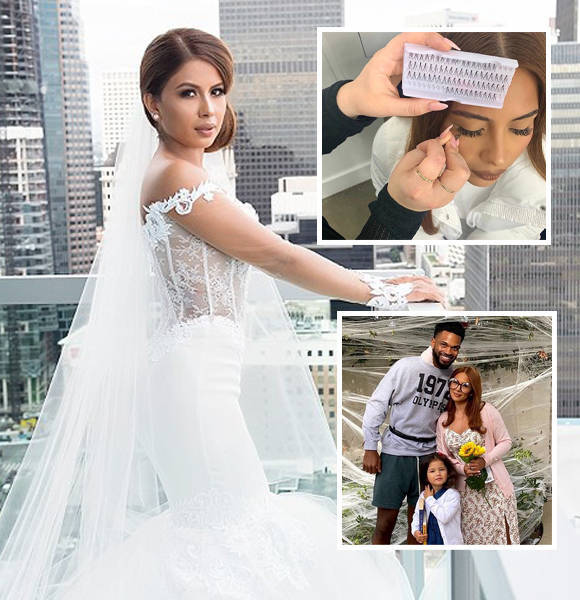 Being associated with the Kardashian-Jenner clan in itself is a huge deal, and it gets even bigger when you are associated as Kylie Jenner's BFF. 
Yris Palmer has been recently making headlines for being Kylie Jenner's newfound best friend. Even though these two were seen together before, Palmer's recent engagements on the young Jenner's social media have led people to show more interest in her personal life.
Who is Yris Palmer?
Yris Palmer is the founder of a popular lash line, Star Lash Extensions.
She founded the business in 2014 and instantly got recognized by the Kardashian-Jenner clan for her work. And as they say, everything the clan touches becomes famous. The same happened for the 30 years old.
The Latin Origin beauty brand now has become one of the Top beauty destinations in Los Angeles. With having 149k followers on Instagram, her brand now caters to Influencers and many A-list celebrities. 
It's been six years since her line was introduced to the world by the family, and it has only grown since. Well, most of the credit does go to the 30-year-olds hard work, but it won't be much to say that Kylie's fame did, in a way, accelerate the growth of her brand.
Who Is Yris Palmer's Husband? 
Although her professional life has been amazing, her personal life has made her face struggles. She was a married woman once who was wed to Starforde Palmer in 2016. Palmer's ex-husband was an Englishman and used to live in the UK.
The couple had to maintain a long-distance relationship for 5 years. Over the course of the relationship, the two moved back and forth from LA to England, but the two decided to settle down and get married in 2016 finally. 
They had a child together named Ayla, born shortly after their marriage.
It seemed like the two couples that were apart for so long would only have more time to spend with each other and flourish their love after getting married, but this was not the case for the two.
Instead, the two slowly drifted apart, and the news of their separation came to light when Palmer began posting pictures with her now-boyfriend, Troy Daniels, an athlete. 
Palmer and her ex-husband are now co-parenting their beautiful 3-year-old daughter. Palmer now seems to have moved on from her past relationship and is happy with her boyfriend now.
The two love birds are seen going on vacations, dinner, and events together. And Palmer seems to be happier than ever. 
Besties For Life!! 
The CEO of Star Lash Extensions replied how about six years ago, she got introduced to the billionaire, and life hasn't been the same since. What was a former client-owner meet slowly evolved into a friendship. Regarding their strong bond, Palmer says, 
Slowly but surely, we started building a relationship, and over every year it's just gotten stronger and stronger."
She also shares how she is very grateful to have a friend that works in the same field with whom she can share ideas and discusses them.
As much of a good friend they are, these young businesswomen know how to talk business as well.
Palmer, age 30, revealed how she and her friend, Jenner sends each other samples of their product and takes each other advice when it comes to business. Talking about the Clans youngest billionaires overwhelming success, she says, 
I think that is important in any friendship and relationship. And, obviously, her family and her, they're super successful. So I learn a lot [from them,] She inspires me a lot. She's a young billionaire, a hustler. 
Although it is refreshing to see two amazing women being successful, it is also inspiring to see how these two have found a way to uplift each other's business and support it.
One Thing In Common!! 
Motherhood is indeed the best feeling of all and it is even amazing when you can share the same bliss alongside your best friend. The two were pregnant around the same time and gave birth in 2 months interval. 
As much business-oriented as these two young entrepreneurs are, they are equally fond of their beautiful baby daughters. The world has known Kylie to be an amazing mother, and looking at how Stormi is, we could not agree any less.
But when it comes to giving her child all she wants, Kylie is not the only one that goes all out. The 30-year-old is also equally devoted to making her little girl. Born in March 2017, her little girl is now three years old.
Due to the immense success of her business, she lives a luxurious lifestyle and makes sure her daughter gets all she wants. 
The loving Latina mother is very protective of her daughter as well.
A few weeks ago, apparently, her daughter was scratched by their big dog, and Palmer described the event as the worst night she has experienced as a parent. 
Sharing the incident on social media, she thanked her fans and well-wishers for reaching out to her. The 30-year-old went on to share how her sweet little daughter had no problem forgiving their dog.
Her daughter, when asked if she is scared of the dog, replied, 
No mommy, it was an accident. I forgave him
Well, it seems like palmer is doing all the right things while raising her daughter. Gestures as such go on to show how protective this 30-year-old mother is to her daughter. 
Her daughter, like her, is a brand owner of her own. Palmer's 3 years old is the face of the brand One Two Three that is a clothing store for kids, and her daughter herself is the model of the brand most of the time. 
It seems like the mother has been teaching her little one to be independent and a boss from early on, and it seems to be going well for the two. 
Juggling life from a CEO to a Mother, the 30-year-old manages time for everything. During the course of her career, she has been able to amass a net worth of almost Millions, and we hope for her to be happy in her personal life and succeed professionally.