Entertainment
Yung Berg Had Many Dating Affair But Serious Complications Came With Only One Girlfriend; On Track Now?
Some people try to seek compassion and empathy from every other person, as they feel the need of a companion to accompany them in every ups and downs. And many celebrities try out every individual until they locate a perfect one, so does Yung Berg.
Beyond any doubt, the rapper Yung Berg, who can never be speculated as a gay, has quite a long relationship history with many ups and downs in his personal life. Among all, his relationship with one girlfriend became the talk of the town once. How about we get some answers concerning him and his unsuccessful love life as much as we can.
Berg's Complicated Relationship:
After dating number of gorgeous ladies and being linked-up with every other girl, Yung Berg dated his Love & Hip Hop Hollywood co-star Masika Kalysha in 2014.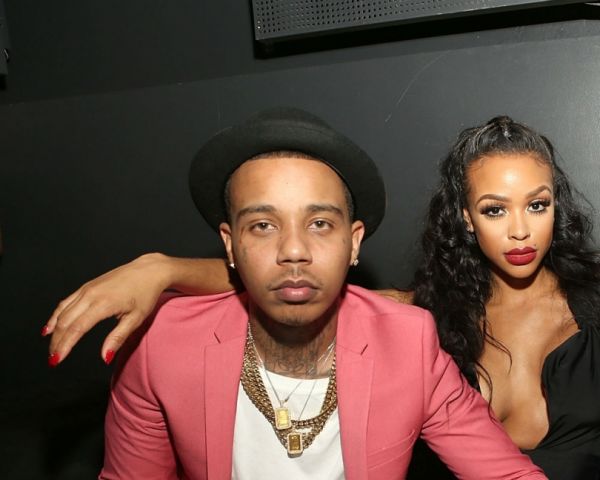 Caption: Yung Berg and Masika Kalysha at the premier of Love & Hip Hollywood in September 2014.
Photo Credit: Enstarz.com
At the end of the year, it was said that Berg physically assaulted his girlfriend, Masika Kalysha after the Love & Hip Hop Hollywood reunion taping at their hotel in New York City. News twirled that Berg assaulted Masika after he couldn't bear to cover dinner as his credit card was declined. Wetpaint.com reported-
"Berg allegedly attacked Masika following an argument over a bar tab that Masika paid for when Berg's credit card was declined. After Masika gave Berg a talking to, reports say Berg grabbed her by the throat, tossed her on their bed, dragged her by her hair, and punched her. When law enforcement arrived, Masika reportedly had cuts and visible bruises on her body."
Yung Berg was then slapped with one count of harassment and three counts of assault. He was also charged with "obstruction of breathing." Just days after  Berg was arrested and VH1 issued a formal statement which stated-
"Based on the severity of the allegations against Yung Berg, VH1 is terminating its relationship with him in connection with Love & Hip Hop Hollywood, effective immediately."
Since the accident, the Yung Berg and Masika were reticent about the incident. After some time away from the public, Masika broke her silence on Twitter on 10 November 2014.
Thank you for all the love & support. This is a personal matter & I will address it soon. In the meantime I ask that my privacy be respected

— Masika Kalysha (@masikakalysha) November 10, 2014
After some days, Masika told her side of disputation. According to Masika, it wasn't abuse. She explained-
"My focus right now is him being better. The focus should not be on us being a couple right now. It's best that we don't communicate as we were."
"I feel like the only abuse issue that he has is alcohol abuse. I do feel like he has a drinking issue and that's the issue at this time. It was not an abusive situation."
She said that the story was just erroneous. After more than two years this issue might have been resolved now as Yung Berg, and Masika Kalysha are not getting into any further troubles with the issue.
More About Yung Berg:
The American rapper, songwriter and record producer Yung Berg was born on September 9, 1985, as Christian Ward and was raised up in Chicago by his parents. He began his career with the DMX's Bloodline Records in the year 2001.
Later Yung Berg signed to Epic Records. In April 2007, Yung Berg released his debut single "Sexy Lady, " and in 2008, he released his debut album Look What You Made Me. There is no upcoming tour of Yung Berg shortly. Yung enjoys a staggering net worth of $2 million with all the dedication he provided throughout his career.
Stick with us for the latest updates on Yung Berg!