Entertainment
Zach Braff Not Ready To Get Married Even After Dating And Romance With Number Of Girlfriends?
Scrubs actor Zach Braff has been someone who has been relentless in his career that had resulted in him being the successful man he is today. Moreover, Zach is not far behind in his dating life as he has dated a number of women in his life.
But despite that, he is not seen as willing to get married and have a wife in his life. What is the reason behind it? Could it be his professional commitments or something else? Let us find out!
Not Getting Married Despite Having Dated So Many Ladies?
Not only is Zach a successful man in his career, but is also quite the ladies man. He has been in some dating relationships, and his most recent relationship was with an anonymous and beautiful blonde (rumored to be his girlfriend) who he was spotted strolling with past NY back in 2015.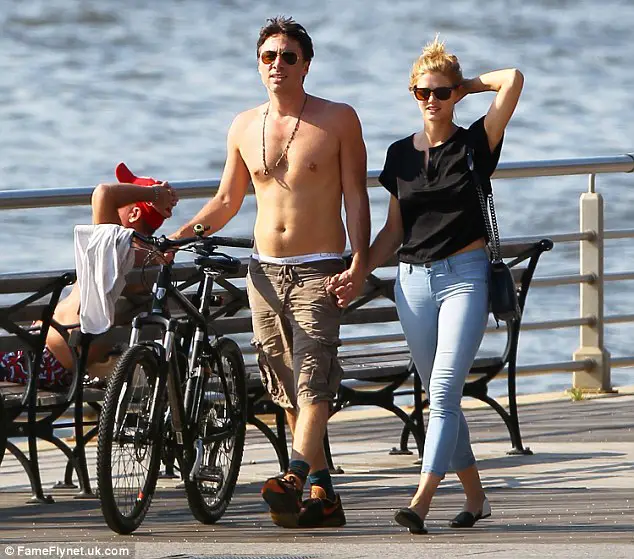 Zach Braff with his girlfriend in NY, 2015 (Photo: dailymail.co.uk)
Zach Braff has always been a man who has been adamant about publicizing his personal relationships, so, he did not speak much about his relationship with her. There are also no clues that they are still together and chances are there that they might have already split. 
Not only was he romantically linked with this blonde lady, he was also romantically linked with Taylor Bagley (2009 - 2014), Shiri Appleby (2007 - 2008), Drew Barrymore (2007), Mandy Moore (2004 - 2006), Bonnie Somerville (2003 - 2004 ) and Sarah Chalke from 2001 - 2003.
However, despite dating so many beautiful women, he has not shared his thoughts on getting married and having a wife in his life. Maybe, he just does not want to get settled in his life just as yet and thus; we might have to have our ears wide open and see if the actor reveals any exciting news on him getting married.
Recently in June 2018, one of Zach's famous exes, Mandy Moore has talked about Zach in an interview with news.com.au. She revealed that she thought the actor was the "guy for life" by stating,
"I did. You're like, this is it, I know who I am, what I want. I knew nothing, in reality."
She also opened up that the pair is still in touch with each other. 
Is Zach a Gay? What Is The Actual Truth?
Back in 2011, a major incident took place in Zach's life as he reportedly came out as a gay on Facebook and it ignited the issue in the first hand.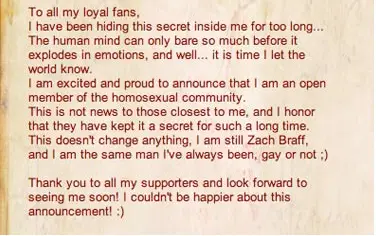 The so-called statement used by Zach to come out as a gay (Photo: TMZ.com)
However, Zach himself denied this and said that he was a victim of some hackers.
"My old website got hacked. Someone issued a 'coming out' statement on my behalf. I'm still straight and in love with my girlfriend. But not too straight; I still love musicals, brunch and Doogie Howser."
His rep elaborated,
"He was hacked ... that site has been down since 2006." 
It is sad to know that people are messing around with a very vital aspect of one's life. Regardless, the actor is a treat to watch in his projects! He is back on TV in 2018 with his new TV show, Alex Inc. He plays the role of a successful radio journalist/producer and a family man in the show.