Entertainment
Zeb Hogan Wiki: Age, Possible Married Life With Wife And Family of The Monster Fish Presenter
Helping others is a good man's deed and assisting someone to survive is not less than the Lord's task. Zeb Hogan, an aquatic ecologist, is someone who performs the unmatchable job; similar to the Lord.
Zeb, the host of a show on National Geographic Channel named "Monster Fish," is active to preserve endangered species of fish, which he makes it possible with his simple yet powerful thought:
"Science is not our only tool. Education and outreach are crucial, too. Because in many places, endangered species conservation is a brand new concept that must be introduced and made relevant."
So, how about cognizing the details of this freshwater ecologist and National Geographic fellow? If your answer is a yes, then it's the article made for you!
Zeb Hogan's Wiki: Know Every Detail About The Ecologist:
Having covered six out of seven continents during his adventurous travels in saving the endangered species, Zeb keeps most of his personal details right under the wraps. However, his study and job are those fields which he proudly presents amid the people.
Zeb has earned an undergraduate degree in ecology and evolutionary biology from the University of Arizona. He was then a visiting Fulbright student at the Environmental Risk Assessment Program at Thailand's Chiang Mai University.
Later, he returned to the United States and completed a National Science Foundation-sponsored Ph.D. in ecology at the University of California, Davis.
As of now, he is a fellow at the University of Wisconsin and World Wildlife Fund. Additionally, he also leads a National Geographic Society project to identify and protect the world's largest freshwater fishes.
This ecologist, whose favorite pastime as a kid has been climbing trees and catching lizards, got fascinated with animal shows on public television with his increasing age, which even made him follow the shows like "Wild" and "Wild World of Animals" too early in the morning.
Well, that particular interest in animals of the little Zeb helped him grow to be an ecologist traveling around the world to save critically endangered fish and the livelihood of people, who share their habitats.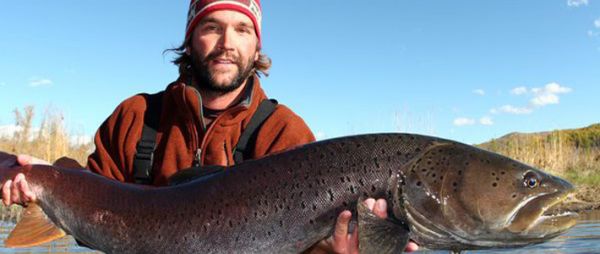 Caption: Zeb, holding a giant fish during his expedition. 
Photo Credit: National Geographic
Before becoming an ecologist, Zeb joined the Department of Biology at the University of Nevada, Reno in the year 2014 and also worked as a research biologist with the University's College of Agriculture, Biotechnology and National Resources.
Shifting the lights toward Zeb's personal life; his marital status is a matter of chaos, as it's undetermined whether to place him on the married men list or the bachelor's list. Since he has never addressed the facts of his relationships confronting any media, it appears he doesn't have a wife and any dating relationships as of now.
Moving on to the family relationship of Zeb, he grew up in a city called Tempe, Arizona along with his brothers being close to nature. The family of Zeb was fond of camping and usually visited zoos and aquariums on vacations, which significantly assisted Zeb to become what he is now.