LifeStyle
Your Life Will Be Changed With These Easy Award Winning Good Yet Healthy Burger Recipes!
Is every award winning recipes necessarily hard to make? Does it involve so much technique that a home cook is intimidated even to attempt the recipe at home?
The answer to above question is NO, as every award winning recipe is not hard to make. But the recipe needs to be followed correctly to attain the desired result.
Burgers are one of the most desired foods on the planet, and there are so many varieties of burger to choose from. So for all the burger lovers, we bring you two award-winning burger recipes namely The Schlow Burger and Logan Country Hamburger, which can be readily be made at home.
The Schlow Burger:
The Schlow Burger is the recipient of South Beach Wine & Food Festival People's Choice Award 2008. The creator of the mouthwatering and yummy treat for the burger lovers is Michael Schlow.
Get ready to get famished, as we provide you the recipe for this exquisite burger type.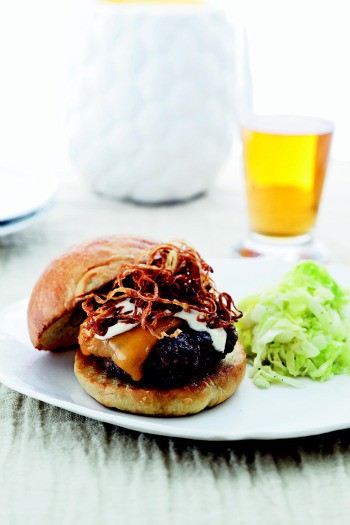 Caption: Award winning Schlow Burger by Michael Schlow.
Photo Credit: miaminewtimes.com
Servings: 2
Ingredients:
 80% lean ground beef 18 oz, extra virgin olive oil 2 Tbs, mayonnaise ¼ cup, lemon juice – half a lemon, freshly ground black pepper to season beef, white horseradish two teaspoons, English cheddar or Vermont cheese 2, brioche hamburger buns sliced and toasted and crispy onions
Directions:
Heat a grill on a high flame.
Put the ground beef in a mixing bowl and add oil. Season well with salt and plenty of freshly ground black pepper. Divide the meat into two portions approximately 9 ounces each and form two patties. Let it rest on the kitchen counter at room temperature for 5 to 7 minutes.
Take another mixing bowl and combine lemon juice, mayonnaise and horseradish and season with pepper.
The patties are served medium rare in the recipe. Grill the patties for one and a half minute, quarter turn them and mark them, and cook for one and a half minutes more. Flip the patties on the other side and repeat the same process. Cook it for about one and a half minute, quarter turns them and then cook for one and a half minutes more.
Now turn off the gas grill. Cover the patties with a slice of cheese and cook for four more minutes or until the cheese melts. Medium rare burger patties are ready.
Take the bottom half of sliced and toasted burger buns and place each patty. Then spread the generous amount of horseradish sauce on each burger till it drips down the sides. Add crispy onions on the top and add pepper for seasoning. Take the top part of the burger buns and add more sauce and place on it the top.
The scrumptious Schlow Burger is ready to be served and enjoy the delicious delight!
Logan Country Hamburger:
Logan Country Hamburger by cookbook author Katie Lee Joel's burger is a cross between a hamburger and grilled cheese. This burger is an invention by Joel's grandmother, who used to make in the tough times with simple ingredients. It's the pleasing combination of beef, melting cheese and crispy bread.
Let's head on for the recipe.
Caption: Logan Country Burger Recipient of New York Wine & Food Festival Burger Bash Award.
Photo Credit:coolmaterial.com
Servings: 6 burgers
Ingredients:
85% lean ground beef 1 pound, lightly beaten egg- 1 large, medium-sized yellow onion- half grated and another half thinly sliced, garlic powder ¼ teaspoon, kosher salt one teaspoon, freshly ground black pepper one teaspoon, white bread 12 slices, soft and unsalted butter two tablespoon and American sliced cheese-12
Directions:
Place the beef, beaten egg, grated onion, salt, and pepper into a mixing bowl and combine all the ingredients well. Make six thin patties out of the mixture.
Take each slice of bread and spread on one side only. Heat a heavy and large skillet on the medium and high heat. Cook the patties for three minutes on each side. And drain the grease from the skillet and clean it with the paper towel.
Use the same skillet, place six slices of bread buttered side down. Add a slice of cheese, some onions and put the burger on each slice of bread. Now top the burger with remaining slices of cheese and place butter side up. Cook it for two minutes on each side.
 The tasty burger is ready to be served. Also if you like, serve it with ketchup, pickles or any other desired toppings.
When we think of a burger, it's bun and patty. But the key ingredient in making a yummy burger is the amalgamation of flavor. The burger is evolving with time, and many combinations have been introduced, so do not hesitate to go bold with flavors, as who knows, your burger recipe could be the next big thing.