LifeStyle
20 Fabulous African Braided Hairstyle
It is very important to maintain your hairstyle and for a good hairstyle, your hair should be kept healthy because a healthy hair will give option or choice to braid it as your wish or desire. Damaged hair creates many problems like hair fall, dandruff, weak hair, split ends and dry hair etc. These all are the common problems which are found because of carelessness. For getting beautiful braided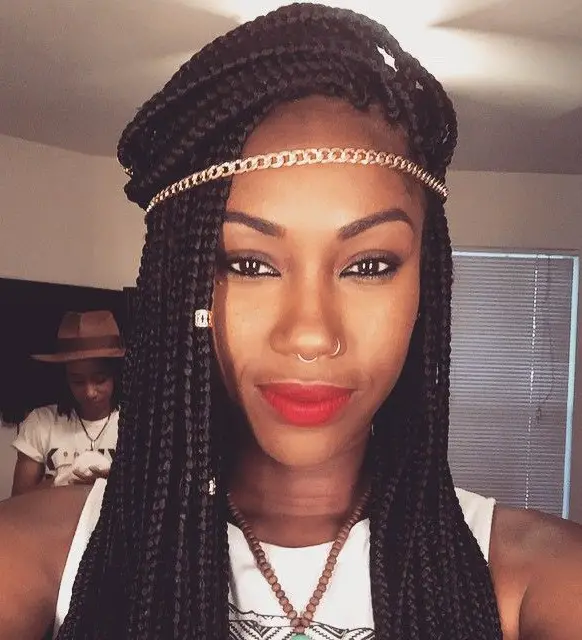 Who is up for 20 fabulous African braided hairstyle? We are here to give the most exclusive African braided look for al hair types. Let's get started!
1) African American Braided Hairstyles for Long Curly Hair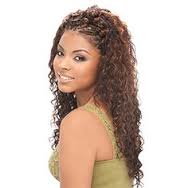 Source: pinterest.com
Long hair can be regarded as the gift of god that helps to enhance the beauty of a girl. Longer the hair, more the designs. African American Braided Hairstyles will look excellent in long curly hair. For a casual or even a  party look, girls with long curly hair can part their hair on the side or in the middle and just braid one side of their hair and pin it up and again braid another side of their parted locks and later fasten it up. Then they can leave the remaining hair as it is and smarten their curly hair. They can even use hair spray on it or use an extension in their hair for an eye-catching appearance. Curly hair can sometimes get dry and frizzy, to take care of such hair, oil massage hair before every wash is necessary.
2) African American Braided Hairstyles for Women above 4O
Source: pinterest.com
Women above 40's can do plenty of things with their hair. This is the age when they explore many alternatives to look more charming and appealing. African American Braided Hairstyles are the perfect hairstyle for women above 40's.  For women above 40's dreadlock hairstyle will look much trendy and bold. It might sound a bit weird but women of this age can go for dreadlocks in their hair and add extra highlight in their hair with blonde, red or brownish color. It is a bit time consuming to plait dreadlock braids but once you are done braiding, you are sure to look fabulous. Women can color their hair or add some extensions for a bold and sexy appearance. Later, they can match their clothes and accessories with the hairstyle. Such dreadlocks can be managed easily as it does not need any kind of special care.
3) African American Braided Hairstyles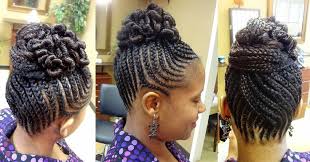 Source: designideaz.com
Hair is important for women to look gorgeous; giving them proper hairstyle makes them look more attractive. African American braided hairstyle does not need any great effort. Girls can divide their hair in numerous sections and braid them up one after another and tie it with a band. Another African American hairstyle that can be made easily can be done by parting the hair to the side and braiding just the side part of the hair and pinning it up and leaving other part as it is. Girls can even braid the middle section of hair one after another and curl the remaining parts. All these different kinds of African American braided hairstyles will give you a pleasing and pretty look. You can even highlight the braided hair with different colors to enhance your beauty.
4) Back Braided Hairstyles for Flower Girls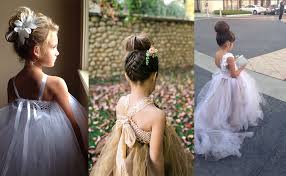 Source: bridaltrendasia.com
Whether girls are young or old, all of them love to look beautiful. Today's girls are the beautiful women of tomorrow. If you want to make a comfortable and pretty looking hairstyle for your little one then back braid will look great on them. Back braided hairstyle for flower girls can be made by braiding each strand of their hair and after braiding their each strand of hair we can fasten it up with hair-band. We can choose this sort of simple braided hairstyle not only because it looks soothing  or feels comfortable but it also keeps them from messing it up. Some cute looking beads can also be added to the braids for a more attractive look. Kids look good in all outfits, but with the back braided hairstyle they will look more charming and cute.
5) Black Braided Hairstyles for Girls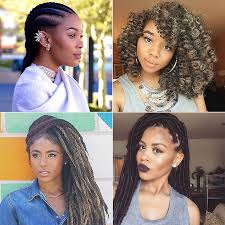 Source: popsugar.com
Girls look extremely pretty in braided hairstyles. Simple braided hairstyle suits young girls. to get the look, they just have to part their hair in the middle and make a section of their locks and start to braid each segment of their hair one by one. After they finish braiding each section of hair they can fasten it with a rubber-band. This sort of hairstyle is easy to make and looks cute on girls. They can use black colored extension in our hair if they want to give their hair a lavishing look, it also helps to add volume to the hair. Another braided look can be created by dividing the hair into three sections and braiding each section from top to the bottom of hair by crossing one end of the hair to the middle section of it and crossing another section of hair again to the middle part and later knotting it with hair-band.
6) Black Braided Up Hairstyles for Black Women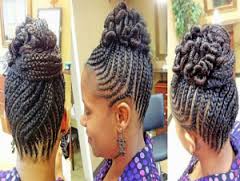 Source: hairstylescustom.biz
Black women look gorgeous in their thick and black colored hair, to enhance their beauty black braided up hairstyle can be done. For this kind of hairdo, plait pencil braids from all direction. After braiding each section of hair from every direction of locks, they can make a bun with the braided strands. The bun can be wrapped and curved at the crown to create a beautiful look. This hairdo can be done by a bride to look more special in her wedding.  This Hairdo goes with the party look as well. To get a  pleasing look women can color their braided buns that goes well with their complexion. Such kind of hair style goes well with women with all sorts of facial shapes. 
8) Black Zigzag African American Braided Hairstyles for Women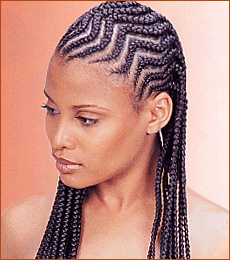 Source: designideaz.com
Need for applying a lot of makeup does not arise if the hairstyle is good. Hairstyle directly affects one's personality. So to enhance the personality girls can go with black zigzag African American hairstyle. To make this hairstyle they have to part their hair in a zigzag way with the help of a comb. After this crisscross partition they can take each section of hair and start braiding it from the top to the bottom. After braiding all the remaining sections of hair they can leave it as it is or tie it with elastic. Hairspray helps to manage frizzy hair coming off the braid.
9) Braided Bangs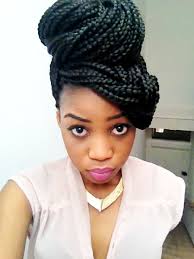 Source: headquartersforhair.com
Braided bangs is the most popular and widely used hair styles. Girls can go for fringe bangs, side -swept bangs or other braided bangs to make their hair look awesome. To make normal braided bangs, start by brushing the bangs in one side, then start at the very top of hair by taking a long strand of hair and then section it into three parts. After this you can tie the first knots of the braid, add a little bit hair to it and put it under the other strand of the hair and repeat it every time you add some hair in each section. Once you have finished braiding the hair and reached the point till where you want to braid your hair, then you  can secure it with one or two bobby pins. This kind of hairstyle gives a simple and beautiful look.
10) Braided Big Box hairstyle for black women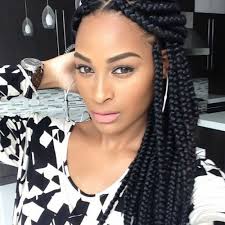 Source: designideaz.com
Black women have many options regarding braided hairstyles.  One of the most suitable braided hairstyles for them would be braided big box hairstyle. For this hairstyle, they can take bulky portion of their hair and braid each section of their hair. After they have braided all the sections of their hair they can tie each braided portion of hair with rubber or other hair tying bands. Once they have finished it they can swap all their braided hair towards an upward direction then make a bun with it. This kind of big box braided hairstyle is very classy and fashionable. This hairstyle also suits women with lighter skin tone and makes them look sexy and appealing. To add more texture to the hair they can spray some hair spray and for the ones having dry hair, some good quality hair gels will work well.
11) Braided ponytail wraps around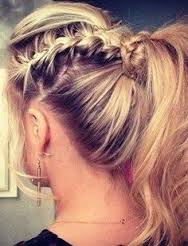 Source: pinterest.com
Girls love to change their hairstyle. They love to make new hairstyles which make them look more beautiful and charming. Braided ponytail wrap around is one of the best hairdo for every kind of girl. For this hairdo, one needs to make a ponytail with the help of rubber band. After you make a ponytail, grab a little longer section of hair at the bottom and make a normal braid with three strands, make it tight. Once you are done braiding this small segment of hair you can secure it with the elastic band, then grab the braid and bring it over. You just have to wrap the base of your ponytail with the braid. At the end, you can secure the ends of the braid with two or three bobby pins.
11) Chunky Side Braid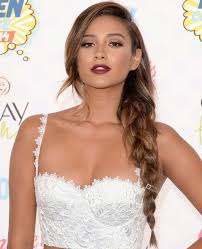 Source: fashionisers.com
If you want your hair to look more thick and chunky than you can make cute and a chunky side braid. The easiest and good-looking braided hairstyle is Chunky Side Braid and for this hairstyle start by combing your hair with brush and take all the hair towards side. Then you have to make three parts of your locks and start braiding your hair by crossing first part of hair to the middle section and again the second section of hair to the middle section. You can continue this braiding process unless you are done with your stylish hairstyle. You can braid your hair both tightly and loosely according to your choice. This sort of hairstyle is perfect for teenage girls but women of all ages can also make such hairstyle. Girls can wear a pair of matching earrings to create an appealing look to go with the hairstyle.
12) Crown Braid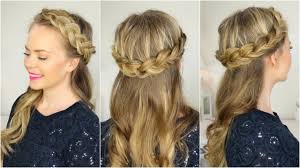 Source: youtube.com
Crown braid makes every girl feel like a princess. Such braid is popular among young girls. To make this hairstyle, you have to part your hair in the middle and separate the two locks. Then you can clip one section of hair with a bobby pin and start braiding another section. To braid this section you have to make three more sections and cross the first strand of hair with middle section and third section of hair with the middle one. After braiding the first separated locks, you can braid another section of hair. After you are done braiding these two sections of hair then you can take the left braided hair and take it behind your head and pin it up from behind to make it look like half-crown and again take the right section and just pin it up exactly below the left pinned section of hair. And this will make your hairstyle look like a crown.
13) Crown French Braids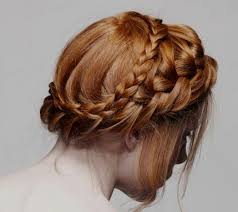 Source: pinterest.com
Crown French Braids are very popular among youngsters. Women can feel very young when they do this hairstyle. To make this hairstyle you need a comb or a brush, hair pins and some small elastic. At first, you can make a circular partition in your head and make a ponytail with a small section of your hair and then braid your hair by taking a strand of hair from your ponytail and from the front section of your hair. You can keep on braiding these two sections of hair unless a crown shaped French braid is ready. This French braid can be made by girls and women of any age.  Whether you want a hairstyle for a party or for casual days, all girls can make one cute looking crown French braid and get flattering comments from their friends. The more beautiful hairstyle you have the more eye-catching you look.
14) Double Side Braids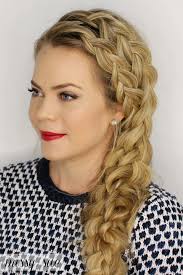 Source: bloglovin.com
The more you explore with your hair the more appealing you will find. When you are in a hurry to go somewhere and want a fashionable looking braid than you can make double side braids as it is very easy to braid. To braid it you have to take front section of your hair and braid it unless it is finished. After you have braided few sections of the front hair, you can pin it in up with your remaining locks. After this, you can braid the remaining locks like a normal braid. You will be fascinated to see your beautiful looking double side braid that helps to give some volume to your hair and make it look endearing. 
15) Headband Braid Hairstyles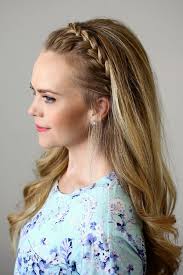 Source: pinterest.com
Girls having both curly and straight hair can get headband hairstyle done. As such hairstyle looks awesome in both silky and frizzy hair. This kind of hairdo is very easy to make and school going girls usually love such hairstyle as you do not need much time to make this hairstyle. For this style, you have to brush the front section of your hair towards back and clip it up with a hair clip. After sectioning your hair, start braiding each section of one side of your hair and secure that with hair elastic. Repeat the same step on the other side, then you can take one of these braid and pull across the front section of your hair and pin it with a bobby pin and do exactly the same with the other braid. You will get a perfect headband braided hairstyle. In any formal or informal occasions, you will feel very special with this hairstyle.
16) Braid Messy French Ponytail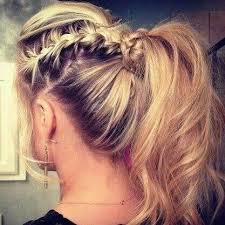 Source: pinterest.com
Braid messy French ponytail is one of the most contented hairdo which is very simple to make. It looks best in both colored hair and black hair. Ponytail always looks fine but if you braid it in a French style then you cannot imagine how stunning you will look. For this hairdo at first you have to take the top section of your hair and you can braid it until you reach to the crown of your head and try to keep it close to your head and as tight as possible. Once you reach to the crown of your head then you can pin it up with a bobby pin or a hair clip. And if you want you can keep on braiding till the end of your hair as per your choice. We can even match your accessories like bangles, earrings, necklaces etc with this hairdo.
17)  American Braided Hairstyle for Long Faces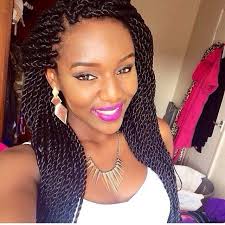 Source: pinterest.com
Girls having long face can take a small part of their hair and braid it and do similar action to all the other parts of their hair. After doing this, they can take the front part of their braided hair upward and pit it up with a bobby pin or tie it up with a hair band, while leaving the untied portion. Such kind of braid can give them classy and stylish look. They can also match their ornaments with the color of their hair for an elegant look. 
18) Super cute braided in short haircuts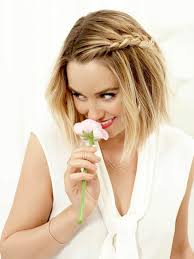 Source: hairstylesweekly.com
You are living a lie if you think you can't braid your short hair. There numerous braided hairstyles those work well with short hair. Braided hair gives a trendy and stylish look for the girls with short hair. One of the braided hairstyles for short hair is, waterfall braid. For waterfall hair braid at first, you should gather materials you need to make this hairstyle. You need a comb or a brush and a rubber band, a pin or a bobby pin to get your cute looking braid. At first, you can get knots out of your hair with a brush and you can part your hair in the middle or on the side as per your wish. Then, you can start braiding from the topmost part of your parted hair. To braid hair, you should divide your hair to three sections and cross the right section of your hair to the middle one and again cross the left section of our hair to the right one. Then, continue this braiding action until you are done with braiding till the bottom of the parted hair. And at last, you can ultimately tie your braided hair with a rubber band or pin it with a bobby pin.
19) African American Braided Hairstyles for Teenagers
Source: mayostyle.com
Teenagers love to explore with different hairstyles and their fashion trend keeps on changing from time to time. They are very conscious about their beauty and their personality so they are very choosy with their hairstyle too. In special occasions like parties or even in casual days teenagers can braid hair from the top front parts of their hair till the end of their hair as such braided hairstyle can give them attractive and smart look. Along with this hairstyle they can even wear black or brown curly extension at the end of the braided hair. This gives them an eye- catching appearance. Upward or downward braided hair along with a puff will also look good on teenagers having oval or round shaped face. Girls can contrast the color of their hair extension with their outfits they wear. Earrings and necklaces can also be harmonized with the braided hairstyle they prefer.
20)  African American Braided Hairstyles for Short Bob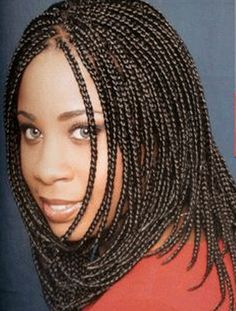 Source: pinterest.com
Braided hairstyles give a classic and attractive look to the African American girls. Big box braided hairstyle, short box braided hairstyle or natural black braided hairstyle can be done for a short bob. Such hairstyles can be done for parties, wedding or even for casual outgoings. For attractiveness of such hairstyles, one can add a brownish extension to hair after it is braided. Braided hair can give an extraordinary look to girls and ladies of all skin tones and some ornaments can be put on to enhance their beauty. Matching the braided hairstyle with the outfits you wear is a must for the more appealing look. One of the most familiar African American braided hairstyle is parting hair to the side and braiding the hair downwards from the roots and spraying hair sprays after the hair is braided. You do not need frequent care and wash for such kind of hairstyles, you can wash it once in a week for a healthy scalp.
It is very important to maintain your hairstyle and for a good hairstyle, you should keep your hair healthy. Healthy hair will give option to braid it as your wish. Damaged hair creates many problems like hair fall, dandruff, weak hair, split ends and dry hair etc. These all are the common problems which are found because of carelessness. For getting beautiful braided hairstyles you have to take care of your hair. If you have healthy hair you can make many hairstyles. There are lots of ways to keep your hair healthy and strong. Some of the tips are given below:-
• Protect your hair from Dust particles:
In day-to-day life, you need to visit many places, at that time your hair come in contact with dust particles which is not good for hair. Pollution causes many problems like hair fall and dandruff etc. So you have to protect your hair from dust and for this, you can use a scarf to cover your head if you are outside or in a dusty area.
• Use of good shampoo and do not forget to condition your hair:
If your hair becomes dirty, you should shampoo it. Applying good and certified hair conditioners after you wash your hair, it is very helpful to make it silky and shiny. Conditioners help to protect the color of your hair so, it is good to apply it but you should avoid applying it directly to your scalp.
• Minimizing use of straighter on your hair:
Heat is always harmful to hair. Using heat for straightening or curling the hair is very unhealthy for hair because heat kills the strength of your hair and damages its quality. If you want to use heat in your hair then, before using heat you can apply some heat protecting hair products or if you want a natural remedy then you can even put some natural aloe Vera gel in your hair and then straighten or curl your hair using heat.
• Don't braid your hair during bed time and Do some oil massage at least once in a week:
Never braid your hair tightly during bedtime because there might be chances of hair to break down. To enhance your hair you can put some coconut oil or castor oil and massage it gently before washing your hair.