LifeStyle
5 Best American Street Food And Its Trend: Food Trucks and Food Street
Street foods have become a tradition in America. Since the introduction of the street foods during the colonial period, they have presently received great popularity in the states. However, they have come a long way from being only fried objects and have evolved to become restaurant quality at a lower or at least a reasonable price. Today, delicacies from numerous countries and each continent can be seen trending all over U.S.A. It is a difficult task to simplify the best street foods from a country that is nearly 10 million square kilometer regarding the area, but they can be reduced to following items.
1) Hot Dogs:
"There are some who say that hot dogs are a simple man's food. Those people are called traitors and, they need to be tried as the turncoats they are because the hot dog is a true symbol of American ingenuity: hand-held, inexpensive, and stolen from another country and relabeled as American." –Thrillist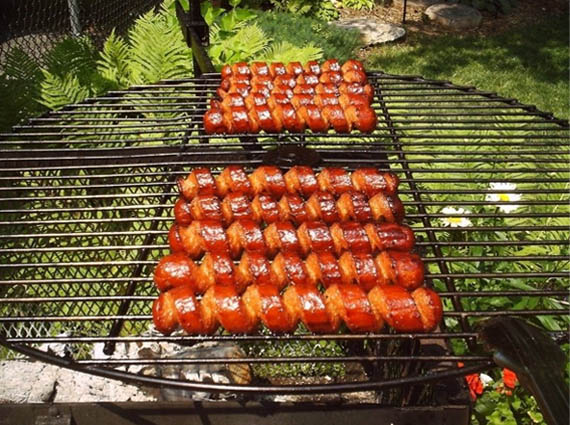 Source: http://kidcrave.com/
Hot dogs and it's many variations (like Corn Dogs, Chili Dogs) are without a doubt, the most common street foods in America. In New York, you can spot a hot dog vendor in every next block. It is the grandfather of all street foods being one of the very first of popular street foods in America.
Easy to assemble and eat, it has made it a prime lunch for the business centered states like New York and Chicago. Hot Dogs may as well be a representative of New York like with the Empire State Building or Yankees.
A traditional dog is topped with mustard, ketchup, and cheese but presently it is cooked with various modifications. Some of the famous hot dog joints in U.S. are Fritzi Dog, Hot Doug's, Dirty Water Dog.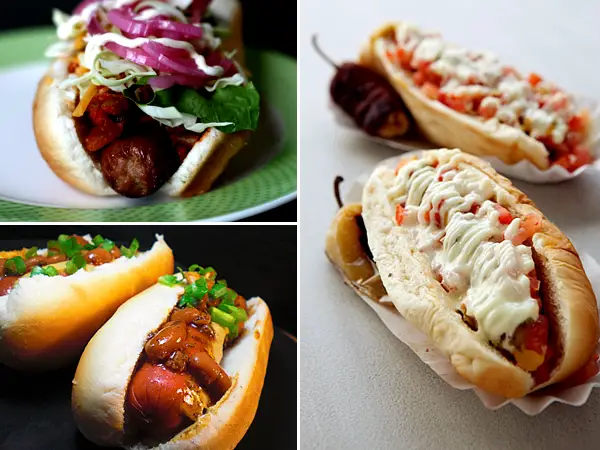 Source: http://www.tastespotting.com/
2) Ice Cream/Yogurts:
Imagine yourself walking on the streets of America in the summer; the sun is high, and it is well over 25 degree Celsius. What better way to cool yourself off then to treat yourself to an ice-cream.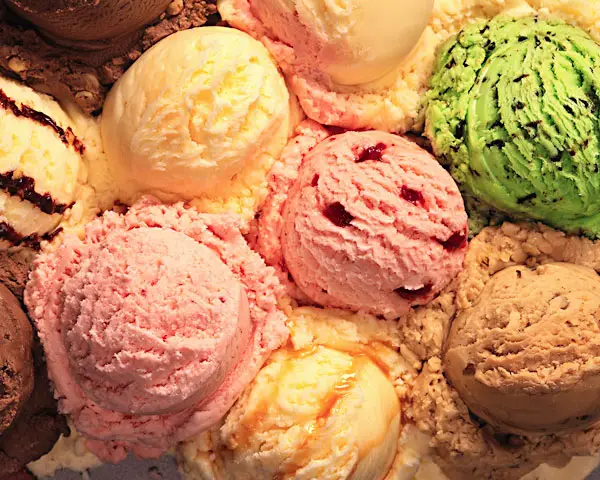 Source: http://www.austinchronicle.com/
Ice-cream is a sweetened frozen food typically eaten as a snack or dessert. It is made from dairy products, such as milk and cream, and often combined with fruits or other ingredients and flavors.
It was first enjoyed by people like Benjamin Franklin, Thomas Jefferson, and George Washington. Nowadays Ice-Cream is found in uncountable numbers.
Yogurts are popular street food. their popularity increased especially after fast-food joints also started to sell them. They are found in different flavors and enjoyed with various toppings.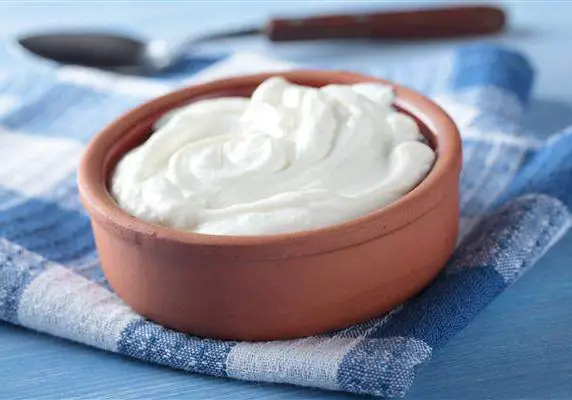 Source: http://www.montrealgazette.com/
3) Falafel:
Falafels are rapidly becoming a famous street food all over America. The mid-eastern and Jewish restaurants served this dish all over North America, well before the 70s. It is a deep-fried ball or patty made from ground chickpeas, fava beans or both.
It is a mid-eastern croquette that is originated from Egypt, Palestine, Israel, and Arab. This dish has especially become famous among the vegans. Its versatility has allowed for the reformulating of recipes for meatloaf, sloppy Joes and spaghetti and meatballs into vegetarian dishes.
Some of the famous food joints distributing these mouthwatering delicacies are Mister Falafel, Sultan's Market and 'King of Falafel and Shawarma'.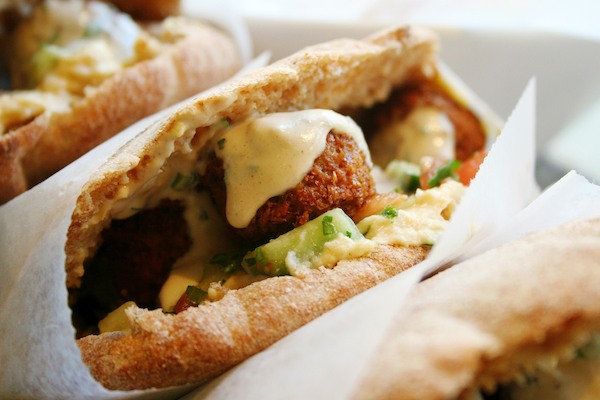 Source: http://www.seriouseats.com/
4) Tacos and Tortas: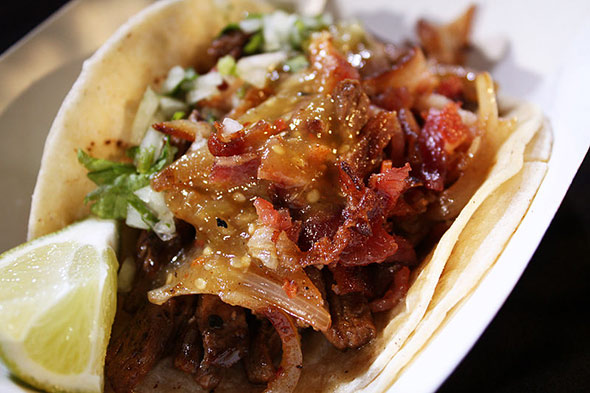 Source: http://www.greenme.it
Tacos and Tortas may be the greatest gift Mexico has given to the world, especially its neighbor, U.S.A.
Taco is a traditional Mexican dish composed of a corn or wheat tortilla folded or rolled around a filling with a variety of fillings including beef (which can also be used to make pork beef lo), pork, chicken, seafood, vegetables and cheese, allowing a great versatility and variety.
Similarly, a torta is a kind of sandwich served on a firm, crusty white sandwich roll. Tortas can be eaten cold or hot, and grilled or toasted in a press in the same manner as a Cuban sandwich. Tacos and Tortas have become a personal favorite of spice lovers all around America.
Taco Bell is considered a Mexican opposite of McDonald's. Some of the famous places that sell street tacos are Tacombi At Fonda Nolita, Sidewalk Tacos, and Los Cinto Pantos.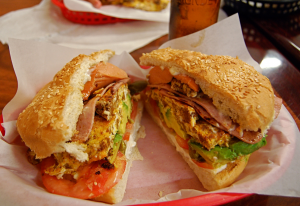 Source: http://gqtrippin.com
5) Crepes:
A dish that was once a classic French food is now a famous food around the world. The entire concept of Crepe is to show class and complexion. It may seem easy to make at first, but a crepe is a very thin pancake, usually made from wheat or buckwheat flour and generally eaten with sweet toppings.
So, making the base or the pancake is very difficult for amateur cooks. Crepe has been a very famous street food because it is light to the palate and very delicious to savor as breakfast, lunch or even Dinner.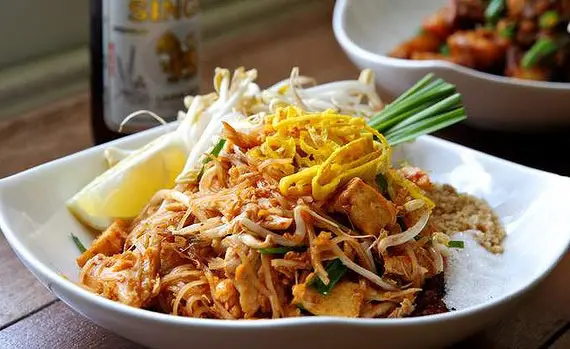 Source: http://www.goodfood.com.au
Some people may find it surprising that none of their Asian or European favorites made it to the list. However, a certain Asian and European 'dish', individually is not popular; it's the entire cuisine that is famous. The most popular Asian cuisine has to be 'Thai' beating the Chinese cuisine by a close call.
It has dishes like Khao Man Gai, Gang Keow Wan, Kaeo Na Phei e.t.c. Just making three random syllables is enough to make your mouth water. Italian cuisine may be the most famous European cuisine in America with the classics like Pizza, Spaghetti and Meatballs, Mac and Cheese e.t.c.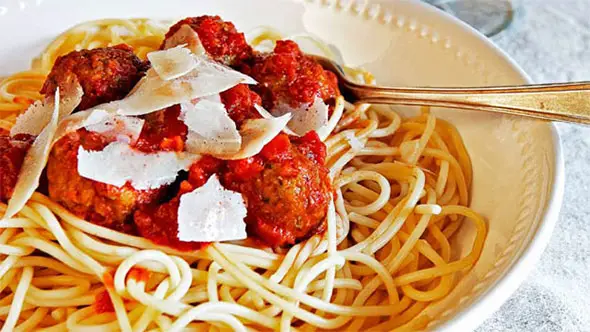 Source: http://food.ninemsn.com.au