LifeStyle
Best Dinosaur Toys For Kids Of Every Age - The Perfect Christmas Gift
Take out your Christmas tree and embellish it from head to toe, put on the lights and kiss under the mistletoe!
It's nearly that time of the year when silent nights sweep past us and Santa Claus comes back to the town! It's nearly Christmas everybody!
And when it's Christmas, it's time to buy some gifts. So, if you're a parent and looking for some cool gift ideas for your kids on behalf of Santa, and looking forward to waking them up with a great surprise then, we can help you out!
Even if Jurassic Park was something you grew up with, letting your kids be a part of a dinosaur world isn't a bad idea!
It is easier to pick your favorite dinosaur when it comes to gifting your son. Whether he is a Jurassic Park obsessed kid or not, they are fewer chances with them not liking the extraordinary cool dinosaurs on our list. But there are high chances that your daughter would also find these stuff as fascinating as your son.
Here are some best dinosaur gifts for kids this Christmas, both for girls and for boys:
Remote Control Dinosaur Toy:
When we are talking about dinosaurs, the first to get on the list is the fascinating remote control dinosaurs that even you would, love to play yourself.
The WowWee's 14" R/C RoboRaptor seeks to offer you with a bionic creature which is capable of multi-speed walking, running and stalking around. Everything under the control of a remote.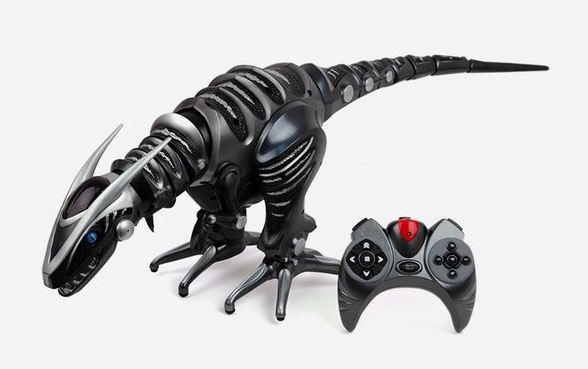 The black sleek WowWee's 14" R/C RoboRaptor for your kid (Photo: Fatherly.com)
The next electric dinosaur toy from Meccano Meccasaur. This lego look-alike structured dinosaur wouldn't miss a chance to excite your son with its fully mobile, T-Rex roars that respond with massive stomps with your one "Attack" on command.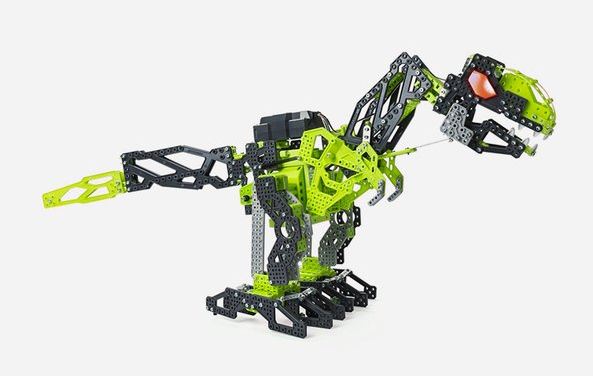 The cool green and black dino that your kid would be willing to have (Photo: Fatherly.com)
The Haite Robo Dino is next on the list that gets ready to battle off anyone with its tail that slithers according to your command. You can also get a little water coming out from its mouth when you press the button to mock it as a poison.
With so many features, no doubt your girl will start pressing the button around and play along with it in the house.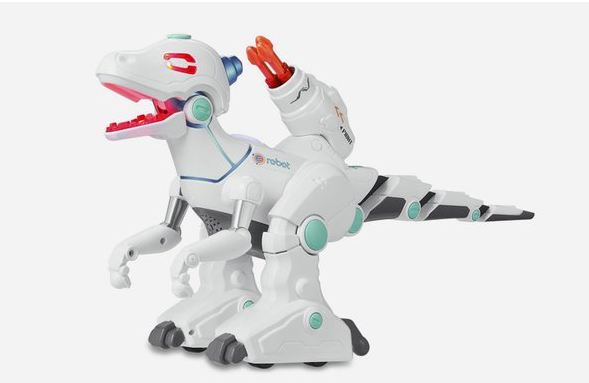 A little tail swirling, a little water spurting dino (Photo: Fatherly.com)
But, when we are speaking about electronic dinosaurs, we can't miss the Zoomer Dino Indominus Rex. This is one of the best electronic dinosaur toys in town. This stunning white Indominus Rex from the Jurrasic Park detects your hand movement with the advanced infrared sensors embedded on its nose, which moves as you command them to.
While more actions come to play when you use the remote control to program its different movements.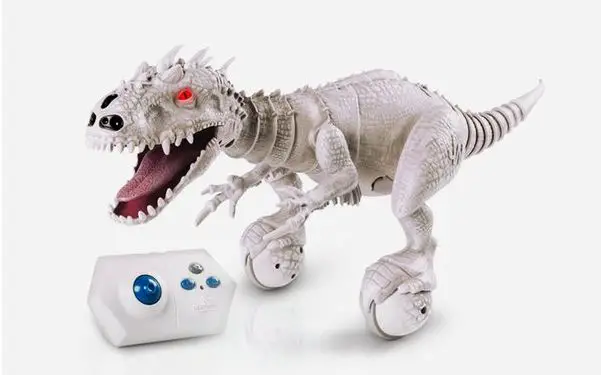 The best electric dinosaur in town is the Zoomer Dino Indominus Rez (Photo: Fatherly.com)
So, don't miss this chance to make your kids happy!
Cloth Them Around As A Dinosaur!
But it wouldn't be a bad idea to dress your kids in a dinosaur costume, because that trend never gets old. Check out the latest Dinosaur hoodies and socks that the stores are ready to offer.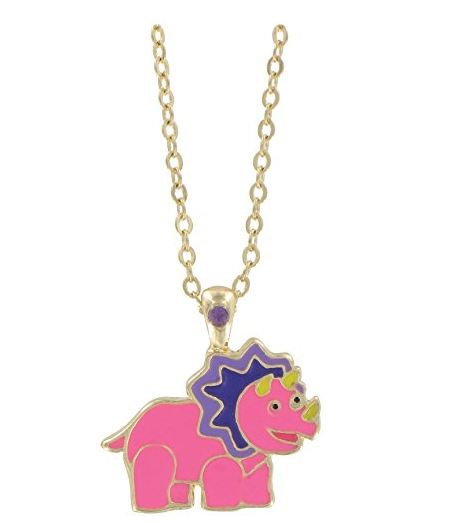 Gift Your daughter this cute dino necklace this holiday (Photo: Threekidsthreecatsandahusband.com)
If your willing to gift your son a hoodie, then a green jacket with a dinosaur teeth cap would be an excellent choice. Gift him the coolest dino backpack that he can carry and flaunt around in school.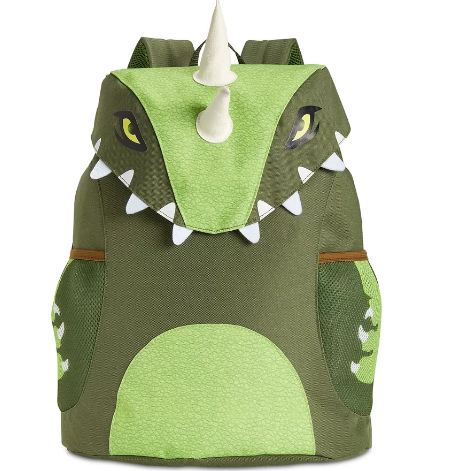 The edgy dinosaur backpack is something to buy this winter (Photo: Popsugar.com)
And for girls, fluffy dino pink shoes and, glittery dinosaur rain booth with protruding spikes would be the best choice. There are also loads of dinosaur printed clothing plus pink Barney pajamas to gift your little one.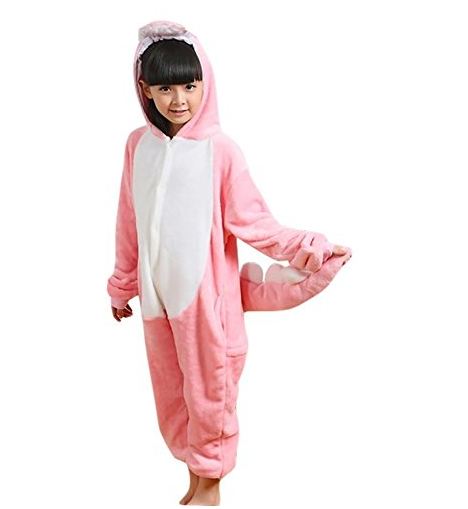 Halloween isn't over when you still can dress your kid into a dinosaur for bed (Photo: Threekidsthreecatsandahusband.com)
Who wouldn't love these adorable clothing for Christmas?
Let Your Kids Roar For More Dinosaur Goodies:
But, if you are looking for something smaller this Christmas, then the stores never run out of the cutest dino merchandises.
You can always add a charming dinosaur mount to your kid's room and make it cooler. Or maybe offer them with the biggest, the floppiest stuff dino toy that they can hug every night. None-the-less, if your seeking for dinosaur learning a dino alphabet print for kids is always something to get.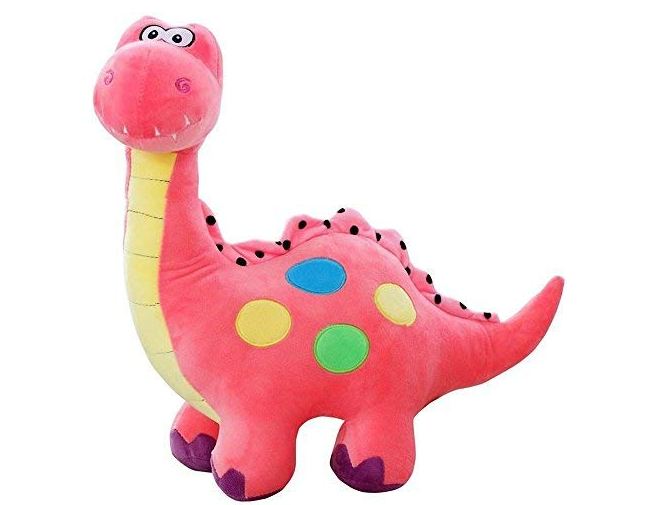 A pink stuffy for your daughter (Photo: Threekidsthreecatsandahusband.com)
But, most kids go gaga over the 3D-dinosaur table lamp, that brightens up your child's room just a lot more. But, if your kid is really into books, then we never run out of the popular dinosaur books.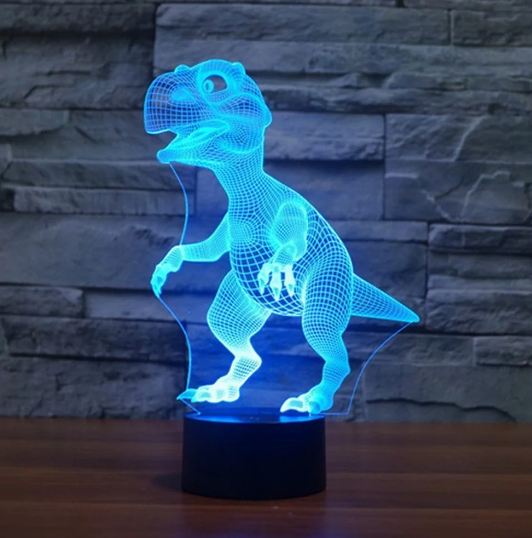 Some more cool dinosaur goodies to gift your kid this Christmas (Photo: Popsugar.com)
More, handcrafted wooden dinosaur toys are available on stores that are as cute as they look. But, hey gifting them the solo Jurrasic Park dino model of Terrordactyl, T-Rex, Velociraptor or Carnotaurus Figure is always loved by every kid in the whole wide world.
These walking dinosaurs toy is from the Jurassic Park, that is as stunning as they are modeled.
Jurassic Park's Tyrannosaurus never gets old (Photo: Heavy.com)
So, hurry up! catch these walking dinosaur toy. Don't miss this chance to make your kids Christmas more spectacular!