LifeStyle
In-Budget DIY for Home Interiors Designs To Change Your Home Look For Good
Home is where the heart is; feeling secure to comfortable, certainly, the safest corner in the whole wide world has done protecting the residents from potential invaders, animals, and rain, storms, typhoon and more.
The modern-world now, wants the home to be much more than that!
Focusing more on the interior, people's intimate moment is spent largely with the home interior decor, where the interior designing is becoming one of the fastest growing business in the world economy.
However, not everybody has to be certified interior designers to paint their ideas in their homes. With the right materials and techniques, the interior of a house can be made beautiful on the constraint of a limited budget.
Looking to gain some brilliant incentives to turn your home into a living paradise? Follow the article to know some innovative DIY ideas and designs to change your home look for good!
Living Room Decoration
The living room is considered a critical place in the house as it directly impacts outsiders' perception of the residents. For decorating a living room, practical design is crucial because of limited space and budget. However, if the finite resources are used fashionably and smartly, you can make the guests envy your lifestyle. 
While buying new furniture can be a good idea, it may not be practical due to a limited amount of money to spend. Still, with a few bucks, you can change the attractiveness of the furniture by getting new pillowcases with some tricky and appealing designs. 
There are a wide variety of pillowcases in the market which can suit your home environment. For instance, if you are a family person with kids, you can go with the designs that are more kids friendly like cartoon characters such as Scooby Doo, Tom & Jerry, Cinderella, Mickey, etc. or educational models such as the multiplication table, periodic table, the map of the world, etc.
If you are a recently married or dating person, then you can choose to go with more romance friendly ideas for pillow cases like the imprint of a heart, love quotes, or even names of your significant other. 
Also, if you happen to be a single person enjoying your bachelorette you can go with quotes that represent your carefree attitude like "I'm Single. So What?",  "In A Relationship With My Pet" and more. 
Further, painting the wall can also help enhance the beauty of the room. Using photo frames with memories of accomplishments or old family events can cherish the beautiful memories of the loved ones.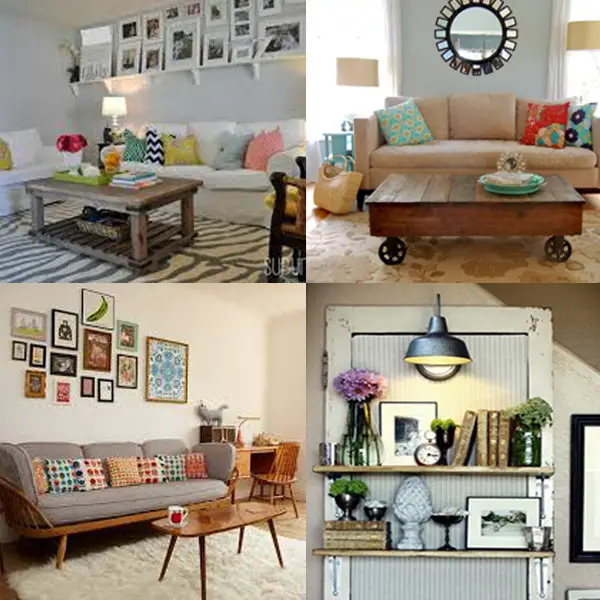 Some models for interior designing of the living room.
Desk lamps can also be an attractive tool to make the living space more beautiful. Lamps still can be an essential medium in your living room decorations. Getting an indoor fireplace is also a good idea as it not only keeps the room warm but also gives a classic look to it. 
New Efficient Kitchen Look
While there are several ideas to amplify the beauty of a kitchen, most of them might be out of your pay grade. However, smart thinking can make your kitchen impressive and pleasing at the same time with regular appliances and practical designs.
Keeping a flower pot is a genuine idea to beautify your kitchen and remain close to nature. 
A general problem in the kitchen is that the utensils and appliances tend to take up a lot of space. But, what if you could use the wall to save space and further increase the attractiveness of the room?
Using open shelves and hanging the utensils can save up a lot of space and even give a refreshing look to your kitchen. Or, you can also attach the utensils high in the ceiling with hooks or rails commonly available at the retail store.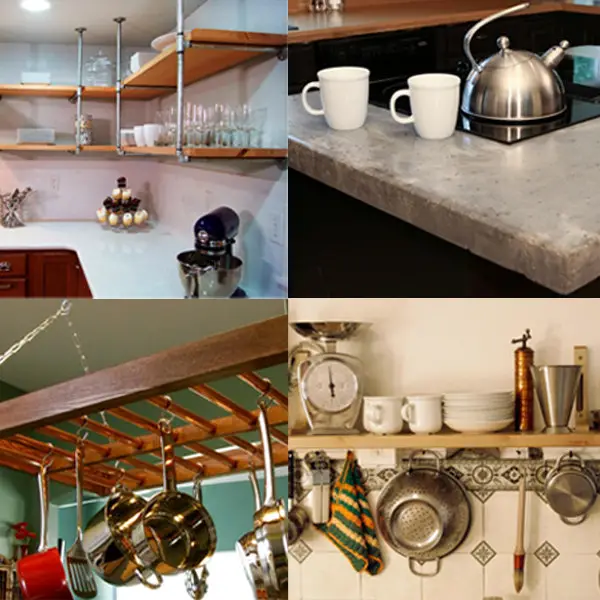 Innovative ideas for using kitchen space efficiently.
Further, plastering the cooking area with concrete can also give the kitchen a classic look. Moreover, you can paint the cabinet and shelves to provide a new and refreshing get up to your kitchen.
Bedroom DIY
Although the bedroom is mostly considered for sleeping, no one likes to sleep in an ugly room. There are numerous innovative ideas to make the interior designing your bedroom adorable. The designs mostly range from attractive bed sheets to lamp posts. Using a pirate bed sheet or a galaxy cover can instantly attract anyone into your bed. Further, doily pendant lighting substitute for sun and give your room a day-look for 24-hours.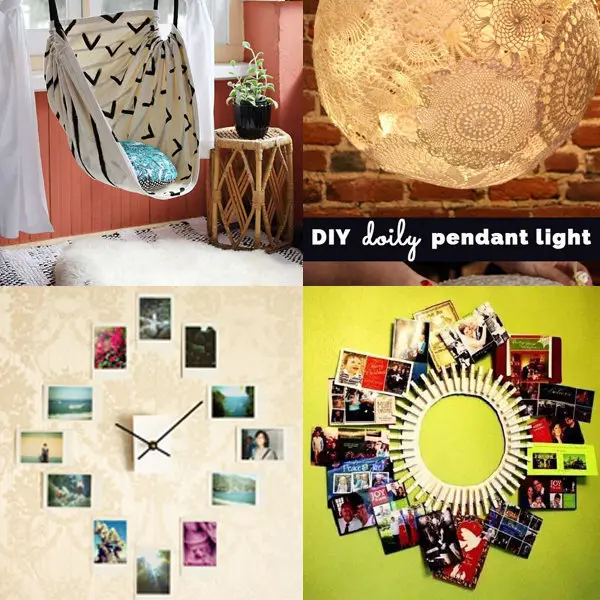 Designs to make the bedroom look attractive.
Other models to DIY bedroom contain using photo frames with old family pictures, clothespin mirror, flower string lights, string art, hammock and more.  
Country Looks
If you can go a little higher on your budget, you can give a classic old country home look to your house located in town.
DIY designs for a country-modeled house consists of general ideas like a rustic headboard, a wooden photo frame or a twig candle holders to some smart techniques like kitchen table made of stones.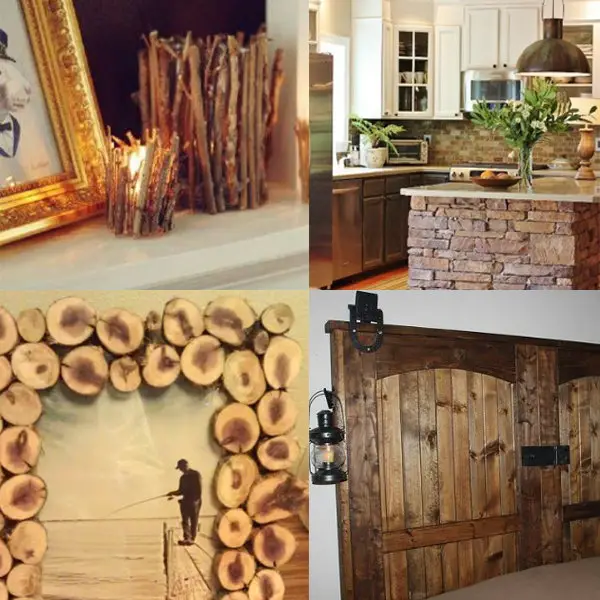 Country themed interior designs for your town-home.
This projects might cost you a small fortune, but they will be worth your money.