LifeStyle
Simple & Easy Homemade Face Mask! A Wonder For Both Dry and Oily Skin Types
Once in a while, your skin needs that extra boost of care aside from your daily skin care routine. Think about it, with the daily pollution and sun exposure, your skin is begging for some more! But treatments, facials, and face masks at spas or beauty stores may cost you a lot. 
So, why waste time and money when you can make facial masks that are efficient and cheap, from the comfort of your own home? 
Here are some of the best, easiest and affordable homemade face masks that work wonders on both dry and oily skin! Try some of these, and your skin will surely thank you for that. 
Homemade Facemasks For Dry Skin:
If you have dry skin, then you know that skin can be rough and itchy. Further, due to the lack of moisture, the process of aging speeds up as well.
So, the only way to maintain your skin's health is to make use of facial masks that provide intense moisture. And you can create them yourself easily with the ingredients available at the tip of your finger! 
 1. Creamy Avocado Mask: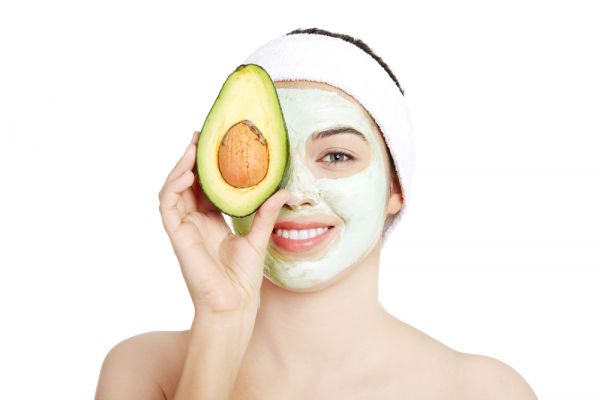 Caption: Avocado is a wonder fruit which is beneficial for various things including your skincare. 
Photo Credit: thekickingkitchen.com 
Avocado gives a significant result in your skin regime as it contains Vitamin A, C, D, B-6, B-12 and more. So, why not indulge in an avocado creamy facial mask? 
Here are the steps, you need to follow:
Step 1: Cut a fresh and organic avocado in half and scoop out its flesh. Take as much as you need and mash the fruit with a fork in a bowl. 
Step 2: Add in 2 tablespoons (30 ml) of plain yogurt, one teaspoon (5 ml) of olive oil and one teaspoon of organic honey into your mixture. Mix all the ingredients well. 
Step 3: Apply evenly onto your clean face for 15-20 minutes avoiding the eye area and rinse off with lukewarm water. 
2. Moisturizing Strawberry Facial Mask: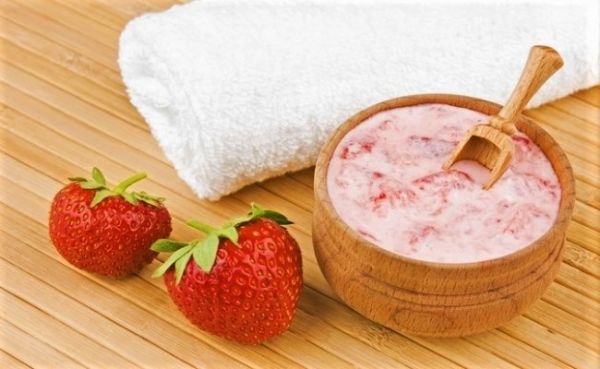 Caption: Strawberries are not only tasty but also has taken a firm position is skin care ritual.
Photo Credit: edenspa.com 
As delicious as strawberry tastes, it is also best for your skin. It contains a lot of beneficial properties like Vitamin C, flavonoids, antioxidants and has anti-carcinogenic properties too. So, why not enjoy a mask of this sweet fruit?
Step 1: Take around 10 of fresh strawberries and mix with 1/4 cup of bee pollen, three teaspoons of raw honey, one teaspoon of olive oil mayonnaise, and some drops of lavender essential oil in a bowl. 
Step 2: Combine all the ingredients into a thick paste and carefully apply it all over the face avoiding the eye area and relax for 20 minutes. 
Step 3: Rinse off with warm water and welcome a fresh and moisturized skin! 
3. Cocoa Dream Hydration Face Mask: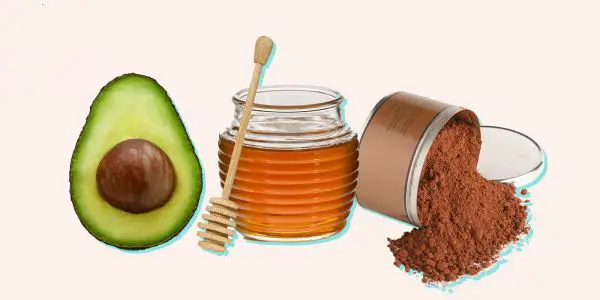 Caption: Natural ingredients like Avocado and honey mixed with cocoa powder make a unique skin-treating facial mask. 
Photo Credit: Cometrend.com
Here is yet another facial mask that includes avocado. However, this time it also contains cocoa-powder which is an excellent anti-oxidant and honey which is known for its anti-bacterial and soothing properties.
Step 1: Take a quarter of an avocado and mash it with a fork. 
Step 2: Add in one tablespoon of cocoa powder and one tablespoon of honey.
Step 3: Apply evenly to face avoiding eyes for just 10 minutes. 
Step 4: Rinse with warm water, then use a toner and moisturizer. 
Homemade Facemasks For Oily Skin:
As oily skin has a benefit that it ages slowly, it also has its downsides. Oily skin is prone to breakouts because it attracts dirt and pollution. And it always feels like you have a layer of grease on your face. Irritating, right?
But don't worry, as here are some homemade masks that keep your skin healthy by deep cleansing and getting rid of excess oils.
1. Bentonite Clay And Witch Hazel Face Mask: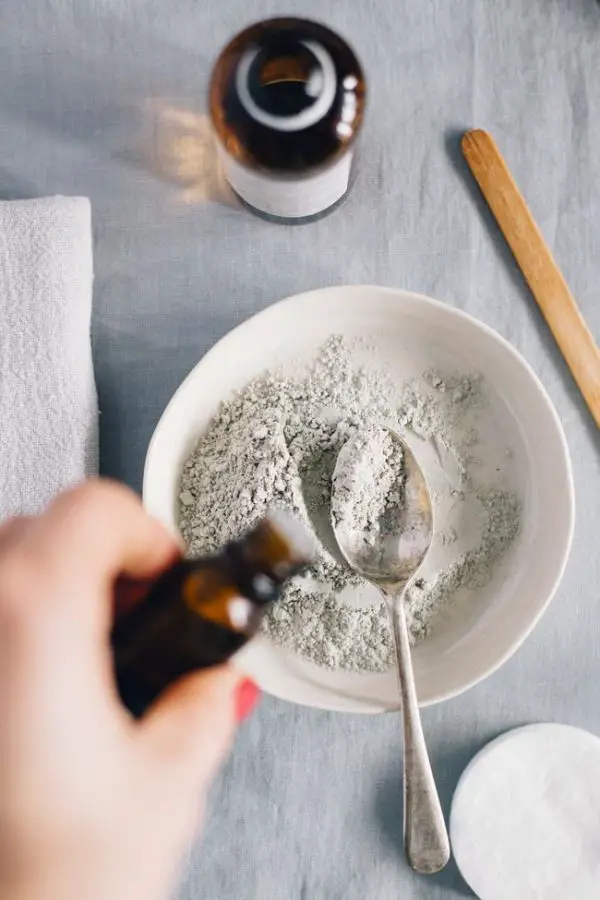 Caption: Bentonite Clay and witch hazel are perfect ingredients to create a face mask for oily skin. 
Photo Credit: Helloglow.com 
A little effort can go a long way with this mask. Bentonite Clay helps in deep cleansing, and the witch hazel is an astringent and a component that is present in many beauty products and benefits oily skin. So, maintain your skin's health with these simple steps. 
Step 1: Take one tablespoon of witch hazel, one teaspoon bentonite clay and two drops of lemon essential oil.
Step 2: Mix the ingredients well into a paste in a non-metallic container. 
Step 3: Apply evenly to your skin and let it sit for 10 minutes and if you have very oily skin and then leave it for 20 minutes; rinse off with warm water and say "Hi" to the beautiful skin.
2. Egg White + Honey Mask: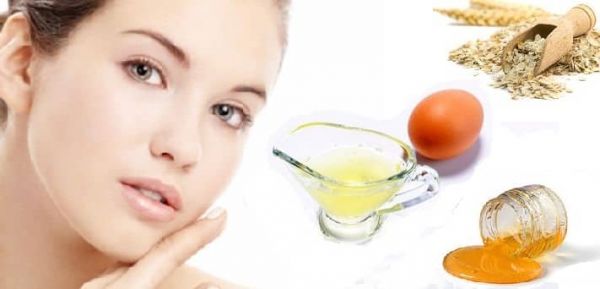 Caption:  Eggs, honey, and oats or flour aid in maintaining the health of the oily skin. 
Photo Credit: homemademasks.net 
Eggs are more than just a good morning breakfast. You can even include it in your skincare!
Egg whites help to tighten and tone the skin. Meanwhile, ground oats/flour absorbs unnecessary oil and cleans your skin deeply. And, honey is all natural and traditional ingredient used in beauty routines. 
Step 1: Take egg white of an egg, one teaspoon of honey and whisk the mixture till it becomes frothy.
Step 2: Then add in some ground oats or flour to make a paste. 
Step 3: Apply evenly to face dodging the eye area and leave on for 10 minutes. Rinse off with water at room temperature.
3. Lemon Apple Mask:
Caption: Fruits like lemon and apple which are high in acetic acids, help to remove excess oil from the skin.
Photo Credit: liverampup.com 
The fruit acids in lemon and apple contribute to exfoliate and remove oil from the skin. A herb like sage helps in making your pores smaller and tighter.
Step 1: Take one tablespoon of applesauce, one teaspoon of lemon juice, and one teaspoon of dried sage.
Step 2: Combine the components until it forms a paste.
Step 3: Relax for 5-10 minutes and rinse with lukewarm water. 
Welcome to new baby soft, clean and fresh skin! 
A homemade facial mask is one of the best ways to treat your skin. Store-bought products contain chemicals, so it is always best to opt for natural fruits and ingredients because they don't have harmful effects of the chemical components. However, there are few things you need to consider. Not all natural ingredients necessarily suit your skin. Thus, test a little bit on your wrist beforehand to know if you are allergic to the ingredient or not. Also, maintain a healthy diet and drink ample amount of water to hydrate your skin. Stay Beautiful!