LifeStyle
How To Cook The Perfect Steak: A Quick Guide To Pan Fry The Steak Indoors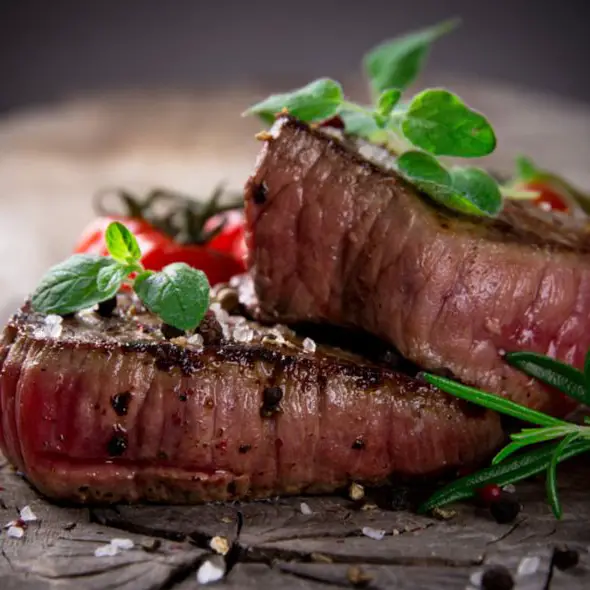 How To Cook The Perfect Steak: A Quick Guide To Pan Fry The Steak Indoors
LifeStyle
They say," you are what you eat," so eating delicious food is an important aspect of life to remain beautiful and healthy. For food lovers like us, eating delicious dishes with various aromatic flavors is a must to rejuvenate and revive our taste buds. For the foodies who love to engross different spices and cuisines in their cooking style, we bring in a few guidelines to cook a perfect steak at home and tricks that allows overcoming the blandness in your steak and make you a star cook.
Following are the tips to prepare a perfect steak which can be made simply and enjoyed at home,
1) Marinade Asian Steak:
For three serving reference, the key ingredients required for preparation of marinade Asian steak is soya sauce (1/2 cup), brown sugar ( 2 tablespoon), lemon juice ( 2 tablespoon), olive oil ( 2 tablespoon), garlic cloves, grated ginger, minced onion, black pepper and steak (1/2 lbs).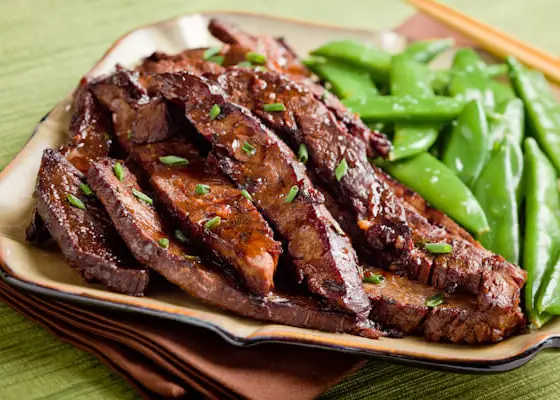 Caption: Marinated Asian steak served with balsam
Photo Credit: foodzonal.com
Firstly, we combine all the ingredients and coat the prepared marinade on the steak by keeping it inside of the refrigerator for around 6 hours. We then heat the grill for around 1-2 minutes shearing it on both sides before holding the steak on the grill.  We then cook the marinated steak for nearly about seven minutes and check its thickness when it's well done.
2) Charcoal Grilled Steak:
Tired of eating the same kind of steak every day? Try the charcoal grill steak to add a smoky flavor of charcoal.To prepare it you need 8 ounces of filet.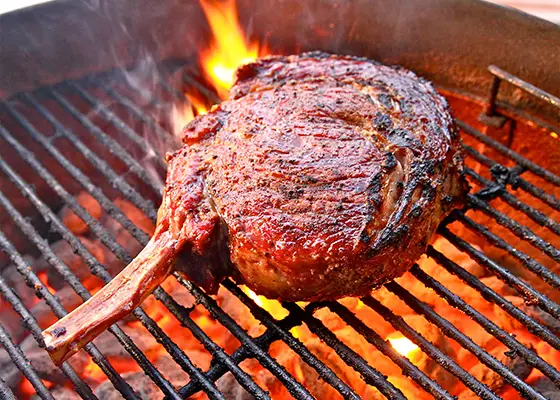 Caption: Charcol burnt steak with added flavor of herbs
Picture Credit: grilling.com
Before grilling the filet, add the charcoal in your barbecue maker and allow it to generate smoke and flame. While at the meantime brush both the sides of your steak with oil, salt, pepper and allow it to settle it down for a while. After the barbecue gets ready, quickly place your steak on the grill and cook until it turns golden brown and a bit charred for about five minutes to get the enriched smoky flavor. Turn the steak around and cook it for another 4 minutes for a medium rare taste and a minute or two more for a medium well. Transfer your steak to your serving plate and garnish it with cooked vegetables or coriander and onion on top.
3) Salsa Verde In Steak:
If you want an added version of taste in your routine steak without dismantling its original taste, then you can go with your regular steak by preparing salsa sauce to give it an Italiano flavor and retaining its taste.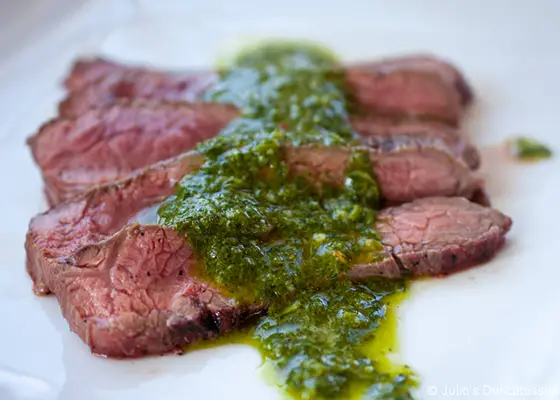 Caption: Salsa dipped Italiano with medium rare steak
Photo Credit: pininterest.com
For the sauce what you need is parsley, chives, and mint chopped into small pieces. In a bowl of capers, add two finely chopped anchovies, crushed garlic, lemon juice and two tablespoons of olive oil. Mix the parsley, chives, and mint in the same prepared bowl and sauté it correctly.
While for the steak, you can prepare it by barbecuing or grilling on the way you like your steak, i.e., medium rare or double medium and simply pour the sauce on your steak to enjoy the Italian taste in your steak.
4.Gravy For Your Steak:
Homemade sauce is always the best for your plain steak. If you are in the mood for eating a sauce steak, you can prepare it at your home with your comfortable material available and enrich your steak.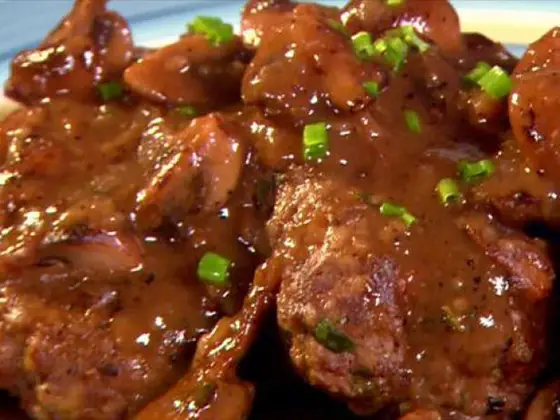 Caption: Gravy steak mixed with the aroma of spices and homemade sauce
Photo Credit: foodnetwork.com
You need 1 tbsp plain flour and a beef stock. While making the gravy, heat your pan over a medium flame, pour the beef stock and add a tablespoon of meat juice while at the same time sprinkle the flour and stir the fat for a couple of minutes till it turns brown and gains a perfect thickness. The taste of the gravy can get further elaborated by adding seasoning of salt, pepper, and coriander.
For the steak, prepare it on the rare medium and simply pour the gravy on the steak. With the sauce and the hardness on the steak, you will surely enjoy the new taste and crave for more.
5) Healthy Steak Filled With Seasoning:
Every steak lover has their way of eating their favorite steak. Some want their steak with ample of finger chips and gravy on top while few prefer with a green salad, pepper, boiled vegetables or sauce.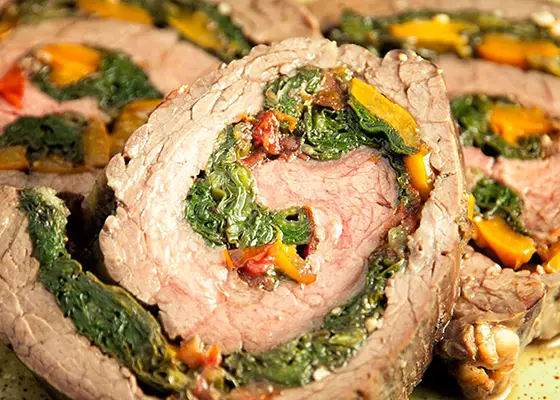 Caption: Steak stuffed with healthy vegetable seasoning
Photo Credit: paleoleap.com
The additional seasoning gets equipped with full flavor if the steak gets prepared in a perfect manner. For the beginners, what you should do is brush the steak with a good lug of olive oil and a pinch of salt and pepper. For more flavors add the grated garlic clove and rub it with butter every time you turn your steak while cooking. Once the steak gets cooked further add herbs for more refined taste, and allow it to observe its beautiful juice for a minute of two before serving it with a chips, mayo or sauce.
Despite being originated from England, steak lovers are situated worldwide and have always sought for more ideas and quick tricks to get hold of yummy steaks with various fusions, seasoning, and garnishing. Revealing the few tricks though won't be able to satisfy the tummy of steak lovers for not more than weeks, the given instructions would surely mark your taste bud with its flavors wanting to crave it more and more. So steak lovers, give a try and enrich your bud with the excellent flavor and don't forget to give in the feedback!