LifeStyle
Life Brightening Light Dinner Recipes And Ideas That Even Vegetarians Can Enjoy!
Be it a moral choice or the shock at the health risks of excessive intake of animal products, many people worldwide choose the vegetarian way of life, which in its simplicity denounces the use of any animal product for food. And, the trend towards a vegetarian diet seems to be the new fad.
Those on this flank argue some of the benefits that a vegetarian diet provides, including reduced risks of developing cardiovascular diseases and kidney stones, along with lower cholesterol levels and even improved moods. Even the American Dietetic Association has voiced in saying,
"...that appropriately planned vegetarian diets, including total vegetarian or vegan diets, are healthful, nutritionally adequate, and may provide health benefits in the prevention and treatment of certain diseases.."
The opponents argue otherwise. Besides other issues, some wonder if a vegetarian diet can live up to the scrumptiousness of meat, describing the joy of biting into a slice of steak, or roasted chicken with a simple but powerful statement,
"...but meat tastes soooo good...".
However, let us not ignore that the world of veggies may be humble but it surely is diverse, and with simple ideas, it can create magic in your taste buds. Here are some dinner tips and recipes that every vegetarian can enjoy. They are healthy and above all tasty:
1. Ratatouille Stuffed Shells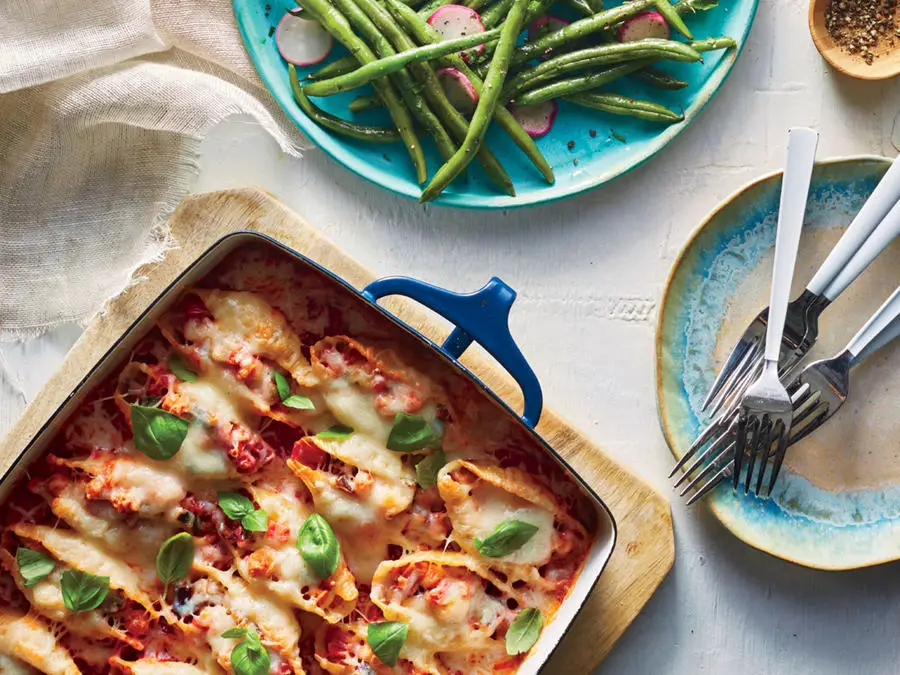 Caption: Ratatouille Stuffed Shells, time-saving as well as a professional looking dish.
Photo Credit: cookinglight.com
It is a mouth-watering lasagna dish that you can prepare within 45 minutes. First, follow the directions given in the pasta pack and cook them accordingly, then drain and let them stand.
Take a large skillet and add a tablespoon of olive oil. Sauté onions and garlic, both finely chopped.
Then, add a cup and a half of diced eggplants and bell peppers and cook for four minutes, followed by three-quarters of a cup of diced zucchini, plum tomatoes and half a cup of chickpeas. Cook these for four minutes as well.
Next, pour in a cup of marinara sauce, half a cup of basil along with salt and pepper to taste. Take a baking dish and coat it with cooking spray or vegetable oil. Coat the bottom with three-quarters of a cup of marinara.
Fill each pasta shell with about one and a half tablespoons of the vegetable ensemble and place them in the dish. Bake the dish for 12 minutes at 450°F, in a preheated oven, and garnish it with fresh basil.
2. Spicy Black Bean Soup: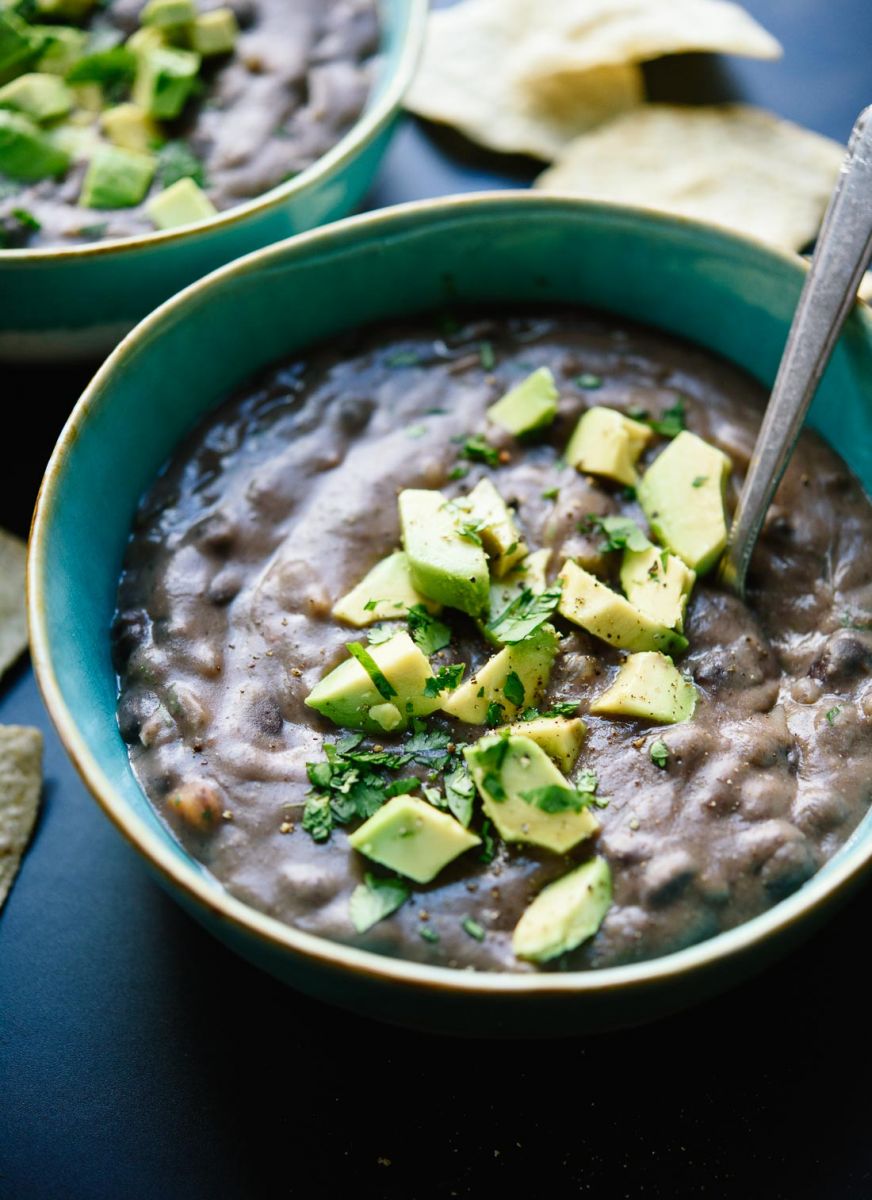 Caption: Spicy Black Bean Soup, a treat for the vegetarian taste buds.
Photo Credit: cookinglight.com
It is the ultimate healthy dish that is loaded with proteins infused with aromatics. First, take a large soup pot and heat a little olive oil. Sauté chopped onion (two medium sized yellow) and celery and sliced carrots, for fifteen minutes.
Follow up by adding minced garlic, half a tablespoon of red pepper flakes and four and a half teaspoons of ground cumin, letting the aromatics infuse for about 30 seconds.
Next, add in the star ingredient- black beans, about fifteen ounces or four cans of them and cover it all up with four cups of vegetable broth.
Cook over medium-high heat for 30 minutes, until the beans are tender.
Finally, puree the mixture in a blender into a smooth soup, and top it off with two tablespoons of vinegar (or lime juice), salt and pepper and chopped cilantro.
3. Vegetable and Tofu Stir-fry: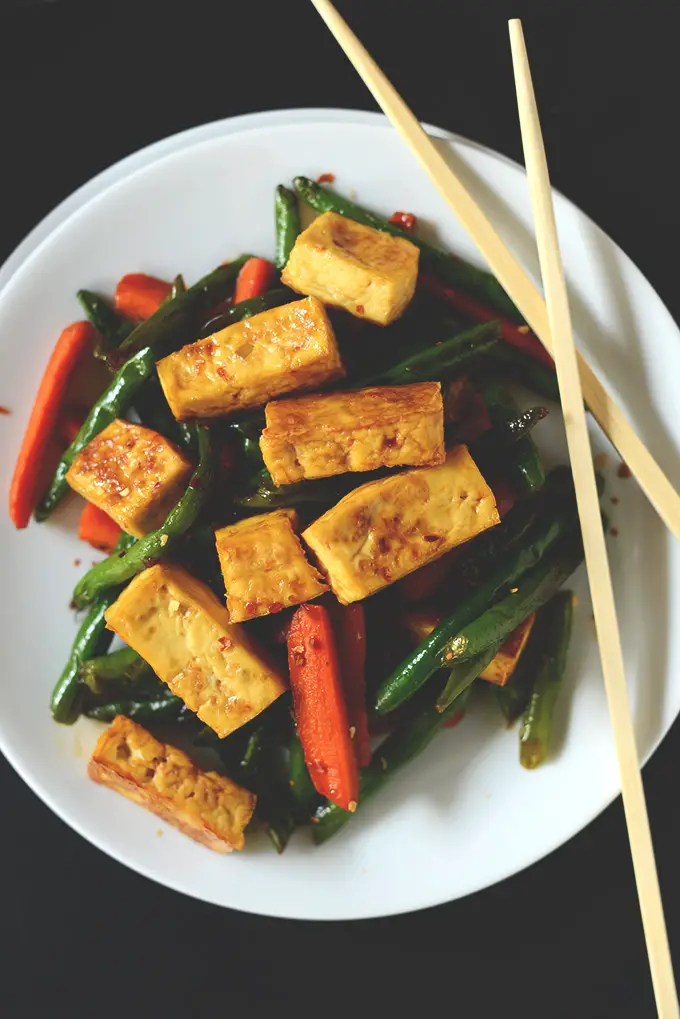 Caption: Vegetable and Tofu Stir-fry, A traditional dish with a modern taste.
Photo courtesy: cookinglight.com
Tofu can be coupled with different ingredients to give an array of recipes, and this is one of the easiest and healthiest among all.
Initially, you should drain your tofu by simply wrapping it in a dry paper towel and letting the dry towel suck up all the water in the tofu. Then chop it into rectangles.
Then bake the tofu until it is golden brown, for about thirty-five minutes in an oven at 400°F, on greased baking tray to avoid the tofu from sticking to it and flip the rectangles about half way into the baking. While this is being done, you can get on with your veggies.
In a bowl or pot, add a quarter of a cup of soy sauce, a tablespoon of grated ginger, two tablespoons of brown sugar and a tablespoon of maple syrup and corn starch to prep your sauce. In a skillet, pour a little sesame oil and add two cups of roughly chopped green beans, a cup of diced carrots and red pepper.
Sauté your veggies for about five minutes and then add the sauce and mix. Finally, as the sauce starts to sizzle and bubble, add your tofu.  Keep stirring gently over the next five minutes and remove the dish from the heat. Your stir-fry is ready and can be served with rice.
4. Thai Chickpea Curry with Coconut Rice: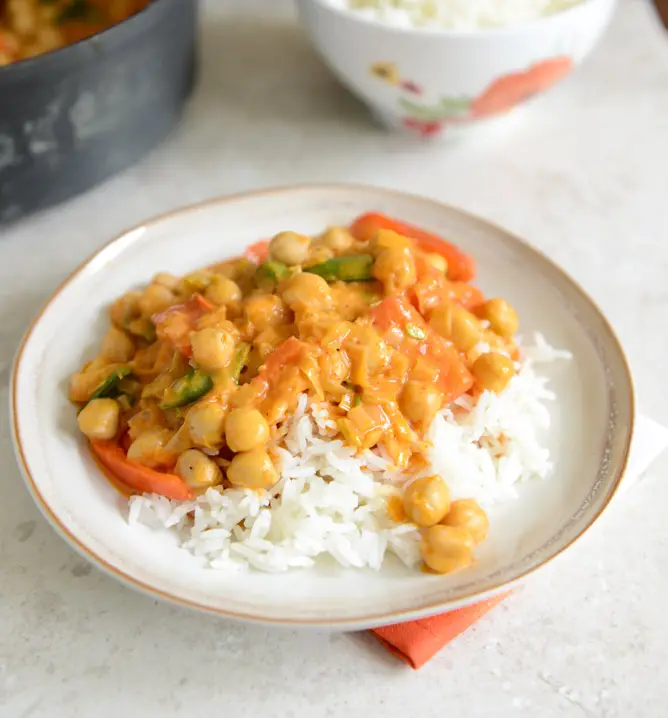 Caption: Thai Chickpea Curry with Coconut Rice, A Healthy yet hearty dish.
Photo Credit: cookinglight.com
It is an easy but warm curry dish. For the rice, place a saucepan over medium-high heat and add about one and a half cups of jasmine rice along with light canned or fresh coconut milk along with little salt.
Stir the mix bring to a gentle boil, and cover. Then, lower the heat and cook for about 15 minutes, until all the liquid is absorbed.
Gently stir with a fork with about a tablespoon of coconut oil. For the curry, add a tablespoon of coconut oil and stir fry two sliced leeks, a sliced red pepper with salt and pepper to taste. Cover and cook for five minutes.
Then toss in minced garlic, ginger along with two tablespoons of red curry paste. Stir the mix and cook for five minutes.
Next, add a third of a cup of cut snap peas and a can of coconut milk and stir. Finally, add in the main ingredient- one and a half cups of cooked chickpeas and fresh cilantro and cook for the next five minutes. The dish is best served immediately with the rice.
5. Asian Hot Pot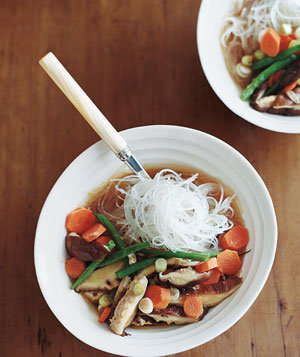 Caption: A Classical Asian Dish with a touch of western taste.
Photo courtesy:cookinglight.com
It is a deceptively simple yet hearty dish that every vegetarian should try out.
For this, you need about three and three-quarter ounces of rice noodles, which should be cooked according to the package instructions and drained.
In a pan add a little olive oil and fry about eight ounces of mushrooms (any variety you prefer), for five minutes.
Then, add 6 cups of vegetable broth, three-fourth of a cup of soy sauce and minced ginger.
Heat to boil the mix and add thinly sliced scallions, carrots and about eight ounces of cut green beans. Bring the dish to a simmer until the vegetables come become tender.
Finally, place generous amounts of the noodles into bowls and pour in the broth.
Not only these dishes yummy and set in lower calories, but they are also easy to prepare. A vegetarian meal doesn't have to be any less "tasty" compared to meat. So, my vegetarian brothers and sisters, let these recipes and meal ideas tingle your taste buds, and brighten your life with a healthy diet.