LifeStyle
5 Gorgeous Beaches In Thailand | Best Vacation Sites To Budget Friendly Resorts
Thinking of an escape to a tropical beach paradise?
Might tranquilizing Thailand be your next go; Filled with green tropical island, mist-covered mountains, flavorful cuisines and the historic monument that just rises above spectacularly with its architectural pattern are just the gifts of Thailand presented for travelers.  
But, what the country presents you best is its exotic beaches, for those who are seeking a "best beach vacation." 
The swaying palm trees, with white sand underneath your feet rubbing soothingly as you walk down them with a bamboo hat and a coconut drink, enjoying the view of the aesthetically pleasing, stunning beaches; Thailand sums up your best beach vacation ever!
Among the best, here are the top picks from the land of the world's most gorgeous beaches and the beautiful and scenic hotels!
1.What A Beautiful Beach, Oh! Look A Monkey!!
Who wouldn't love to have a vacation on a beach and have some pets to play with?
If you are a pet person then this is the place to go. The monkey beach provides you with something no other beaches is providing you with. Yes! It's definitely what the name itself says; "Monkeys". The furry animals who are more than excited to see you because it knows that you won't come here alone; you'll come with some snakes to feed them.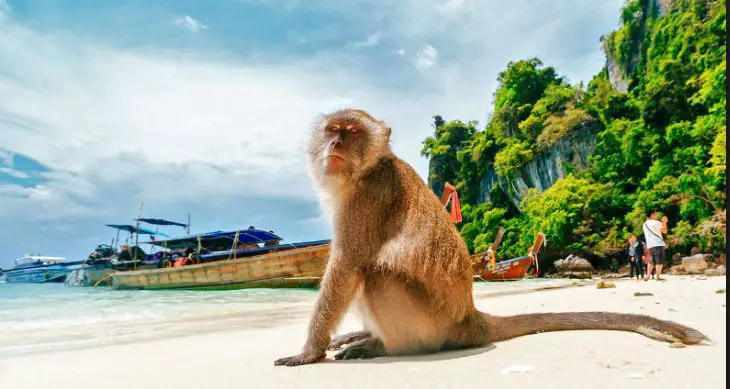 Monkey Glaring Up At The Camera On Monkey Beach (Photo: Phi Phi Island-Phuket)
Monkey Beach is located on the southwestern side of Tonsai Bay.
Taking the Tonsai Jetty's boat you can easily reach the beautiful beach with emerald water and a sharp limestone cliff erected on its backside. To make things interesting, the beach has some delightful underwater activities waiting for you to give you a sensational glimpse of what life underwater looks like.
2. Relaxing Railay Awaits You:
Krabi an island that has won the hearts of many visitors hitherto gives all the credit to it's stunning Railay Beach. Amidst the hustle and bustle life of Thailand, lays the peaceful Railay beach; a beach that welcomes you all to its beautiful shoreline waiting for it to be captured.
Railay beach is fenced in rugged high cliffs and centered with the crystal clear water of the Andaman Sea which goes in sync with it's quiet and breezy atmosphere. Krabi isn't open to regular ferries, so the only option is to take the long-tail boat to reach this destination.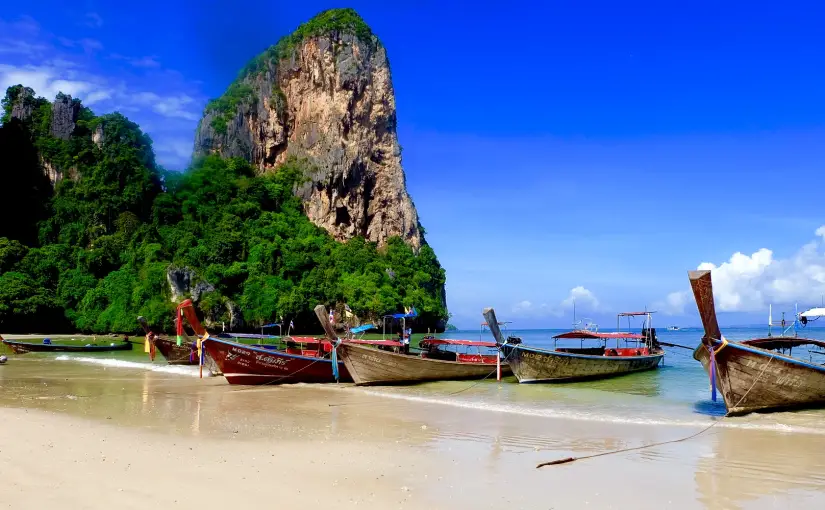 Longtail Boats Lined up In the Famous Railay Beach (Photo: Travelista Journal)
The most captivating thing about Railay is the adrenaline gushing activities it offers. The beach dips deep in its lustrous jungle giving you natural relaxation. The jagged cliffs are world class for climbing and hide a cave of diamonds.
3. City Buzz At Pattaya Beach!
If you are a city person and need a beach that gives you a mixture of both the city buzz and natural tinge than this is the place to be.
Contrary to the serene Railay beach, Pattaya beach is the most hotshot beach that's just 150km from the heart of Thailand, Bangkok. With crescent beach extended to 4 km down the coastal line and ending with the sparkling blue ocean, the Pattaya beach is loved for its spaciness and the late night city life that has so much to offer you with.
Be it the lip-smacking foods or the zealous party life, Pattaya has it all zipped inside its zone.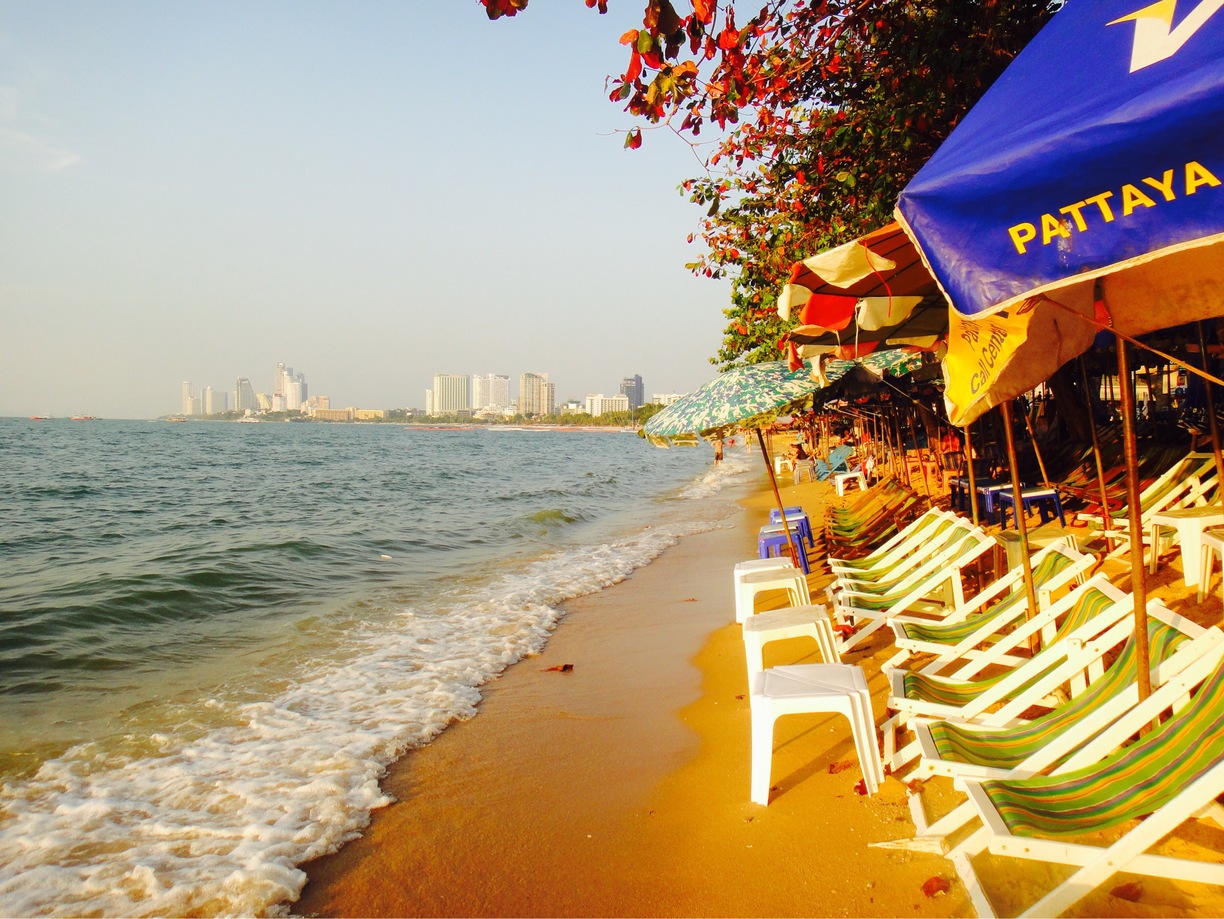 Waves Crashing Through The Shores At Pattaya Beach (Photo: trover.com)
Pattaya is famous for its enticing Parasailing, jet sailing, and the classic banana boat!
4. As Long As It Sounds.. 
On the island of Koh Lanta, there lie the widest beaches of Thailand, "Long Beach!" 
The long beach is filled with razor-sharp rocks that cover the beach and the soft, sloppy white sand underneath that welcomes its visitors to a different landscape. With a great sunbathing routine carried out in the afternoon to the beach bar and parties outraging after the sun goes down, Long Beach is a paradise for scenic beauty.
So, book your room at j2b beach bungalows, 105 Moo 4 Nhong Talae-Klong, Krabi 81000 for less than $25 per night.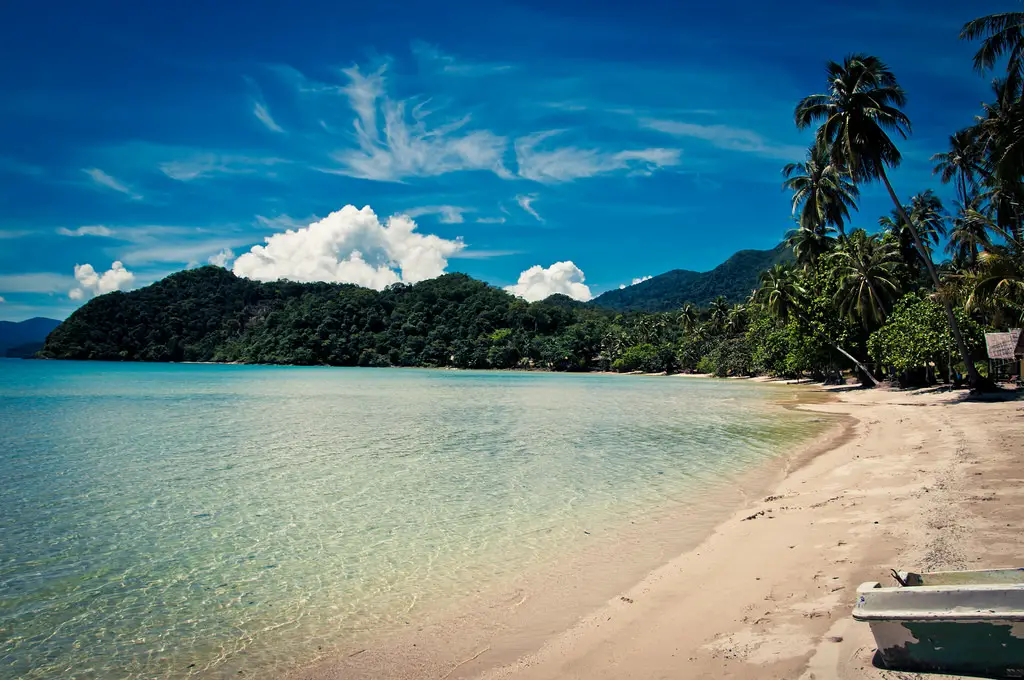 Lengthy Outstretch Of The Long Beach Underneath The Blue Sky (Photo: Flickr)
As the long beaches are pretty popular for snorkeling, make sure that you visit this beach around November-April when the water is calm and undisturbed. Else, the water is mostly wild during the other months.
Due to the airport non-availability, you have to take a Ferry in order to visit this unique beach that faces the southwest with a spectacular view over the Phi Phi Leh.
5. World's Best Spa At Hua Hin Beach?
If you want a family friendly beach, where you can take your little ones, then Hua Hin Beach is just the right beach for you. Counted as one of "The Nicest Beach" in Thailand, Hua Hin provides you with a different coastal experience along with its cerulean sea and powdery sand that stretches from the town center to the Khao Takiap.
Hua Hin, that is erected with multiple deckchairs and umbrellas is well known for its lazy hours of tossing oneself to the sun and relaxing in the tranquilizing environment. This beach is also popular for the world-class spa and Gulf coasts that are available at plenty.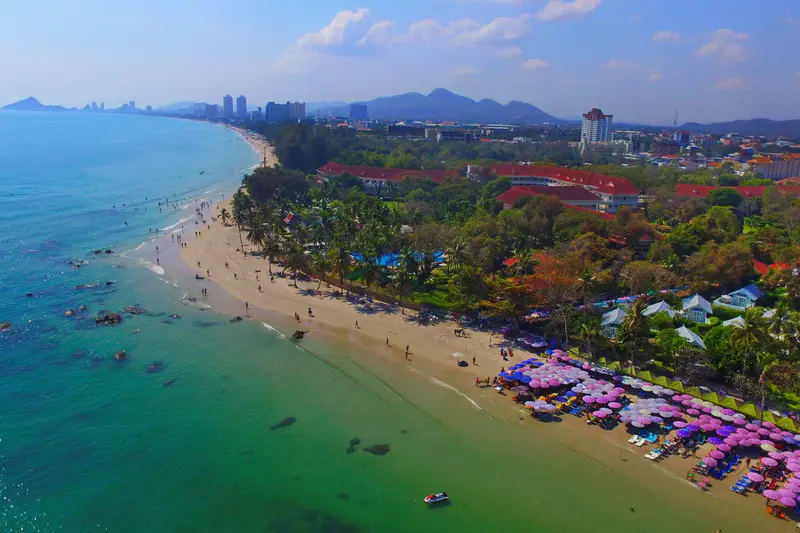 Purple Umbrella Set Along The Deckchair For Sunbathing In Hua Hin Beach (Photo: True-Breachfront.com)
You can stay at the Intercontinental Hua Hin Resort that is in 33/33 Petchkasem Road, Tambon Hua Hin, Chang Wat Prachuap Khiri Khan, 77110, Thailand. This resort provides you with stunning rooms, bars, restaurants, and various golf courses. All for less than $200 per night!