LifeStyle
Trend Of Asian Street Foods In USA And Its Lover
There's one famous quotation by Paul Prudhomme "You don't need a silver fork to eat good food." For good food, there should be a good taste. This holds true for Asian food. Asian Food is famous worldwide because they are packed with multi flavors, and when it comes to taste, there is variety to choose from. Whether you choose an  Indian, Chinese, Thai or other, the food is sure to give an intense pleasure to an eater.
Compared to restaurant food, street food is available at reasonable price. So, they are attracting a lot of customers. In the USA too, street food is quite popular, and Asian Street food is gaining lots of customers in this multi- cultural nation. Nowadays, American streets are packed with the Asian food trucks. There are many food trucks that provide the authentic Asian cuisine around the city. Some of them are:
Oh So Good:
Oh so good is one of the best Asian food truck in Houston, Texas which serves traditional Chinese with a mobile American twist. This is the best food truck serving the unique culinary fusion. The food lovers are mostly Asian-American. The truck has a special menu for Fried shrimp, wings, Cheeseburger balls and much more. People relish these delicious foods as they enter in the mouth.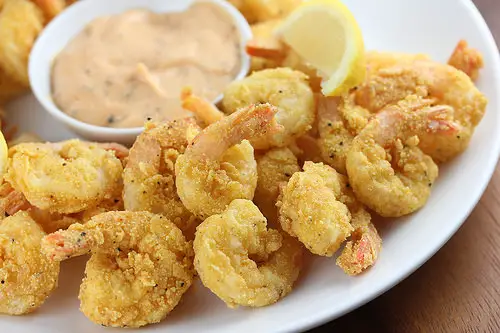 Photo Credit: blogchef.net
Happy Endings:
The Happy ending is the only Asian food truck with varieties of dishes serving delicious Asian-fused 100% beef hotdogs served on Hawaiian steamed rolls. The truck has got the best and longest menu including BDL, Kelly, Queso dog, Zen Dog, Yamato Dog, Geisha Dog, Tsunami Dog, Chicken Tikka Masala and much more. People's love for Happy Endings can be seen by the crowd surrounding the truck on its Service hour.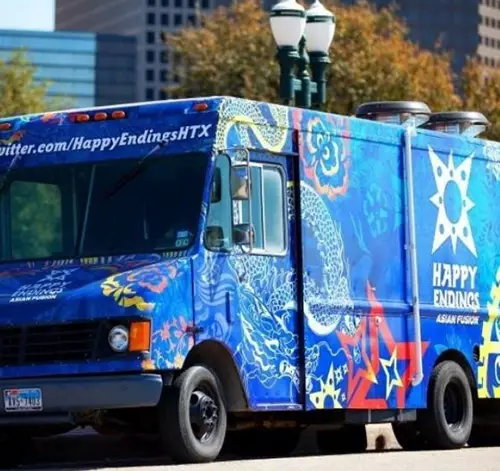 Photo Credit: happyendingshtx.com
Rice balls of fire:
The truck can be spotted in Los Angeles. Rice Balls of Fire was started by chef James. The truck serves a fusion of Japanese, Korean, and Hawaiian cuisines. Rice Balls of Fire enrich the taste buds and ignite the senses.The food here blows up the mind with the taste of Asian masterpiece.
Photo Credit: riceballsoffire.com
Chomp Chomp Nation:
Chomp Chomp Nation is the only food truck serving Singaporean dishes in the city with bright flavors and unique culinary creation. Also, they serve exotic tropical Chinese food too. The truck can be spotted in La Palma Ave, Anaheim, Orange County, CA.The truck has best skewers, Natural Chicken Satay Skewers, and Tiger Shrimp Satay skewers. Because of the huge craze the truck got space on food court at Wholesome Choice in Anaheim, and the craze for Singaporean dish is increasing day by day.
Photo Credit: chompchompnation.com
The Yummy One:
The Yummy One is a gourmet quick-serving food truck serving the finest and freshest authentic Korean cuisine and Asian-inspired entrees in Los Angeles, CA. They provide delicious meals making Korean food a natural alternative to traditional food giving a variety of road choices like bowls, rice wraps, and the tacos with a mix of Mexican options.  Bim Bim-Burrito is one of the best Korean taco/burrito combo served by the truck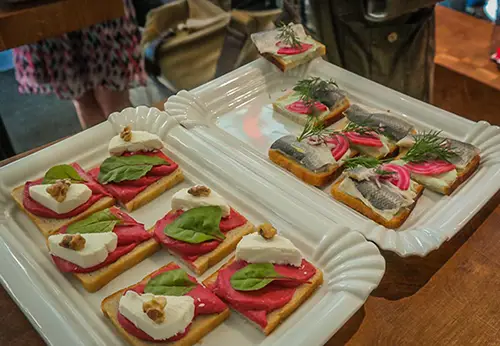 Photo Credit: foodtruckfiesta.com
These food trucks have played a crucial role in making Asian food as the best street food in the USA. Lovers of Asian food are increasing more and more in number because of these street food trucks.So if you are living in the USA or planning to go there and if you ever feel the dilemma to go to which place to eat, you can go to one of these places as mentioned above. Bon Appetit!