LifeStyle
7 Winter Fashion Ideas and Trends That Are Surprisingly Cozy and Stylish
7 Winter Fashion Ideas and Trends That Are Surprisingly Cozy and Stylish. It can be quite tricky to look your best during winter when all you want to do is stay warm covered with a ton of sweaters and jackets. But, you can still stand out even in the cold with our seven winter fashion ideas and tips for both ladies and gentlemen.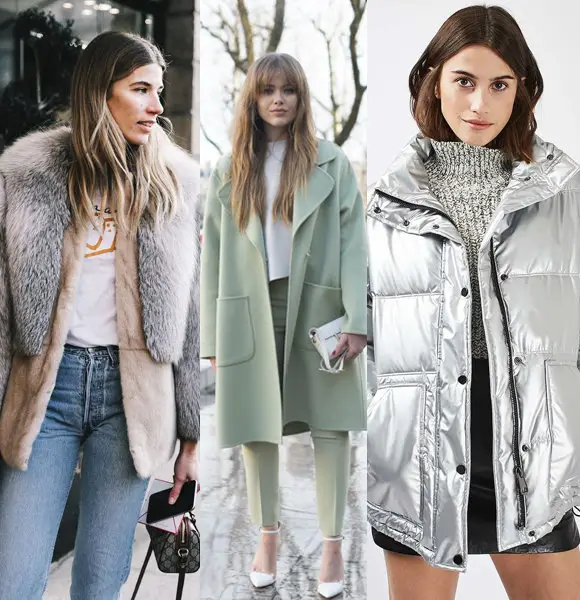 People express their personality through their style. Some prefer a minimalistic style whereas some love going all out with bold colors and prints. But, it all comes down to wearing something that makes you feel pleasant and comfortable. 
However, during winter, it can be quite tricky to look your best when all you want to do is stay warm covered with a ton of sweaters and jackets. But, you can still stand out even in the cold with our seven winter fashion ideas and tips for both men and women. So, let's begin!
1. Opt For Fur, But Faux Fur
Fur is the answer when you want to make a statement while being super warm. It immediately makes anyone look chic and stylish. A fur coat over a casual getup is an instant good-to-go look.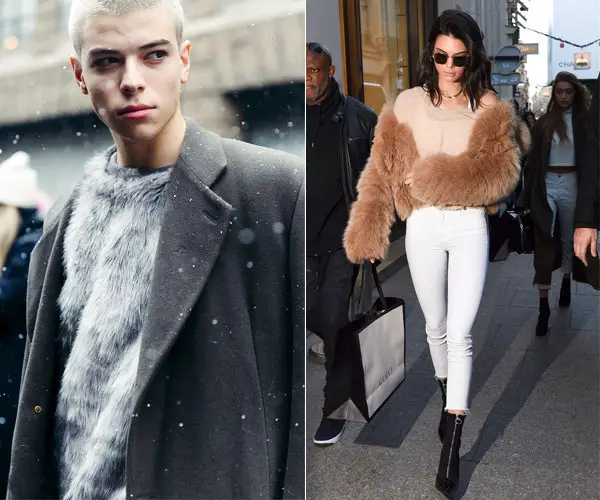 Caption: A touch of fur in your outfit is always a statement. 
Choose one that resembles the color scheme of your outfit, but if you want to go with something that goes well with anything, pure white fur should be your first choice.
Moreover, you can pick accessories that bear furs, such as purses, scarves, and even shoes!
2. Love For Leather
A classic leather jacket is all you need to look your best in winter. Undoubtedly, leather is a must-have article of clothing for men, too, as it provides an effortless feel with sophistication.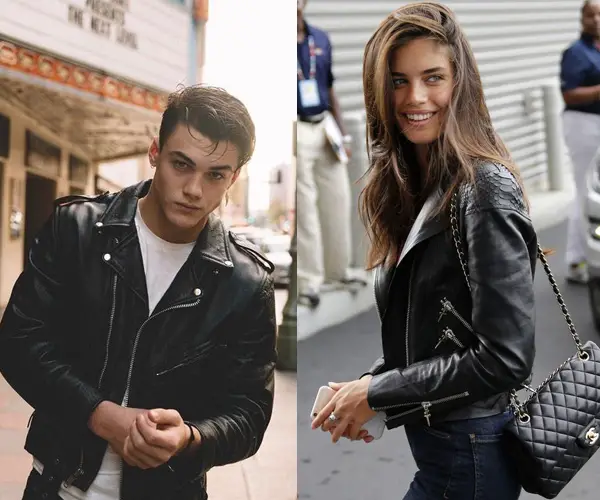 Caption: Incorporating leather into your winter clothing makes you look sophisticated. 
A leather jacket always looks good no matter how you incorporate it into your style. You can even choose from leather pants, skirts, to accessories and more— just remember, the sky is the limit!
3. Layering And Layering 
Another way to look presentable along with staying super warm is layering. Start with a thermal underneath as your first layer. Then add on tops or t-shirts and then add fitting sweaters. A loose and long turtleneck sweater on top of it will not make you look bulky. Lastly, complete your outfit with a large coat or a parka.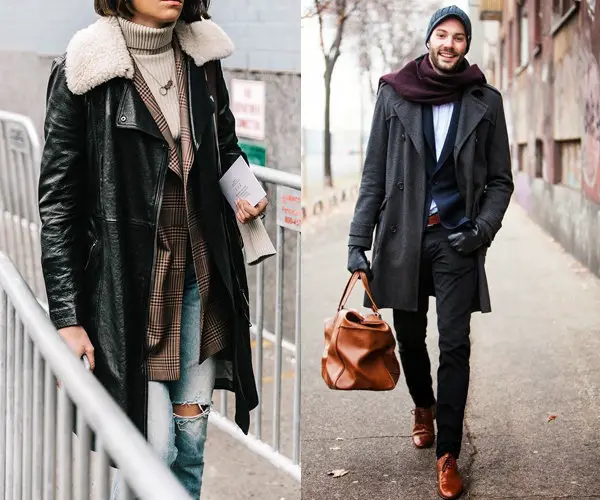 Caption: Layering has been a hot trend for a long time when it comes to winter fashion.
Simply saying, layering is one of the most comfortable trends to follow! 
4. Clueless Plaids 
One of the hottest trends for winter 2018 is bringing back the inspiration from the iconic 1995 movie Clueless. The girly outfit: over the knee socks and the checkered patterns are, for sure, making a huge comeback!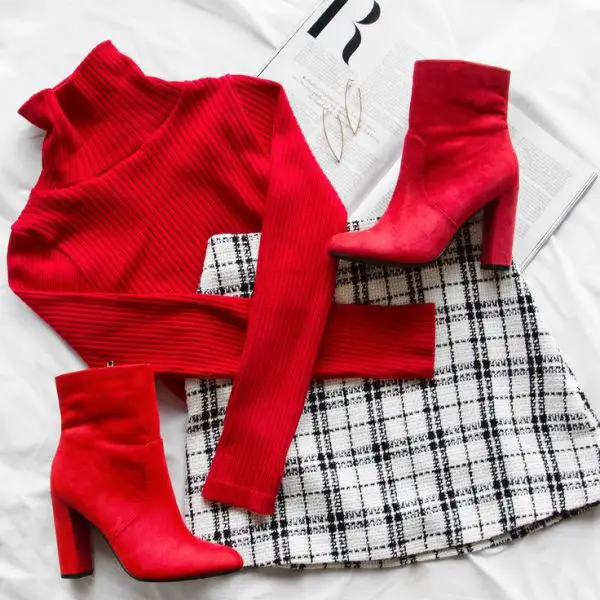 Caption: Clueless inspired winter trend for 2018.
Photo Credit: Pinterest 
You can even include plaids to your styles, such as plaid coats and skirts. This trend suits very well for men as well.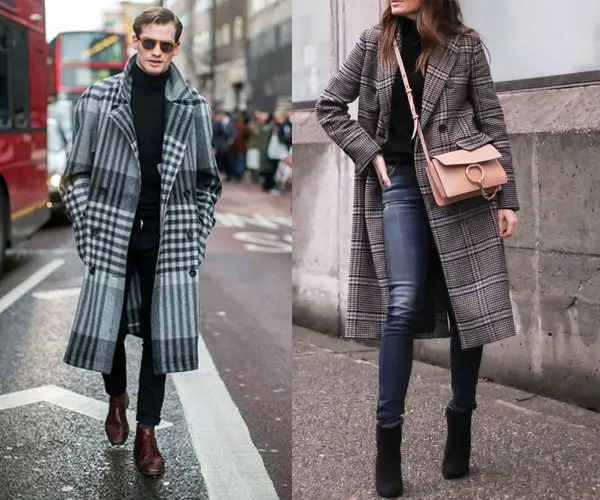 Caption: Plaids look perfect when included in your winter clothing.
Besides plaids, you can even go for houndstooth, leopard pattern and more. 
5. Color Scheme And Fit
Proper color coordination and adequate fit are a few useful tips that cost no extra cash. A cool-toned and neutral look which includes a lot of nudes, greys, b/w and dark brown is a trick that helps you look put together. However, if you want bright colors, make sure to include only a few of colorful items around your outfit. 
Also, adequately fitted clothes instantly look good even if you aren't wearing one of the trendiest pieces. But, if you are a fan of the oversized everything, make sure to balance out the fit of your clothes. Opt for fitting bottoms if you are wearing oversized clothing on top and vice-versa.  
6. Let Your Shoes Do The Talking 
Stunning shoes is the safest option when you are running out of time and ideas to spice up your winter look. The most trending shoes of all time, ankle boots, and thigh high boots keep your feet toasty while looking fabulous. You can even choose to opt for boots of solid color or texture like metallics when you are wearing a minimalistic outfit.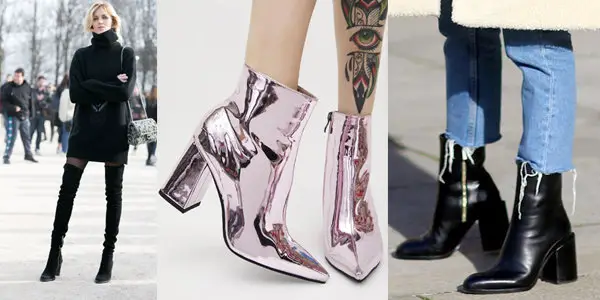 Caption: Most fashionable boots of the season.
But make sure your shoes have a comfortable heel so that it's easy to walk around in the snow. Comfort's just as important, right?
7. Accessories 
Last, but not the least, add up some accessories for extra oomph. Adding a classic beret or a newsboy cap immediately gives you a stylish look. A  knit or a plaid scarf is also a great way to enhance your outfit. 
You can even throw on a belt over your coat to accentuate your curves.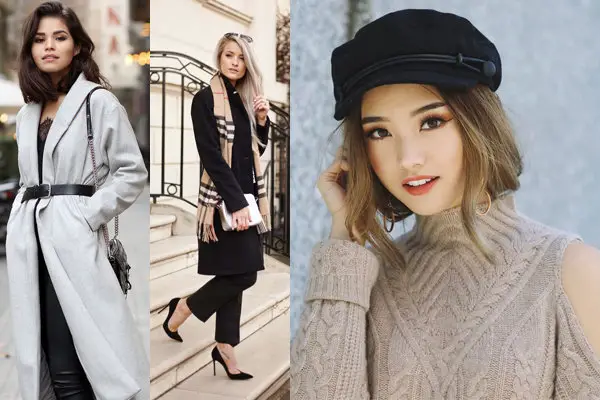 Caption: Accessories give a finishing touch to your outfit. 
Also, don't forget to wear stylish leather gloves for extra warmth. 
It's always fun to keep up with the hottest trends of the season. But, you can even do so with affordable options or items that you already own. Following trends doesn't mean you should purchase new items. You can freely work around simple basics and add some fun texture. Lastly, it is all about feeling confident in what you wear!