News
The Baby is Born! Former WWE Superstars Daniel Bryan and Wife Brie Bella Welcome Their First Baby, A Daughter
The "Total Diva" has brought a new diva to the world and the former world champ Daniel Bryan is now a father!
WWE Divas Champion Brie Bella (Brianna) and WWE SmackDown Live General Manager and former WWE world heavyweight champion Daniel Bryan are now parents as they have welcomed their first child, Birdie Joe Danielson around 11:58 p.m. on Tuesday, May 9. The little angel was born healthy as she weighed in at eight lbs., ten oz, and measured 21 inches long.
The couple shared the picture of her daughter to share the happy news.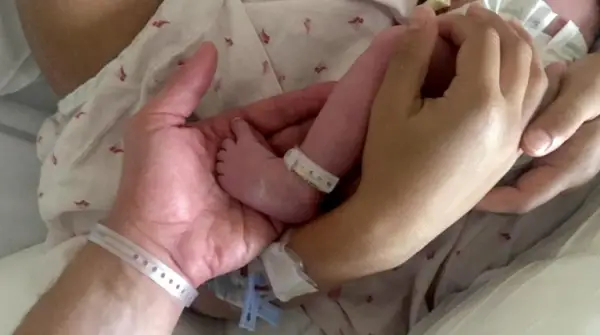 Caption: Brie and Daniel's daughter is here.
Photo Credit: foxsports.com
Caption: Brie and Daniel are now parents!
Video Credit: people.com
Brie expressed her happiness as,
"There is no better feeling in the world than meeting your daughter. I can't even express the overwhelming joy and love that Bryan and I are feeling,"

"Now we know what parents mean about the love you feel when you first meet your child. Thank you all for your thoughts and prayers on the safety of Birdie coming into this world."
All of this leads the Bellas to have a ball as Brie's sister Nikki also got recently engaged to John Cena at Wrestlemania 33.
Brie also explained why the little girl is named Birdie,
"Birdie is because my husband and his whole family are 'B's. And he married me, a 'B' too, so his one request was that our kids have 'B' names,"
She then added Joe in her daughter's name which is for her grandfather.
The couple who are married for three years announced the happy news of expecting their first child back in October last year.
Sharing the news of her pregnancy, Brie said,
"It has always been a dream of mine to become a mother,"

"Now that it is finally real, it fills me up with so much happiness."
Furthermore, all the near and dear ones of Bryan and Brie have been flooding them with warm wishes over on social media.
We too would like to congratulate and wish them the very best for the days to come!
Stay with us for the latest news on Daniel Bryan and Brie Bella!