News
"Blue Bloods" Child Actor Tony Terraciano Loves to Play Lacrosse. What's He Been Doing Lately?
The family-based series is gaining a lot of ratings nowadays whether it's a happy one like 'The Modern Family' or a dysfunctional one like 'The Sopranos'; maybe it is because they are relatable to ordinary people.
An essential element is the child actor in such shows like Tony Terraciano from the hit series, 'Blue Bloods.' Learn about his interest in sports and what he is up to?
What Is He Up To?
Tony goes by the character name of Jack Reagan, who is the older son of Detective Danny Reagan played by actor Donnie Walberg. The young actor plays the role of the 4th generation child in the family of law enforcers with his on-stage as well as the real-life sibling, Andrew Terraciano, who portrays the character of Sean Reagan.
Parents To Twin Babies:- Matt Altman, 42, & Wife Welcomes Twins 'Boy & Girl'! Family Is Now Four
He loves spending time with his 16-year-old sibling in real life as well. On top of that, he has a sister named Molly, a twin of Andrew.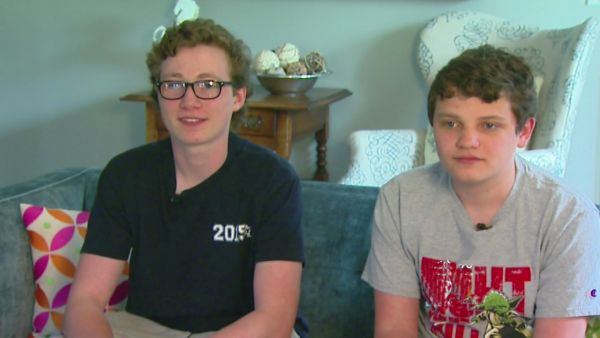 Tony Terraciano and Andrew Terraciano in a home interview. [Source: wordpress.com (blog)]
The child actor was in an interview with CBS New York where he gave a short look into his private life.
He took the interviewer to his home in the small historic village of Pelham, Chester Park in Pelham Heights where he lives with his family of five that includes his parents, Andrew and Andrew's twin sister, Molly.
He is recently up to nothing because he already has his plates full balancing life from acting to privacy. He says that he and his brother only have to go to school once a week and then also they only get a few hours time. Unlike most children whose dream would be not to go to school, Tony finds it even more troublesome this way. But according to him, the entire experience of acting in the series has been educational.
Also Read:- Ben Savage Made the Headlines with his Rumored Dating with Onscreen Girlfriend turned Wife, But were they really Dating?
Both the brothers told how Donnie, their onscreen father, was always teaching them and giving them advice on everything. The boys in humor said, "He is a big goofball. He teaches us a lot."
Tony and Andrew Terraciano from the sets of Blue Blood (Source: tvgcdn.net)
With time, Tony has aged finally over the years. He joined the show as a child actor but his character is now moving to college. Although Tony is not the main cast in Blue Blood, he certainly is one of the most loved characters. 
With his onscreen persona finally moving to college, fans have speculated that it is the end for Jack Reagan.
Tony, who appeared in all the episodes of the show, is yet to announce his departure from the popular series, so the viewers are still unaware if Jack is in or out.
Love for Lacrosse:
Even with such a busy schedule, Tony still gathered enough time to have some fun. He is very interested in Lacrosse and Football. After school, Tony rushed over to the Glover field and is quite an athlete in both Football and Lacrosse. When the brothers were asked who was better at sports, Andrew frankly pointed at Tony. Another favorite place for the boys to eat was Four Corners Pizza where the boys felt serve the greatest grandma slice-crusted pizzas.
Tony at the end of the day is a regular teenager. He still has a hard time getting around the fact that he is a celebrity and only remembers now and then when a person says that they remember him from TV.
High School Lovers Break Up:- Lauren Alaina High School Affair Split, Engagement Broken - What Is Reason?
Tony is currently pursuing his high school education at the Pelham Memorial High School located in West Chester, New York. The actor is currently in his sophomore year but hasn't attended many classes due to his professional commitments.
Tony Terraciano's Bio:
Tony Terraciano was born on 20th August 2000 in Pelham, New York, USA. He and his brother had started modeling from the time they were 6 months old, and their mother has been sending them to acting classes since then until they landed their current roles at 6 and seven years of age.
Presently a sophomore at Pelham Memorial High School, Tony has only one message for his juniors to never give up hope because you never know when you get lucky. Recently, It was reported on 28th July that Tom Selleck would return on tony starred 'Blue Bloods'.