News
The Brandy Bunch's Susan Olsen Is No More With LA Talk Radio After Her Homophobic Rant; Know More
Famous through The Brandy Brunch, an American Sitcom, Susan Oslen is no more working in LA Talk Radio when she intentionally rants about LGBT community pointing openly gay Leon Acord-Whiting on Wednesday, December 7. 
After the talk show "Two Chicks Talking Politics" along with Leon Acord-Whiting where he criticizes Olsen's look, Oslen took to Facebook to reveal the statements targeting Acord-Whiting.
Caption: Susan is addressing Leon using abusive language about his gender.
Source: Susan's Facebook
The Trump supporter Susan posted on Twitter and Facebook directly pointing to Leon Accord-whiting.Susan kept sending Leon outrageous messages on Facebook which Leon later disclosed it to the public.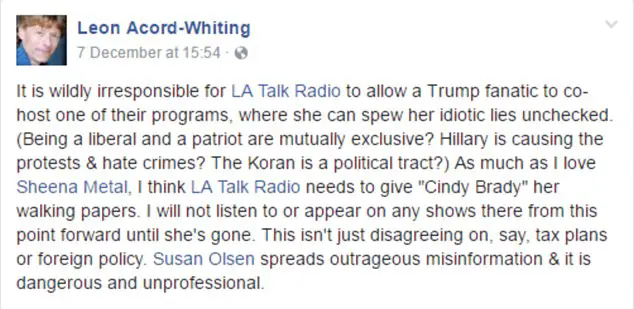 Caption: Leon publishes his personal messages from Susan.
Source: dailymail.co.uk
Susan Oslen was fired immediately from LA Talk Radio on December 9, 2016, when the station found out this activity through social media.  LA Talk Radio also responded to the activity in support of the LGBT community and posted on their Facebook page stating that they cannot stand any disrespect towards the listeners and hence took action: fired Susan Oslen. LA Talk Radio posted on 10 December 2016.
"LA Talk Radio takes pride in its close and collaborative relationship with the LGBT community and will continue to provide a home for those who have hopeful and positive messages of togetherness and tolerance to share with our listeners.
We will not tolerate hateful speech by anyone associated with our radio station and have severed our ties with a host that veered off the direction in which we are going.
Thank you for your loyalty and continued support. LA Talk Radio stands for love and community, and we will always support all of our friends around the world".
I'm sorry, this a-hole also dissed my best friend,. Leon, you had better hope you never see me in your world.. And I mean that!

— Susan Olsen (@Thesusanolsen) December 8, 2016
Even after losing her job, Susan posted on Facebook and Twitter in her defense stating that individual opinions differ and should be respected and accepted. Susan acts angry after the loss of her job and hopes never to see Leon again.