News
One for the Family! AFL Star Nick Riewoldt and his Wife Catherine Welcome a Baby Boy!
The current year has been a mismatch for this AFL player, Nick Riewoldt. Firstly he stepped down as captain of St Kilda, and now AFL legend has announced the birth of his second baby boy.
AFL star and former St Kilda Saints captain made the announcement via Instagram on Thursday night as Nick shared a snap of himself, his wife Catherine, his first child, James as well as his newly born second child, a baby boy named William Frederick Riewoldt.
He wrote in an accompanying caption:
'3 becomes 4 James is pumped to be sharing mom and dad with William Frederick Riewoldt. Mom is a champ. 10 lbs if you don't mind #heartisfull'. 
Nick and Catherine's first son, James was galvanized as he wrapped junior brother in a baby blanket with a tight cuddle.
Catherine, on the other hand, looked stunning as always with her family in the frame. The couple announced back in June this year that Catherine was pregnant, and they were expecting a baby.
Taking to Twitter, Catherine shared on June 20, an adorable photo of the couple's firstborn child James with a doll.
In the caption, she wrote:
'Hard to tell whether James is REALLY excited or just angry about our exciting news #babyrootwo #boyorgirl?'
Catherine and Nick first welcomed their son James in December of 2014 and married Catherine in 2012 who was native to Texas.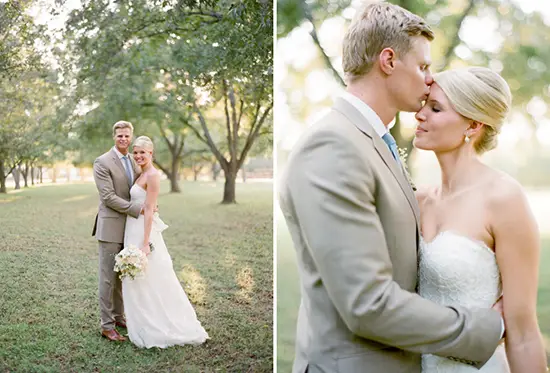 Caption: AFL Star Nick Riewoldt and Catherine During Their Wedding on Family Home on Brazos River in Waco, Texas in 2012.
Source: nancyaidee.com
Nick's family was struck by tragedy when Nick's younger sister Madeleine lost her five year battle with a narrow bone disease when she was just 26.
Catherine had an interview with The Herald Sun on July 17, 2015, and said that her life has changed since she has become a mother, but that family tragedy overshadowed that joy.
'Maddie wished she could have been there [in the delivery room],'
Moreover, she added:
'It would have been great to have her in that room. That's definitely one of the hardest things.'
The family also established a charitable foundation for their sister, Madeleine calling it Maddie Riewoldt's Vision. Nevertheless, Congratulation to Nick and Catherine!