Trending
A Look At What Happened With Ted Vernon's Wife Robin Vernon At The South Beach Classics
Robin Vernon who is an American actress, television personality and a car collector have been rumored to be leaving the show 'South Beach Classics.'  So what's the story behind it? We'll follow it up: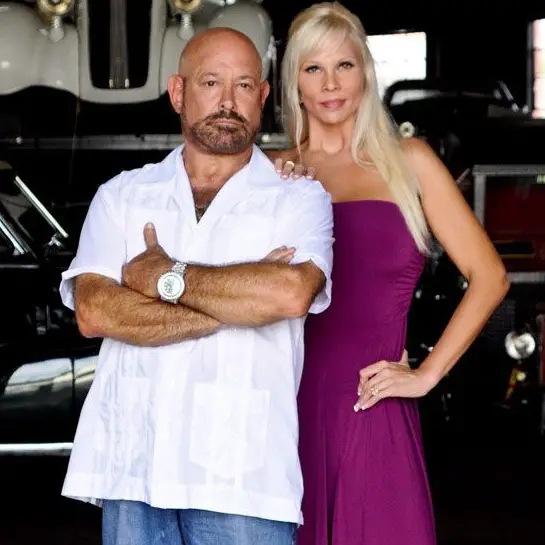 Quick Information
Wedding Date

2002

LinkedIn

https://www.linkedin.com/in/robin-vernon-33618616/

Instagram

https://www.instagram.com/robin_vernon_sbc/

Facebook

https://www.facebook.com/robin.vernon.9

Hair Color

Platinum blonde

Hair

Long

High School

Boca Raton High

Career

2011-present

Net Worth

$2 million

Ex-Husband

Ted Vernon

Birth Year 1980
Divorce/Split

Yes(Once)

Relationship Status

Single

Children/Kids

1

Son/s

Ted Vernon Jr

Ethnicity/Race

White

Profession

Reality TV personality, Producer

Home Address

Miami, Florida

Birth Place

Fort Lauderdale, Florida

Nationality

American
Robin Vernon who is an American actress, television personality and a car collector have been rumored to be leaving the show 'South Beach Classics.' So what's the story behind it?  What happened in the show? We'll follow it up:
Actress Robin Vernon starred in the reality TV series South Beach Classics which airs from discovery channel along with her husband Ted Vernon from 2011. As per official South Beach Classics page on Facebook, Robin Vernon will not be seen on the new season of South Beach Classics.
Ted Vernon's wife Robin Vernon recently posted a post on her Facebook page with caption 'Nice man... And? Thoughts?'

Caption: Robin Vernon, commenting about 'South Beach Classics' new season and characters.
Robin replied in a comment:
Are you guys and gals, having fun with the new season featuring these handsome characters? I hear there is a nice gal that will be appearing as well. Her last show was a reality series where she lived as a dog. Or something to that degree according to Wikipedia.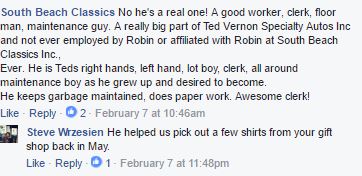 Caption: South Beach Classics official page is commenting about the photo which was posted by Robin Vernon.
As per South Beach Classics official page:
No he's a real one! A good worker, clerk, floor man, maintenance guy. A really big part of Ted Vernon Specialty Autos Inc and not ever employed by Robin or affiliated with Robin at South Beach Classics Inc., Ever. He is Teds right hands, left hand, lot boy, clerk, all around maintenance boy as he grew up and desired to become.  He keeps garbage maintained, does paper work. Awesome clerk! All in all, wed the new show airs and I would love to hear your positive thoughts.
One of the fans of the show and Robin Vernon's posted a post, which reads:
#WhereIsRobin #WeWantRobin The show is just not the same without Robin.
Therefore we can imagine that Robin Vernon will perhaps not be seen on the next season of the show. Another fan commented:
Don't like the new show without Robin, bring her back, the ad agency premise stinks, Robin is a lot classier than any of those folks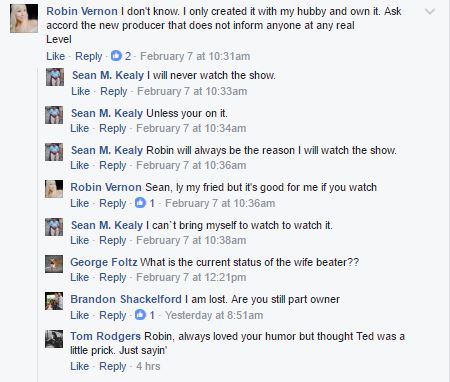 Caption: Robin Vernon, commenting about the new producers taking the show.
It is clear that fans are not happy with the decision of Robin leaving the show. South Beach Classics have said on their Facebook page that next edition of the show will only feature Ted Vernon but not Robin Vernon. 

Caption: Moreover, Robin has called new actress in the show as 'Paid actress.'
As per Robin Vernon's Facebook page, new producers have taken the flagship of the show, and she is not on the show. Although Robin and her husband started the show, the involvement of the new producer might be the reason that she's not in the show.
Robin is yet to clear the turmoil about the reason behind her exit from the South Beach Classic. Robin's shocking exit from the show is quite a blow to her fans as we can see many of her fans commenting that they want her back in the show. 
South beach classics have aired six episodes till date and next which is the last one in the season is scheduled to be aired on March 15, 2017. IMDB rates show as 6.2 out of 10. 
Robin Vernon clearly isn't happy with the production house of the show, and on February 26, 2017, she destroyed producers on her Facebook. She wrote:
Producer destroyed show.How can you hand your wife a marriage certificate And advertise in magazines, national television, Miami herald, national television, your family and joint tax returns as married and play this con game and still walk around like a citizen and on television.Public record, police reports, corrupt attorneys are as bad if not worse than this want to be "unreality star" man I am ashamed to ever have known.The producer, his entertainment attorney and Ted Vernon himself need to come to light. If they can do this to me and my child, other women and their own families are next. Others will be prayed upon. #abuseisnotjustphysical #notobullies
Moreover, she shared two photographs of car deals but didn't make it clear whether it was part of the show. But we can clearly see Ted in the photograph.
Interestingly, the South Beach Classic's executives have not commented on Robin's exit from the show. Now it will be interesting to watch what's next for the South Beach Classic and how will the show be without Robin? Will she be back in South Beach Classic?