News
It's a Baby Boy!!! Pregnant Juliette Norton Welcomes Fifth Child in Family
Juliette Norton and her celebrity chef husband Jamie Oliver welcomed their fifth child on 7th August 2016. Juliette Norton aka Jools Oliver revealed the good news by sharing an image of her newborn baby on her Instagram account.
According to the happy mother, everyone in the Oliver family was beyond happy with the birth of the cute little Oliver. The little Oliver weighed in at 8 lbs.
The proud dad Jamie too shared his son's image on his Instagram account attaching an emotional caption. He wrote,"And then this just happened guys!! IT'S A BABY BOY !!  Everyone in the Oliver family is very surprised and beyond happy. He arrived safely."
Is she Pregnant?
In an interview with The Mirror in March 2016, Jamie had talked about his family, pregnant wife, and his upcoming baby. He said:
'I thought we'd have a couple of kids but that's about it. Basically, I do what I'm told but she's an amazing family maker and I just go with it.' 'I love kids. My family keep me honest, I have a weird job, a weird life, but my family keep me quite real.'
He even said:
'This will be the last one. It is just getting ridiculous otherwise. This was not expected. I can't even believe I'm saying it. My own family were shocked too.'
Well, things really went well for Juliette and her family.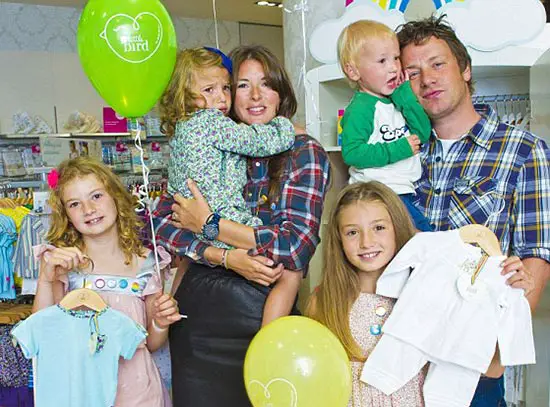 Caption: Juliette Oliver with her Celebrity chef husband Jamie Oliver and four children.
Source: Dailymail, 2016
Married in 2000, Juliette and Jamie now have five children altogether. They have three daughters Daisy Boo (12), Petal Blossom(6), Poppy Honey(14),  and two sons Buddy Bear Maurice Oliver(5) and a new-born little Oliver, who doesn't have a name yet.