News
She's not Getting Married! Amanda Bynes Declines Rumors about her Pregnancy and Marriage on Twitter
Quick Information
Date of Birth

1986-04-03

Age

34 Years 3 Month(s)

Nationality

American

Birth Place

Thousand Oaks, California, United States

Profession

Actress

Birth Name

Amanda Laura Bynes

Nick Name

Chicky, Mandy, Manda

Zodiac Sign

Aries

Religion

Judaism

Ethnicity/Race

White

Father

Rick Bynes

Mother

Lynn

Brother/s

Tommy, Jillian

Children/Kids

Not Yet

Relationship Status

Single (2019)

Divorce/Split

Not Yet

Ex-Girlfriend

Kid Cudi, Liam Hemsworth, Doug Reinhardt, Seth MacFarlane, Chris Carmack, Nick Zano, Frankie Muniz, Taran Killam, Drake Bell, Aaron Carter

Dating/Affair

No

Net Worth

$4 Million

Career

1993–2010 (Retired)

High School

Thousand Oaks High School

Height/ How Tall?

5'8" (1.73 m)

Weight

64 kg (142 Lbs)

Hair

Long

Hair Color

Brown

Eye Color

Green

Lesbian

No
It looks like someone walloped Amanda Bynes so hard in the social media that she had to make her return to address the twisted truth. The 30 years old actress recently claimed her pregnancy and soon-to-get-married rumors to be false after an anonymous fake Twitter account impersonated Amanda and explicitly proclaimed that Amanda was pregnant and engaged to get married soon on Tuesday, February 14.
On February 14, a Twitter account @PersianLa27 the name Ashley Banks posted some bizarre stuff about actress Amanda Bynes falsely claiming that the account belonged to the real Amanda when in fact she has a verified account which she joined in 2011.
The fake Twitter account is what Amanda refers to the impersonator allegedly posted on Amanda's name that she was pregnant with her fiancé on the occasion of Valentine's Day. The Tweet that is no more available from @PersianLa27 read like this,
"Happy Valentines Day! At the gyno's office with Matt to see if I am indeed pregnant! The home test says I am, but I need a 2nd opinion!!"
Well, this is just one of those tweets that are not on @PersianLa27 as what stormed the media was Amanda's engagement revelation the other day on February 13.
The Amanda Bynes claimed fake account posted a series of tweets and picture assuring a mass of fans that she was in fact engaged to a guy named Matt, the guy mentioned in the tweet with whom she had the pregnant rumor.
The account released Amanda's picture with a long-haired white guy Matt and said that she was truly in love with Matt V. The tweet read,
"FYI I will be releasing photos of my fiancé Matt and I before RadarOnline does! Nobody will make money off of my name if I can help it!"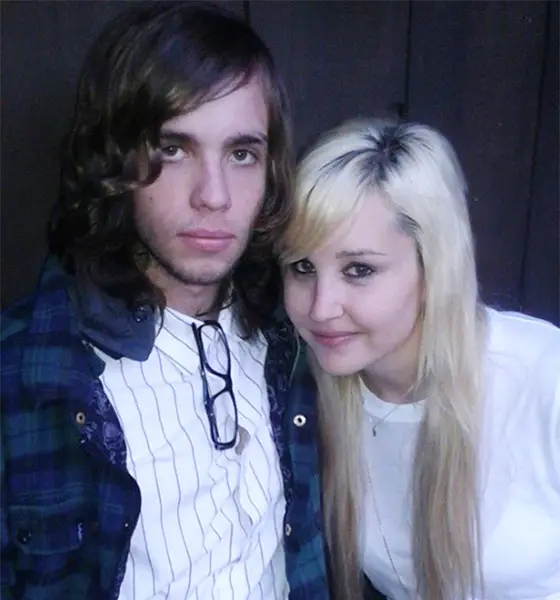 Caption: Amanda Bynes's rumored fiance Matt V.
Photo Credit: hollywoodlife.com
Following up with other series of tweets,
"The very media that lied and destroyed me is now telling me to trust them. No thanks!" The account then tweeted, "I will be letting the world know how truly in love I am!"
Later adding another tweet with,
"World: my gorgeous fiancé Matt & i!."
The user claiming to be Amanda later posted two more series of now deleted tweets with pictures and the captions read,
"Matt V & I have been dating for the past 8 months, and I couldn't be happier!!! ."
"We do not have an official wedding date as of yet but we are very much in love and very excited to share the rest of our lives together!." Last but not least came a pic of a diamond ring along with a tweet that read, "I promise to love, cherish, honor, & obey for as long as we both shall live! Xoxo ."
Well, that was enough shell bombs to freak out Amanda's fans as most of them who took a look at the claims from the impersonating user responded in various manners. Still, the fact applies that Amanda does not have a dating affair with any guy by the name Matt.
Fans' response to fake tweets!
Response to engagement and pregnant rumors!
As Amanda vehemently defended herself from her verified Twitter account, posting a series of tweets denying the false rumors of her being pregnant and also revealed how Twitter was not considering her request to take down the other user.
I have asked repeatedly. This person continues to impersonate and harass me and twitter needs to take the account down.

— amanda bynes (@amandabynes) February 14, 2017
On top of her tweets, Amanda's parent's lawyer also added that the rumors that were spread by the other user are false. The lawyer Tamar also revealed that the images used for her engagement are from her Instagram which is believed to be compromised and said that 'She isn't engaged.'
To all the claims that Amanda made on her verified account and her parent's lawyers' words by airing another tweet that is not available,
"My parents and lawyer are the only ones with access to @amandabynes! They have banned me from using any sort or form of social media!" she tweeted. "My 'parents' & THEIR lawyer have banned me from social media and have banned me from access to my $10.7 million dollar fortune!"
The fact that Amanda has not been using her social media from a long time is true, August of 2016 to be exact but then again the user said that she got restricted to access to her account and her $10.7 million dollars worth fortune.
This is not, however, the information that can be depended on for truth as before Amanda stopped using Twitter, and she posted that @amandabynes was her official account and no other substitutes will be acceptable.
These are the series of posts Amanda had made on her Twitter account before she stopped using it.
This is me! The verified, real, authentic and actual Amanda Bynes. Accept no substitutes!

— amanda bynes (@amandabynes) August 24, 2016
I really wish Twitter would take the account in question down, I'm not sure why they are refusing to do so.

— amanda bynes (@amandabynes) August 24, 2016
The tweets do refer that prior to this rumor, someone already had intentions of defaming her over the internet, but it yet not revealed who that person is in real and what is the exact reason for causing this mayhem of confusion.
For now, nothing can be said and grabbed as a foundation of truth; we will be looking forward to any updates that may create a clearer approach to the mess going on.