News
He's Married! Dave Franco Reveals about his Secret Wedding With His Girlfriend Turned Wife Alison Brie
Actor Dave Franco, who secretly married his longtime girlfriend this March 2017, has revealed few details about the wedding to ET on Wednesday, March 29, 2017, while promoting "The LEGO Ninjago Movie" in Las Vegas.
Actor Dave Franco's wedding with actress wife Alison Brie has been one of the mysterious weddings in Hollywood, and their fans are eagerly waiting for the detail and happily Dave gave few details. 
Caption: Dave Franco reveals that his wedding with Alison Brie was Special! 
Opening up about the low profile wedding Dave said,
"It was great, it was really special,"
"It was intimate, and it was really fun."
Surprisingly, despite being a married man Dave was spotted without a ring by E! News on March 30 but what was the reason?
Caption: Dave Franco Questioned about the Wedding Ring
Clearing the air regarding the ring, Dave said that the ring was too small for his ring so it has been given to be adjusted. He stated,
"It was too small,My finger's fatter than I thought."
"We're getting it redone,"
Moreover, he added,
"Don't act like its not going to come. It's coming eventually."
Earlier on March 13, Alison's representative confirmed the wedding of Dave France and Alison Brie, but rest of the facts were kept private for some unrevealed reasons.
Dave Franco met Alison Brie in 2012 at Mardi Gras parade in New Orleans, Louisiana. And after dating for three years Dave proposed Alison with a diamond ring in the view of getting engaged that was revealed in August 2015 when she was seen flaunting her ring in the screening of "Sleeping With Other People" in California.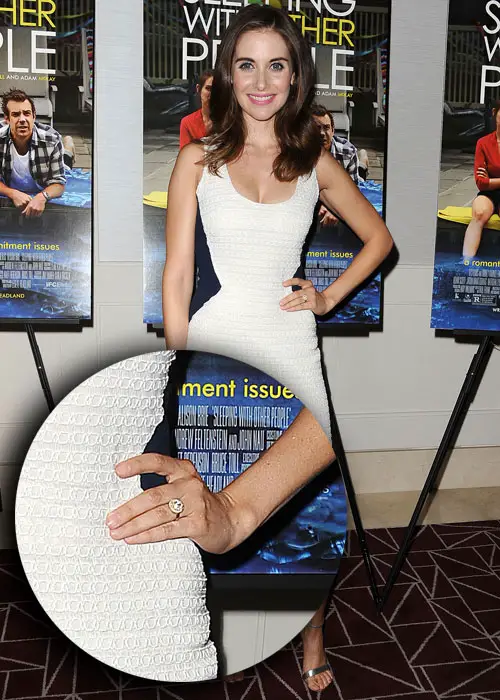 Caption: Alison Brie flaunting her engagement in the screening of "Sleeping With Other People" in California
Photo Credit:etonline.com
Even though the engagement was revealed somehow, Dave made sure that nothing hit the media regarding the wedding plans.
"We're pretty lax about the whole thing,"
"It'll happen when it happens."
When asked about the best man in the marriage, Dave replied,
"I don't know if I'm gonna have a best man. I feel like when we do eventually get married, we're not gonna do a lot of the traditions, and we're just gonna make it easy."
Keeping the wedding a mystery, married couple Dave and Alison have been able to keep their person life away from the limelight, and Dave has only shared that it was intimate and special but we are still hopeful that the pictures and other details regarding the marriage would be shared soon.
Here's Wishing a married couple of Dave Franco and Alison Brie a Happy Married Life Ahead!