News
One Up for Love! Aspiring Car Racer Brad Keselowski gets Married to his Longtime Girlfriend Paige White
Team Penske racer Brad Keselowski married to his longtime girlfriend, Paige White on February 11. The wedding video shows the memorable day of their life has been quite mesmerizing.
Caption: Heartfelt emotions were shared on the very special day by Brad Keselowski and Paige White, on 12 February 2017.
Also, the two has shared the crazy video on Twitter which shows how much thrilled they are after making their relation official.
The 25 years old Paige White has tweeted series of tweets about her wedding. On the very first one, she has tweeted as 'Best Night Ever!'.
Which was then followed by another tweet.
The two took their wedding vow sharing their handwritten earnest warmness in the presence of their friends and family.
As per 2012 NASCAR Sprint Cup Series champion Brad's statements, the two first met on September 3, 2013.
After years of togetherness, Brad romantically popped the question which any girl desperately wants to hear. He took Paige to the beach, got on his knee in front of the horse-drawn carriage and pulled out a ruby ring. Paige White accepted the proposal with excitement. In evident to that, she shared her ardent emotions on Twitter.
Brad Keselowski has shared what he feels about his then girlfriend in his blog.
"I know that we're not doing this in the traditional order of things. I will simply say this: I'm the happiest I've ever been in my life, and Paige is a very large part of that. She's an amazing person. She's soft-spoken, well-educated and smart."
32 years old Brad shares a daughter, Scarlet with his now wife White who will turn two in May.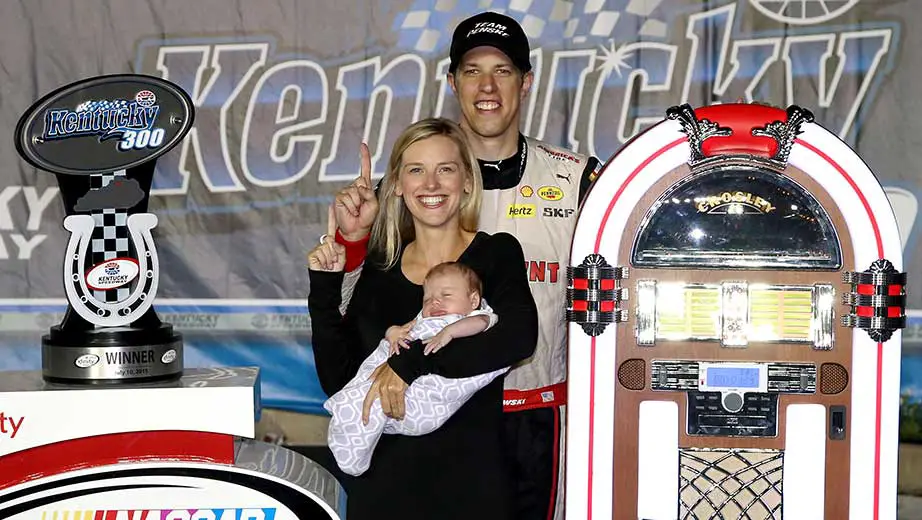 Caption: Brad with his now wife Paige White and their daughter, Scarlet together to rejoice victory (2016).
Photo Credit: Nascar.com
Dad status- ????????????????

— Brad Keselowski (@keselowski) May 20, 2015
After years of togetherness, the pair has now tied the knot and has a long way to go. We would like to congratulate our NASCAR driver and his wife and also wish them blissful married life along with their daughter.