News
One Up for Love! Broadway Performer Billy Porter is now Married to his Longtime Partner Adam Smith
Billy Porter is a versatile entertainer, a vocal coach, Broadway performer, actor as well as a pop singer. Tony Award winner, Billy Porter, is not single anymore as he is now married to Adam Smith.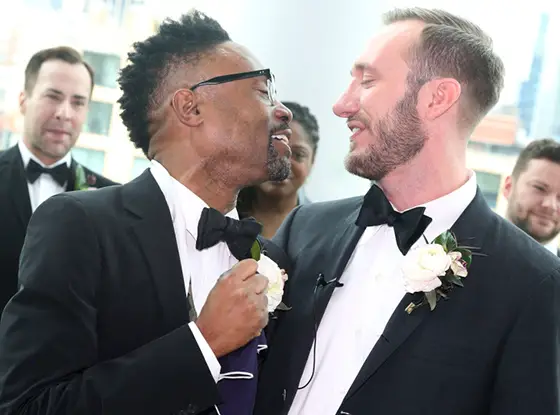 Caption: Billy Porter and his partner Adam Smith in an intimate ceremony in Manhattan on January 14, 2017.
Photo credit: people.com
Broadway performer, Billy Porter married his longtime partner Adam Smith at a friend's Chelsea penthouse apartment on January 14. The gay couple was engaged on December 29, 2016 after Billy Porter popped the question on December 29 in London. Smith told People magazine:
 "We were discussing, and Billy had actually brought up to me that it's important for us to get married [while Barack] Obama is still President and before January 20."
Porter and Adam Smith, the co-owner of eyewear company Native Ken, first met in 2009 at a mutual friend's dinner party at Sosa Borella, a restaurant that was in Hell's Kitchen. Both of them dated for a year and broke up. But, both of them couldn't stay apart from each other and reunited in 2015. The couple exchanged Cartier wedding bands in a small ceremony before enjoying the company of 45 of their close friends.
Before the wedding, in an interview, Porter, 47, told PEOPLE on 13th January:
"We're looking forward to understanding and learning how to share your life with somebody, I'm really thrilled to figure out what that means — together, with my soul mate!"
Both of them were seen in Thom Browne and Prada suits as the grooms wed on a Saturday during an intimate ceremony in Manhattan. Both exchanged vows with each other as well as a platinum Cartier bands at a close friend's Chelsea penthouse. After the ceremony, the couple, along with their 45 guests sipped on Champagne as well as enjoyed sweets from Empire Cakes.
Porter also opened up about himself taking a stand while growing up as a gay. Porter stated:
"This is an extension of our activist side. It's still important to show the world what our love looks like; it's important for us to take that stand,"
Moreover, he added:
 "I think about when I grew up and when I came out in the '80s: As a black gay man, there were no examples to validate my existence. So I vowed at that age to try to be that for the generations behind me if I had the chance."
All in all, it was a moment to cherish for Porter and Adam as they exercise their equal right to marry before Donald Trump's Inauguration next week on 20th January.