News
Actor Joey Bragg Shoots Down His Gay Rumor By Showing Off His Girlfriend Over Social Media!
The promising young actor Joey Bragg through his decent acting skills has grabbed the attention of plenty of young female fans following from the series "Liv and Maddie" which got aired in the year 2013. Though the fans have known about the iniquity personality of Joey they may be still willing to learn about the bragged relationship scenario of Joey in his social media.
Today, we shall look behind the story of Joey Bragg and highlight few details about his girlfriend and his family background.
Was he Gay? Or it was just the Rumor?
In the field of entertainment if any star is single and has a male friend more than a female friend then there is undoubtedly the tale of the individual being gay spreading across the media.
The similar case happened to the rising actor Joey Bragg who was once caught up by the same rumor of being gay. The rumors would have still lingered in the air if he had failed to acknowledge it.
Through his Twitter post on 17th December 2012, he cleared the news stating he is not gay and even addressed Adam Levine to be the fine person.
I am not gay (not that there is anything wrong with that) but Adam Levine is really good looking. Like...wow. #TheVoice

— Joey Bragg (@JoeyBragg) December 18, 2012
So, the gay thing is only a rumor caused by individuals who may have some issues with him or it may have started from nowhere. As Bragg has cleared it through his social media, his fan followings are clear about his sexual orientation to be straight.
Is the relationship still working or has it ended ?
After he had cleared his gay rumor from his tweet on December 18, 2012, in the year 2013, actor Joey Bragg started to date his co-actor, Audrey Whitby. They are said to have met on the set of Disney Channel while working together for " Liv and Maddie." When relating to his meeting with his lady love the actor spoke about his meeting events with Audrey Whitby, where he said:
"Audrey and I met doing a sketch for AwesomenessTV.For the full sketch, I was in my underpants, like these tighty whities, and had a parachute tied around my neck as a cape. I walked up to her for the first time and said,Hi, my name is Joey, and this is what most of my body looks like. She was pretty much mine from that day on! Now we've been together for over two-and-a-half years."
Well, it looks like the man is madly in love with his woman. Since then he has been posting pictures of Audrey on his Instagram account.
The couple is still together and has been spotted numerous time in award functions and social events. They have been giving a couple of goal to their fan followings and dating continuously. It's nearly about to be three years for the pair. They have stood for each other like a rock and have been enjoying their professional life as well as their love life. Recently, Joey shared his experience with his girlfriend through his Twitter account on 30th November 2016. This states the pair is still in the love zone despite being in a relationship since last three years.
Till date, no rumors of their break up or fights have been sparked in the social media. Well, we all are motivated by the power couple. We hope the power couple never break apart and guys when you have a loving girlfriend whom you love so much it's not bad to brag about her and highlight her success in any of his social media!
Siblings on or off the screen?
Actor Joey Bragg has not revealed any details and information about his family background, but while going through this on screen family relation yes we did get hold of the vital relationship which he and Dove Cameron shared in the series Liv and Maddie.
They were spotted enjoying having a young siblings conversation in their Twitter account on 21st March 2016 where Joey was praising the song Genie In A Bottle to Dove Cameron.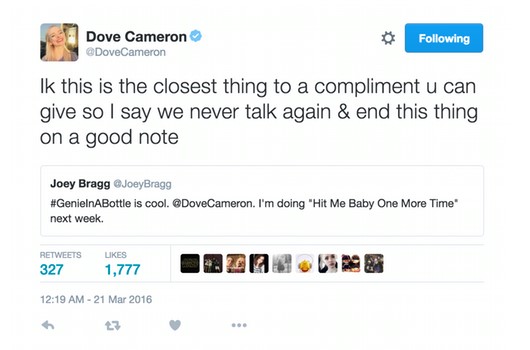 Caption: Joey Brag praising Dove Cameron for her song Genie In A Bottle.
Picture Credit: magazine.com
Well, that's a real cool relationship maintained by Joey with his co-actor Cameron. Though they had been spotted together sharing silly jokes and tweets in their Twitter accounts they hold a healthy relationship of brother and sister not only on the screen but also off the screen. Thus, even if the fans who had a doubt regarding their relationship status I guess now it will clear the air of confusion.