News
Alejandra Silva, 35, Married Richard Gere, 68! Secretly Shares Wedding Vows
Congratulations are in order for Spanish publicist Alejandra Silva and Richard Gere, the Pretty Woman actor!
It has come to light that Alejandro secretly exchanged wedding vows with Richard Gere during the early days of April 2018. Spanish magazine Hola! first reported that the couple tied the knot in a low-key civil ceremony in early April 2018.
The newlyweds are set to have their post-wedding celebration at their New York home on 6th May with family and friends.
Alejandra, in a previous interview with HOLA! (Spanish Hello! Magazine) in April 2018, shared her relationship with the man 33 years older than her, saying,
"I was a little lost, without light, and knowing him gave meaning to my life. It was feeling that someone was reaching out and showing me my true path."
Similarly, Richard, who is at the age of 68, shared:
"I have found the quiet and happy life that I have always sought,"
Earlier in December 2017, the couple, who resides together in their New York home, was rumored to have engaged after Alejandra was spotted with a sparkling diamond ring on her wedding finger.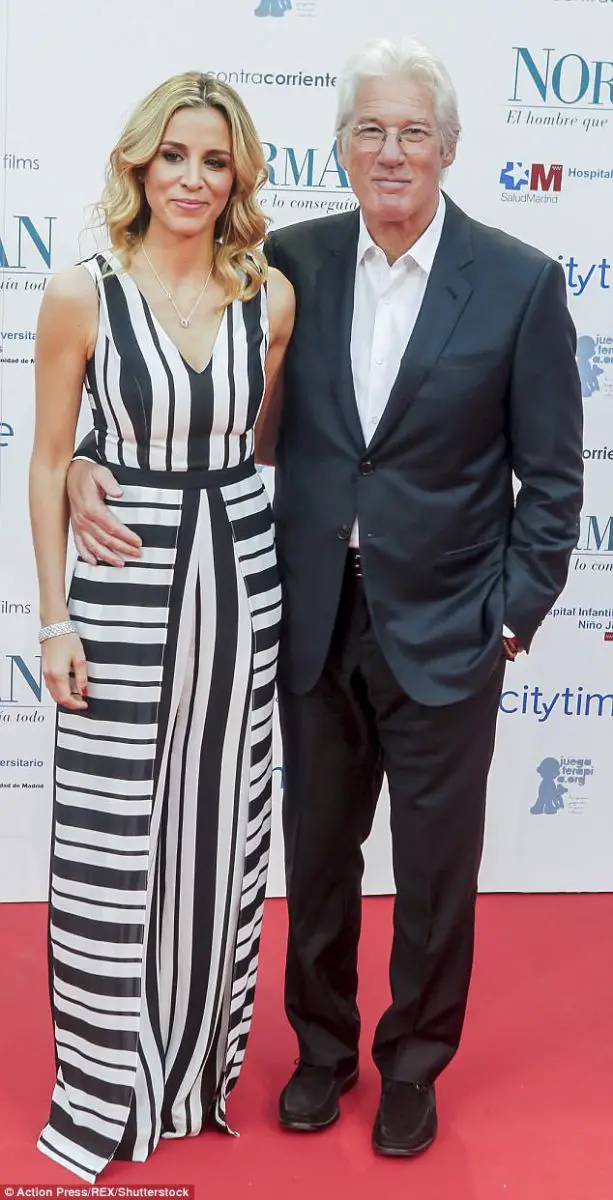 Newlyweds Alejandra Silva with husband Richard Gere (Photo: dailymail.co.uk)
The couple, who kept their relationship mostly private, first met when Richard borrowed a boat from Alejandra's businessman father, Ignacio Silva and crossed paths with a 'little girl' Alejandra.
The pair later met again in 2014 at Positano, Italy where Alejandra ran a luxury hotel. The duo began dating since then and even experienced a long-distance relationship at the beginning of their dating life as Alejandra lived in Madrid.
Well, the couple kept their romantic relationship fairly low-key but were once spotted together at the Madrid premiere of Time Out of Mind in 2015. The pair was again spotted getting cozy at a beach in Taormina, Sicily in June 2015.
Alejandra's marriage with Richard is not her first marriage as she was previously married to Govind Friedland, the son of mining magnate Robert Friedland and shares a five-year-old son Albert with Govind. The pair parted their ways later in 2015.
As for Richard, he was married twice before Alejandra. He was previously married to supermodel Cindy Crawford in 1991 and shared four years of married life. He ended things with Cindy in 1995 and later in 2002, tied the nuptial knot with actress Carey Lowell and shares 17-years old son Homer with Carey. Richard divorced Carey later in 2016.