Trending
American Singer & Actor Billy Ray Cyrus' Supports Pansexual Daughter Miley Cyrus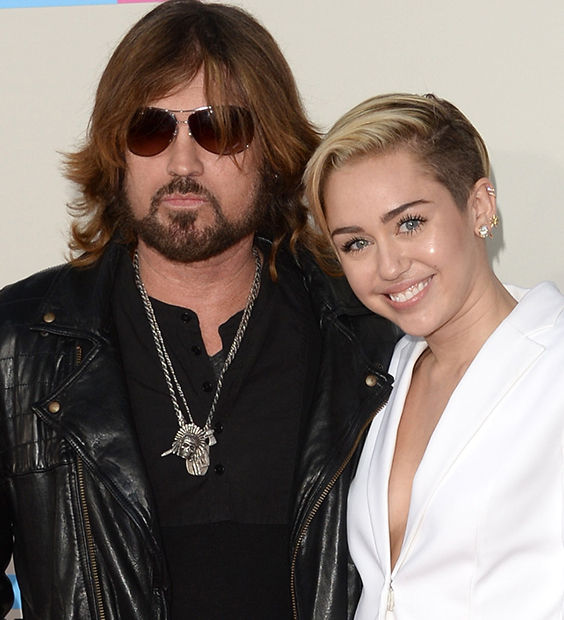 You might know the time when the internet was fired up with the rumors of Miley Cyrus turned bisexual. Yes, everybody thought that news was true. Did you believe that too? Well, this may sound like something new. Miley, self-has has cleared out this rumor but wait for it, she said she was not bisexual but didn't say that she was straight either. She has a sexual preference somewhat similar to bisexual. What exact it is, let's find out. 
The Disney star, Miley Cyrus came out as pansexual in 2015. From what we've seen lately, this came as no shock. She said she was dating Victoria's Secret Angel Stella Maxwell. But she also made it clear that they were not in a relationship. However, her family backed her up and set her free to choose whatever she wanted to be. Her father Bill Ray Cyrus said that they have always been very open-minded. He quoted, "Listen, it's all about love and light. Forget the negativity and the haters."
Caption: Miley Cyrus with dad Billy Ray Cyrus along with other celebrities.
Source: eonline.com
Her frequent changes of boyfriends and girlfriends have always made it confusing for us to tell who she's been dating recently. It always has been very confusing for us to tell what she is up to! Apparently, the romance between Miley and Stella has faded, and Miley is back with her ex-boyfriend Liam Hemsworth.
Caption: Miley Cyrus (right), Liam Hemsworth (left)
Source: intouchweekly.com
Get that Hemsworth on her sweatshirt?
With everything that Miley did and is doing right now, she has always been supported by her family, especially by her father Billy Ray Cyrus who gives all his support to Miley. Miley has been treated like that since her childhood; her family has made no boundaries in their daughter's life, and they always looked after what made her happy. Billy Ray Cyrus said this when there was only criticism and hate for his daughter for her actions. This is as Billy said,
"She's rocking and rolling and having a good time. What the world needs is love. There's too much hate…The world needs positive influences."  Isn't he the coolest Dad ever? 
Elle U.K. featured Miley where she shared her thoughts on sexuality and her working with the LGBT community. She had a great deal to speak regarding what media has made her look like, but she is confident about each and every comment she has done.
At first, we thought that why Billy was so supportive to his daughter. After all, any parent would feel a slight discomfort when their daughter would strip on live concerts and do very disturbing adult acts, but then, we found out why. Miley has been using her popularity and fame to launch charities like The Happy Hippie Foundation and working as a gender activist.
This must also be a contributing factor in the support Miley receives from her father. Billy must be proud of her, and he even shows it by supporting her belief and also acts for it.
And now, let's get back to her love life. As we discussed earlier, the ex-couple are back again but dad Billy doesn't know how to react to it. Maybe, it's because he has been busy with his new comedy series and doesn't know what is going on with these young people.
As we mentioned, Billy is kind of very busy with his new comedy series "Still the King." Popular and busy celebrity Billy Ray is highly involved in his new work. He is so busy these days that he can't even keep updates on what his daughter is doing. Well, to talk about his new comedy series, Billy has a role of Vernon and will be portraying the role of a scandal-ridden, one-hit-wonder, washed up one who crashes into the life of his ex and the story builds up around what goes on and on. 
Well, Miley has nothing to fear. She doesn't have any worries about who talks what about her, nor she cares how people judge her. As long as she has the support of her father and family, she will continue her work.
Born on November 23, 1992, Miley Cyrus started her career as a Disney character and had her first musical release in early 2006 and later in 2010, she began her career in films and was starred in The Last Song in 2010. It was during the shooting of the movie where she met Liam Hemsworth and began dating. It was the year of 2013 when she introduced herself in a complete re-makeover and started getting involved in making hip-hop influenced sound. Now, in 2016, Miley is working on her upcoming sixth studio album and is also working on various new projects.