News
Ant McPartlin Confesses To Wife And Co-Star; Checks Into Rehab Because Of Depression, Drugs And Drinking Problem
The multi-millionaire Britain's Got Talent presenter Ant McPartlin checked into the rehab last night after confessing his battles with alcohol and drug addiction to his wife Lisa Armstrong and TV partner Dec.
The star who wept when he revealed his problems to his closed ones will spend at least two months in a clinic. Talking about the problem to The Sun on Sunday, McPartlin said-
"The first step is to admit to yourself you need help."
He even revealed how his depression led to an addiction to drugs and alcohol. He added-
"I feel like I have let a lot of people down and for that I am truly sorry. I want to thank my wife, family and closest friends for helping me through this really difficult time."
McPartlin continued-
"I've spoken out because I think it's important that people ask for help if they're going through a rough time and get the proper treatment to help their recovery."
The Sun revealed that Ant McPartlin's chronic pain caused by a knee injury and anxiety over failure to conceive with the head of make-up on Strictly Come Dancing wife Lisa led him to check into the rehab. Two years ago, he went under surgery to fix cartilage in the knee which has trapped him in the house and often left him on his dressing room floor.
Ant and Lisa got married in December 2006 in a star-studded wedding in Taplow, Bucks. Even after being bound in a marital relationship for more than a decade, the couple hasn't yet fulfilled their dream of starting a family which has strained their marriage and might lead them to divorce.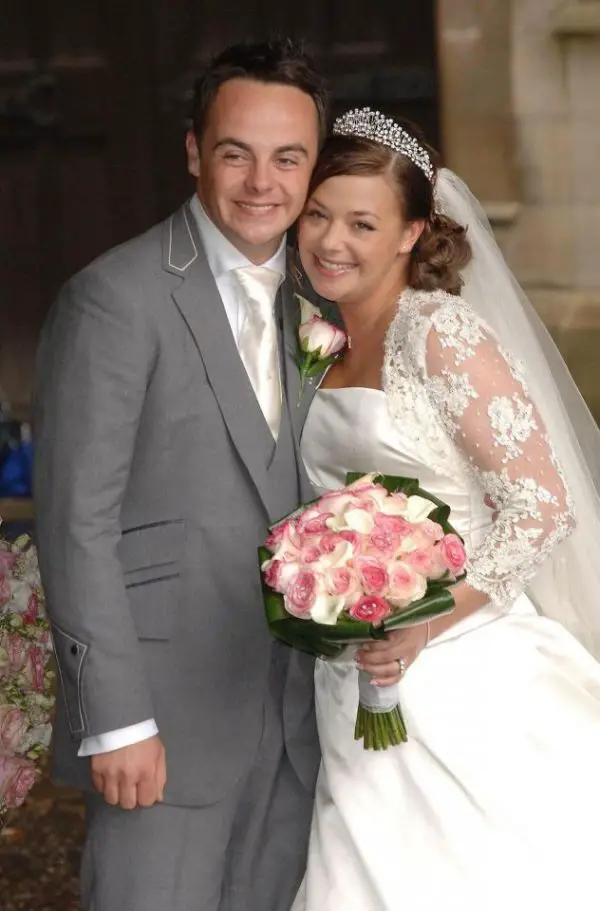 Caption: Ant McPartlin married his long time girlfriend Lisa in December 2006.
Photo Credit: The Sun
Earlier this year, Ant talked about his plans of having a baby in an interview where he said-
"We would love to have a family so fingers crossed.  If we're blessed with children, then we'd be over the moon!"
Ant met Lisa at the age of eighteen when she was seventeen. The pair who performed together on the Smash Hits tour in Newcastle in the year 1994 dated each other for around eleven years. Ant and Lisa got engaged in April 2005 on holiday in Dubai.