News
Austin Jones Is Arrested And Will Face Court In Charges Of Child Pornography!
Youtube star, Austin Jones ended up in jail facing a child porn charges. He was arrested on Monday at Chicago's O'Hare International Airport and remains in a federal jail in Chicago.
He was spotted wearing orange prison clothes and ankle chains as he appeared in the U.S District Court in Chicago.
As for the court session, he replied with "Yes Honor" when asked; if he understood he's charged with two counts of production of child pornography, by U.S. Magistrate Judge Michael Mason.
According to a federal complaint released on Tuesday, Austin is charged with the child pornography charges for allegedly instructing two young female fans via social media to make sexually explicit videos of themselves and send them to him.
The fans, he victimized were reportedly 14 years of age when the incident happened. One of the girls identified as 'Victim A' was persuaded saying; he wanted her to prove what she said about being his "biggest fan."
The complaint further addresses that Austine Texted the victim saying;
"I know you're trying your hardest to prove you're my biggest fan. And I don't want to have to find someone else."?
Victim A even confirmed with the singer, if he would not post the video anywhere after she sent it to him, to which he replied:
'I delete them after I score them.'
The complaint documents goes on to detail another alleged exchange between the two,
He asked the victim,
'In your honest opinion, do you think your butt is good enough to give guys boners?'
Responding to that, the victim replied,
'Yes I have given guys boners with it many times.'
The report further claims, Victim A, sent the singer 15 videos out of which ten comprised her naked body from the waist down.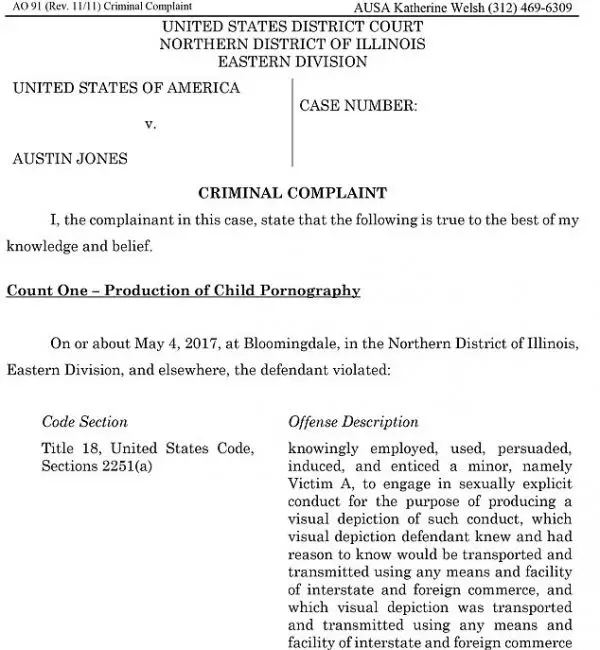 Caption: First page from the court document detailing the allegations against Austin Jones.

Caption: The second page of the allegation.
Photo Credit: Dailymail
It was moreover, the similar situation with the Victim B, who he texted in between August 12 and 14 in 2016. He made the similar demands with her and provided the same instructions as Victim A.
The documents concluded:
'Based on the above information, there is probable cause to believe that Jones knowingly employed, used, persuaded, induced, and enticed minors, namely Victims A and B, to engage in sexually explicit conduct.'
Austine, who rose to fame releasing music and cover videos on youtube, has garnered millions of views and is followed by million fans as well.
As per the reports, Austine didn't have his own lawyer on Tuesday. A bond hearing for the singer was set for Wednesday. Prosecutors claim they'll oppose his release.
Austine Jones' Wiki-like Bio:
Austine Jones who is 24 years of age now was born on December 12, 1992, in Chicago. Jones started his career as a pop musician and as songwriter followed by creating music for youtube videos.
With his singing capabilities, he was rewarded with the youtube fame for his music and cover videos. He earned millions of views on his videos and became famous instantly. He also made videos for the vine and had 250k followers there.
Despite the fame he had, being booked up for the child porn charges might just bring him to the end of his career, losing all his fans.
Stay with us for the emerging updates on the story!