News
Baby Bliss! Jesse Eisenberg and Girlfriend Anna Strout Welcome their First Child
The Social Network actor, Jesse Eisenberg had welcomed his first child, a baby boy with his girlfriend actress Anna Strout. The story was first reported by E! News when they were spotted strolling around New York City on April 4 with their bundle of joy.
Jesse met Anna in 2002, and their dating relationship flourished till 2012 as the couple took hiatus. However, they eventually united again before he went to London to perform in a show called "The Spoils."
Moreover, Jesse also volunteered for four months in Bloomington, Indiana at a domestic violence shelter in a fundraising campaign to pay shelter's mortgage, where Anna's mother is an executive director.
Jesse being a very private person did not disclose anything until they were photographed in January amidst a basketball game.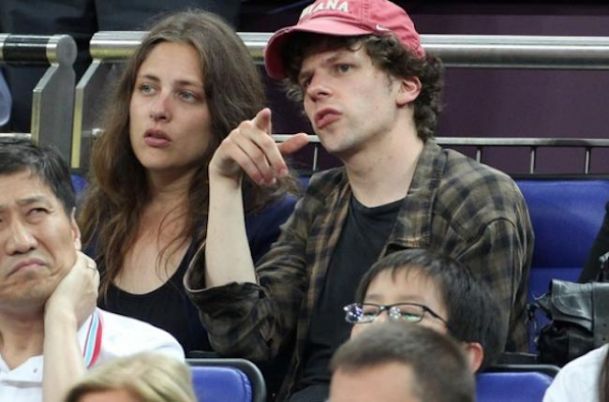 Caption: Jesse Eisenberg and his girlfriend Anna Strout captured during a basketball match in 2016.
Photo Credit: Self
Back in 2011, in an interview, Jesse stated that he has dated only one girl and said,
I've had one girlfriend my whole life. I've never been on a date with anybody else
Further, Jesse revealed a quality he seeks in a girl when he said,
I find people who want to help other people to be the most interesting. I come from a family of teachers, and my friends are teachers, often times in very difficult school situations. My job is so selfish and focused on my own vanity that I like to surround myself with people who are actually helping people throughout their day.
Despite sharing a new-born boy together Jesse Eisenberg and Anna Strout remain unmarried but they could be planning a married life together as a husband and wife.
Congratulations to New Dad Jesse Eisenberg And New Mom Anna Strout!