News
Baby Alert! Jacob Pechenik's Wife Zooey Deschanel is Pregnant with their Second Child
Producer Jacob Pechenik's wife Zooey Deschanel, who is popular for appearing in "New Girl" is pregnant. The pair is expecting another baby which will make the number of their children two.
Us Weekly was the first to confirmed the news about the pregnancy of this 37-year-old actress and singer on Thursday. The gorgeous actress was seen flaunting her baby bump while filming "New Girl" in Los Angeles. 
This baby will be the second child for Jacob and his wife Zooey, who already are the proud parents of their 18-month-old daughter Elsie Otter, who has already made a huge impact on their day to day life.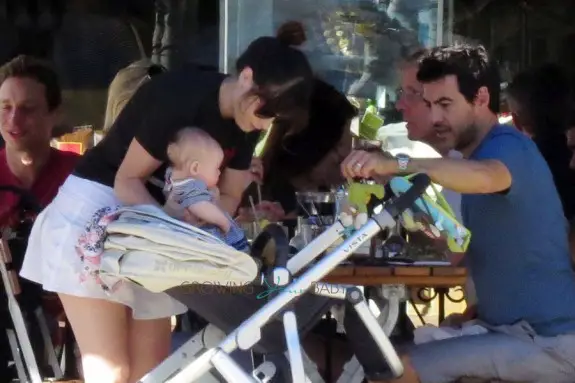 Caption: Zooey Deschanel with her husband and daughter Elsie Otter.
Photo credit: Growingyourbaby
On the Ellen DeGeneres Show, this proud mom explained how exceptional her daughter is. She stated-
"She is really special. She's saying some words. She says a lot of words but she's really obsessed with hats right now."
 "My mom wears hats a lot and we had dinner with her and as soon as my mom came out, my daughter said, 'hat! hat!'"
In an interview with E! News' Kristin Dos Santos in December 2014, Zooey talked about her daughter where she exclaimed,
"When you're holding your baby, you're like, 'I don't wanna go to work—this is like the best thing ever,'" "But it's nice, you know, I think, having a little girl, she knows her mommy works and I think that's a good thing."
Zooey also revealed how she struggled to avoid her favorite foods during her first pregnancy. During her appearance on Jimmy Kimmel Live!, she expressed,
"You can't have sushi. You can't have cheese that tastes good,"
"You can have a little bit [of coffee], but I would have, like, four cups a day. And now I can have a half cup, which is a joke! It's a total joke!"
This couple is very famous for maintaining privacy in their personal life. This couple tied the knot in the year 2015 in a very private ceremony after secretly dating, most probably starting from mid-2014.